2022 MPSF Men's Volleyball Championship
Pepperdine Withstands Stanford Rally, Wins MPSF Crown
Pepperdine Withstands Stanford Rally, Wins MPSF Crown
The Waves' pursuit of a league title culminated when Jaylen Jasper and Austin Wilmot blocked Stanford standout Will Rottman to close a dramatic contest.
Apr 25, 2022
by Kyle Kensing
It's only fitting the final point to send Pepperdine to the 2022 NCAA Tournament came via Jaylen Jasper and Austin Wilmot.
The duo played integral roles in Pepperdine's run to Saturday's championship round of the Mountain Pacific Sports Federation tournament, and the Waves' pursuit of a league title culminated when the two blocked Stanford standout Will Rottman to close a dramatic contest.
Saturday's matchup at Pauley Pavilion came down to the final, 15-12 set in a reflection of Stanford's overall path to the title game. The fifth-seeded Cardinal had to come from behind in what initially looked like a contest destined to be all Waves.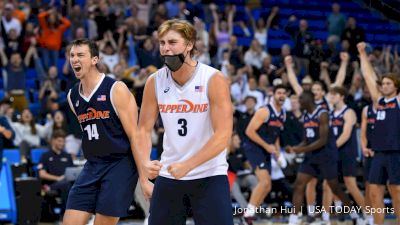 Unlock this video, live events, and more with a subscription!
Get Started
Already a subscriber? Log In
Pepperdine rolled to a 2-0 lead after initial sets of 25-20 and 25-19. In the first set, the Waves scored six of the last seven points–including a final three-point stretch in which Wilmot was in on a block with Bryce Dvorak and delivered a service ace.
The Waves rode a dominant stretch scoring 7-of-8 midway through to claim the set.
But with its back against the wall, Stanford responded. Paced by Rottman, who made a game-high 22 kills, the Cardinal held off a late-set rally to claim the third, 25-22.
A four-point rally in the fourth set proved critical, as Stanford pulled ahead 14-11 and never relinquished the advantage. Kevin Lamp came up big in the crucial stretch with a kill and joining Nathaniel Gates and Nathan Lietzke.
Midnight struck on Stanford's Cinderella run in the final set, courtesy of a five-point Pepperdine rally spurred on in part by Jasper.
Jasper capped an outstanding tournament with a kill, one point after blocking Rottman alongside Andersen Fuller. Jasper's big performance also included 10 digs, second only to Trey Cole's 10.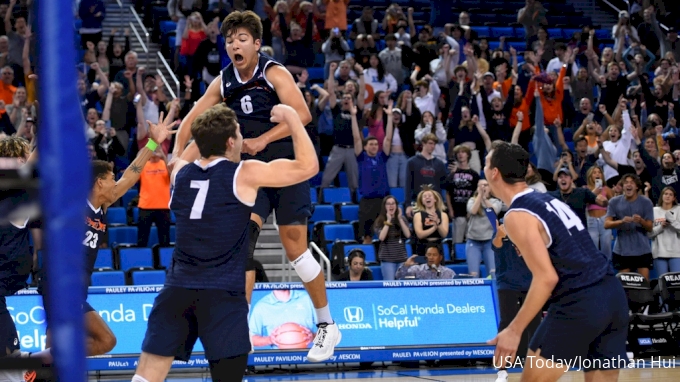 Defense largely led Pepperdine to victory, as the Waves finished with a 45-28 advantage in digs. Spencer Wickens played a central part in that decisive stat, with seven.
"He's a stud of a person, and everyone plays better around him," Waves coach David Hunt said in his postgame interview on FloSports.
"This lineup–it is similar to last year's lineup–we knew this lineup could play good volleyball."
Hunt said he wished he could call Wickens' usage on Saturday the result of an ingenious scheme, but that wasn't the case. Likewise, Pepperdine's resolve as Stanford seized momentum and forced a fifth set came from a rather simple equation.
"I don't know if this is true, but my good friend told me, 'Hey, 60 percent of the time the team that was up 2-0 wins,'" Hunt said.
"So, I just told the guys that."
If that is indeed the case, the Waves merely played the percentages.
The MPSF title win sends Pepperdine back to Pauley Pavilion for the NCAA Tournament, which begins on the UCLA campus May 1. Princeton, North Greenville and Ball State secured automatic bids with titles in their conferences prior to the Waves' win over Stanford.