2022 MPSF Men's Volleyball Championship
Upset-Minded Stanford Faces Pepperdine For MPSF Title
Upset-Minded Stanford Faces Pepperdine For MPSF Title
With wins in the quarterfinals and semifinals, the Pepperdine is riding a four-game winning streak going into the championship game against Stanford.
Apr 22, 2022
by Kyle Kensing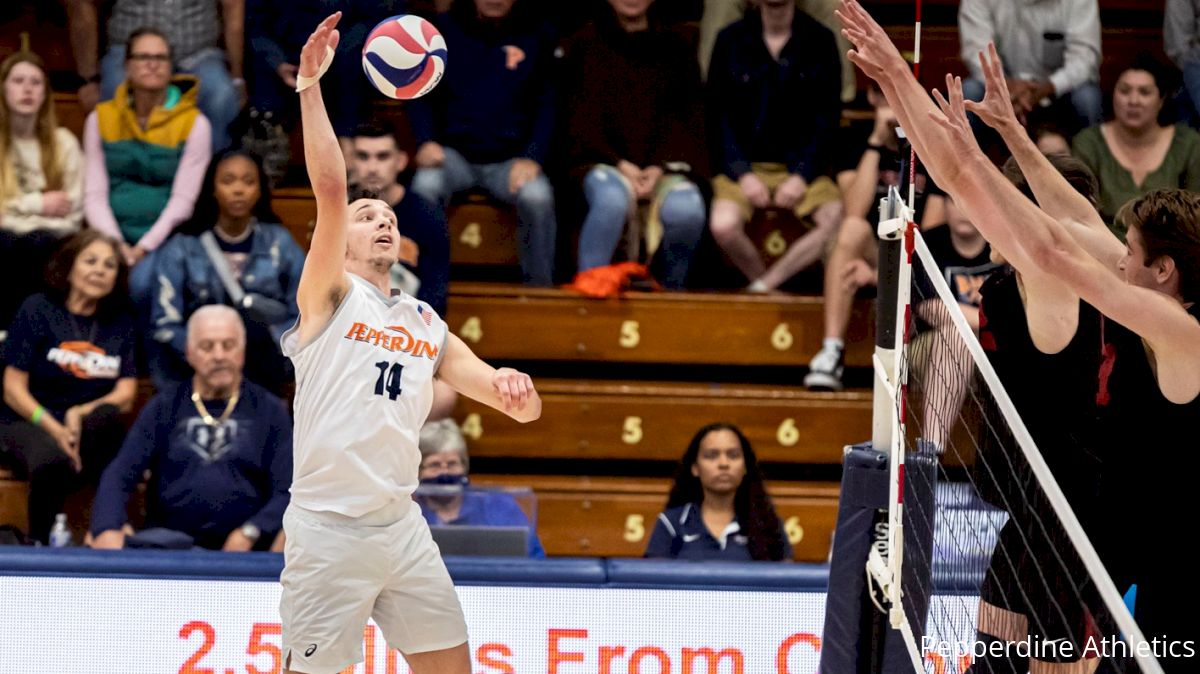 Semifinal upsets set the stage for a showdown between Nos. 3 and 5 in the Mountain Pacific Sports Federation championship. At stake Saturday at Pauley Pavilion is a berth in the NCAA Tournament.
Third-seeded Pepperdine advanced to the title round with a 3-2 defeat over reigning MPSF champion BYU on Wednesday, then a 3-1 victory over No. 2 seed USC on Thursday. Jaylen Jasper and Alex Gettinger stepped up to power the Waves to their two wins, sealing a third straight trip to the title game.
"A lot of people, after the up-and-down season we had, didn't expect us to be here," Gettinger said following Thursday's win via @PeppVolleyball on Twitter.
Pepperdine came into the MPSF Championship at 16-9, having endured some challenges including a sweep earlier this month against previously No. 1-ranked UCLA. But with wins in the quarterfinals and semifinals, the Waves now ride a four-game winning streak.
Gettinger—who had 16 kills against BYU and 11 against USC—sealed Thursday's victory with a block in the fourth set.
"We had a really good plan," Gettinger said. "Once I saw that set, I was like, 'I'm going to block this,' because it was low and inside."
Jasper paced the defeat of USC with 24 kills and a pair of service aces. The All-MPSF honorable mention honoree Jasper will face his former team, having played for Stanford from 2018 through 2020.
The 2022 Cardinal team came into the MPSF Championship having lost 5-of-7, including a two-game sweep to Pepperdine in the regular-season finale. But a 3-1 win to open the conference tournament, behind 25 Will Rottman kills and three Adam Chang service aces, gave Stanford a shot against host and No. 1 seed UCLA.
Rottman, a 1st Team All-MPSF honoree, again came up big with 22 kills, and Justin Lui's 14 digs helped stymie the Bruins.
"Will Rottman's a great player, and they stuffed a couple balls that were pretty important," UCLA coach John Speraw told the Daily Bruin.
"Their libero [Lui] is phenomenal—they have some really nice, key, critical players that played well for them."
𝗗𝗿𝗲𝗮𝗺 𝘄𝗶𝘁𝗵 𝘆𝗼𝘂𝗿 𝗲𝘆𝗲𝘀 𝗼𝗽𝗲𝗻 ✨#GoStanford pic.twitter.com/UaQDGaMs4o

— Stanford Men's Volleyball (@StanfordMVB) April 22, 2022
While Stanford played like one of the best teams in the nation in the semifinals, the Cardinal will need a similar effort and a win to land an NCAA Tournament berth.
Reversing their fortunes from the last meeting includes countering Bryce Dvorak's serving more effectively. Dvorak delivered four aces in Pepperdine's 3-0 win on April 14. Dvorak was also clutch in the 3-2 win on April 16 with three blocks and 51 assists.
"We've had our road struggles this year," Rottman said.
"We were blessed with this opportunity and said, 'why not now?' We've beaten UCLA once this year, we knew we could do it again.
"Pound-for-pound, we're really confident in our abilities," he added.
Rottman called volleyball "a funky sport," evident in Stanford's run to the title game. The Cardinal at No. 5, are the lowest seed to reach this point in the MPSF Championship since 2011.