2022 MPSF Men's Volleyball Championship
Players To Watch At MPSF Championship
Players To Watch At MPSF Championship
Davide Gardini and Sam Kobrine headline the players to watch at this year's MPSF Championship, hosted by No. 1 seed UCLA.
Apr 15, 2022
by Kyle Kensing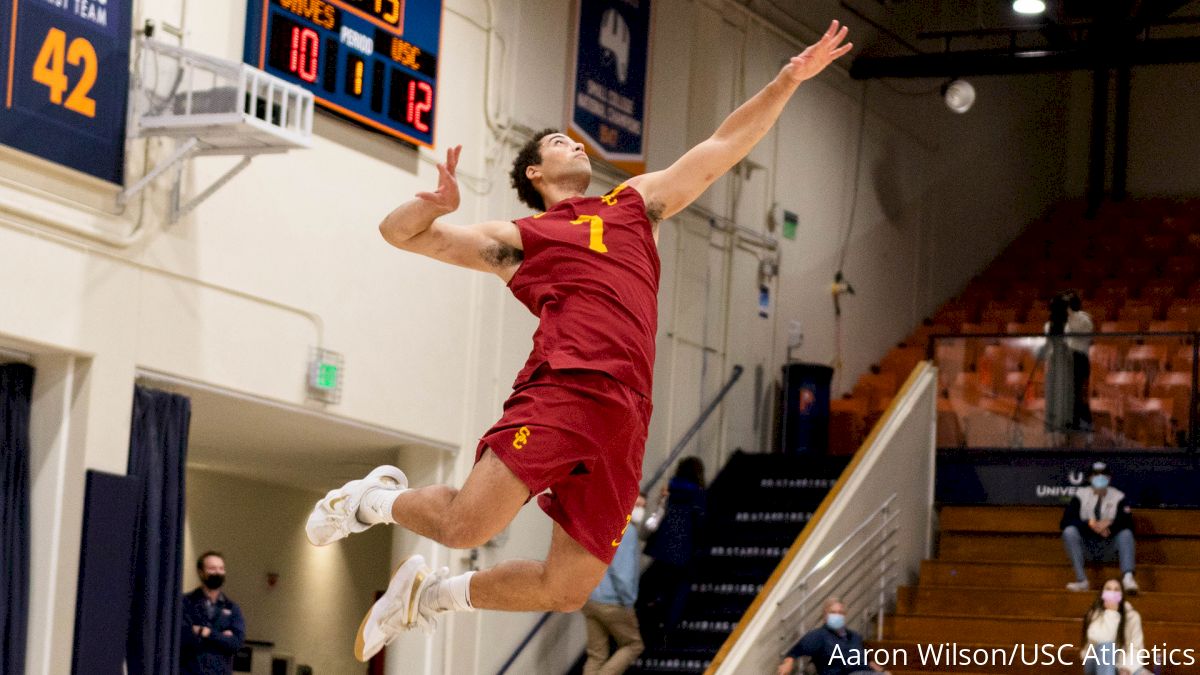 Some of the nation's premier talent headlines the 2022 Mountain Pacific Sports Federation Championship at UCLA's Pauley Pavilion.
It's a collection featuring NCAA stat leaders, All-Americans and Player of the Year candidates. Host, No. 1 seed and AVCA top-ranked UCLA boasts its own set of stars, but the Bruins are not alone.
Here are the players to follow as they pursue a league title and berth in the NCAA Tournament.
Jonathan Carlson, Outside Hitter, Concordia University Irvine
Either leading or right near the front in a variety of statistical categories for CUI, Jonathan Carlson is vital to the Eagles' upset aspirations.
Carlson averages 2.55 kills per set, 3.12 points per set, and has 22 service aces. His total attempts percentage is also among the strongest on the Eagles roster at .271.
Davide Gardini, Outside Hitter, BYU
An All-American on BYU's 2021 MPSF title-winning team, Davide Gardini remains one of the top players in college volleyball with a kills-per-set average a shade below four and attempts percentage at .334.
"He's carrying a pretty heavy load, especially with a lot of the young guys. I think he's doing pretty darn well to be honest, and we're asking, slash expecting, so much from him, sometimes maybe too much," Cougars coach Shawn Olmstead told the BYU Daily Universe.
"But he's never shied away from it, he's never backed down from it. We can't say enough good things about him."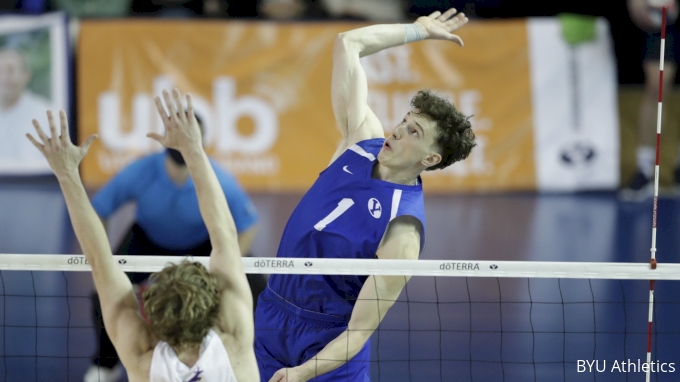 Camden Gianni, Outside Hitter, Grand Canyon
The tandem of Camden Gianni and Christian Janke at outside hitter buoys a dangerous Grand Canyon offense. Gianni ranks 10th among all Div. I players with 4.68 points per set, is third in solo blocks with 12, and his 44 service aces rank him No. 7 nationally.
Gianni's outstanding play is remarkable on its own, only made more incredible considering the recovery he made from a serious health scare just a few years ago.
https://www.youtube.com/watch?v=QxG78vhEe3A
Chris Hall, Setter, USC
Chris Hall excels at setting the table for his Trojans teammates, boasting seven matches of 50-plus assists on the season. His 11.23 assist-per-set average is second in the NCAA, and the 1,033 total assists Hall has doled out are far-and-away the most in the nation.
Jaylen Jasper, Outside Hitter, Pepperdine
Jaylen Jasper is the son of triple-option guru of Navy football's option offense, Ivin Jasper. And while the younger Jasper makes his name on the volleyball court rather than gridiron, he's fast established himself as a master of offense, too.
The Pepperdine outside hitter has racked up 365 points on the season, an average of 4.56 per set, thanks in part to an impressive 3.84 kills per set. Jasper also boasts an attempts percentage of .343, and has 22 service aces on the campaign.
Sam Kobrine, OH/Opp/Setter, USC
Versatile Sam Kobrine has been a natural fit for USC despite transferring in from bitter rival UCLA. An All-American with the Bruins, Kobrine has brought the same exceptional play a few miles south down the 110 to the tune of 4.05 points per set with 314 kills.
Korbine has also set up teammates on 30 assists and scored 29 service aces.
Merrick McHenry, Middle Blocker, UCLA
Merrick McHenry brings a variety of skills to UCLA's MPSF-leading lineup. He has 151 kills, 43 digs and 69 total blocks, doing a little bit of everything to help the Bruins in their championship pursuit.
McHenry may be from Texas, but he's right at home in Los Angeles—and expects to bring that SoCal energy to the MPSF championship.
"It's honestly pushing us a little bit harder than if they (the MPSF Championships) were somewhere else," McHenry told the Daily Bruin.
"It's super exciting to know that it's going to be at home."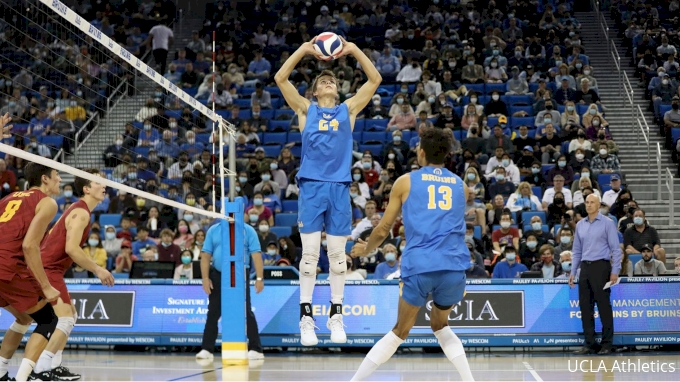 Miles Partain, Setter/Opposite Hitter, UCLA
With 810 assists on the season, 10.25 per set, Miles Partain ranks among the NCAA's most prolific when it comes to setting up teammates. Pertain has a team-high 125 digs, and his .27 service aces per attempt ranks third on the roster.
Will Rottman, Outside Hitter, Stanford
At 4.88 points per set, Will Rottman leads the MPSF and ranks fifth in the NCAA. Rottman also ranks fifth nationally in kills at 373.
The former All-MPSF honorable mention and All-Freshman standout has emerged into a veteran leader for the Cardinal, and is hitting his stride at the right time in the season.
https://www.youtube.com/watch?v=69XgzVFUcTA
Cole Udall, Libero, Grand Canyon
Active and consistent defensive presence Cole Udall has a .972 reception percentage, and is 15th nationally with 2.22 digs per set.
Udall heads into the MPSF Championship with a Defensive Player of the Week honor under his belt. He'll play a central role in GCU's push for a surprise NCAA Tournament bid.