2022 MPSF Men's Volleyball Championship
MPSF Championship: No. 1 UCLA Is Team To Beat
MPSF Championship: No. 1 UCLA Is Team To Beat
UCLA aims to carry an eight-match winning streak into the tournament, which begins with a quarterfinal triple-header.
Apr 14, 2022
by Kyle Kensing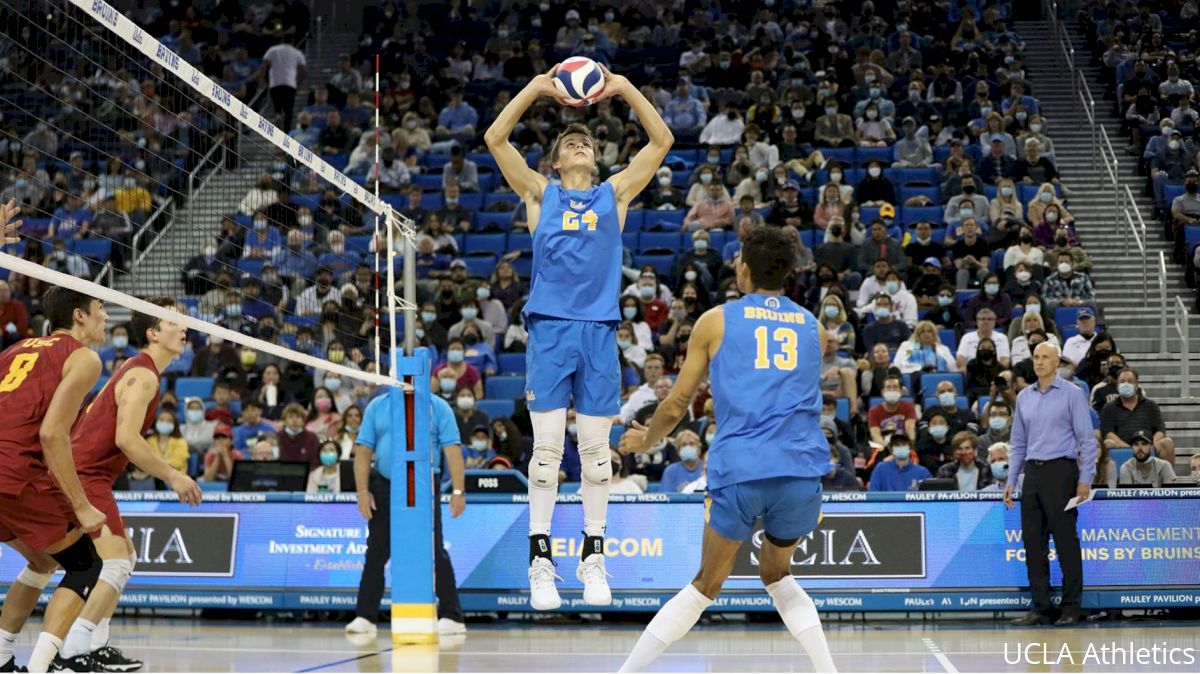 Top-ranked UCLA welcomes the teams of the Mountain Pacific Sports Federation to Pauley Pavilion April 20-23 for the 2022 MPSF Championship.
At stake is conference supremacy and an automatic bid into the NCAA Tournament. The Bruins—No. 1 in the AVCA Poll—clinched the MPSF regular-season championship April 9 with a win over Pepperdine.
UCLA aims to carry an eight-match winning streak into the tournament, which begins with a quarterfinal triple-header. Seeding will be settled in the final weekend of the regular season, with all but UCLA's top spot and No. 7 Concordia University Irvine set.
No. BYU 6 (8-14, 3-7)
The 2021 MPSF regular-season and tournament champion Cougars have found tough sledding in a rebuilding year. BYU endured a nine-match losing streak that spanned all of February and into March. A rebound with three straight wins over CUI and Pepperdine kept the Cougars out of the MPSF cellar, but they head into the final stretch of the regular season on another downturn.
Nevertheless, BYU remains a threat in the tournament thanks to featuring one of the nation's best players. Davide Gardini, a 2021 AVCA All-American, has been excellent with the 11th-best kills-per-set ratio in the NCAA, 3.98.
No. 7 CIU (10-14, 3-9 MPSF)
Concordia University Irvine is set at No. 7 after dropping five consecutive matches against top 10-ranked opponents Grand Canyon, Pepperdine and USC. The Eagles look to play spoiler, opening the MPSF Championship against the tournament's No. 2 seed in the quarterfinals.
CUI showed its upset potential in March with a weekend sweep against Stanford. Owen Chun, Mason Mullins and Uriel Batista put up hitting percentages over .269 in the defeat of the Cardinal.
Jonathan Carlson leads CUI with 256 points on the season, 3.12 a set, and 209 kills. Carlson also sets the pace with 439 total attempts. Chun averages a team-best 3.27 points a set and 2.81 kills per set—191 in total.
No. 4 Grand Canyon (16-9, 6-4)
Upstart Grand Canyon is peaking at the right time, dropping just one match since March 12. In that time, the Antelopes scored a pair of wins over Stanford.
GCU ranks in the top 10 nationally with a .306 team hitting percentage and is seventh in total kills at 1,160. In 82 sets, Camden Gianni has racked up 311 kills. Gianni also has 129 digs, second on the roster behind Cole Udall with 202.
No. 3 Pepperdine (14-9, 5-5)
Eighth-ranked Pepperdine had won 6-of-7 before dropping back-to-back matches to UCLA. In spite of the setback, the Waves own wins over UCLA, Grand Canyon and Lewis.
Jaylen Jasper has established himself as one of the nation's premier outside hitters. He has 365 points on the season, more than 4.5 per set, and 304 kills.
Pepperdine has flourished in the short tenure of coach David Hunt, including an MPSF tournament title in 2019 and NCAA Tournament appearances in each of the last two full seasons. These Waves have the pieces to make another run if they get hot in the tournament.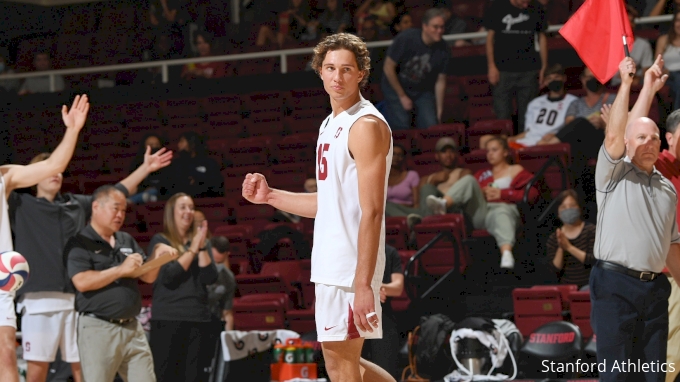 No. 5 Stanford (12-11, 4-6)
Following a strong first month-and-change, Stanford climbed into the AVCA top 10. The Cardinal have struggled a bit in the latter-half of the schedule, but have scored some impressive wins all the same.
Stanford beat UCLA, USC and swept BYU all over the last four weeks. A regular-season finale matchup with Pepperdine could bolster the Cardinal's placement in the MPSF Tournament.
Justin Lui has shined with 198 digs and a .943 reception percentage. Will Rottman heads into the final phases of the season, posting nearly 5 points per set.
No. 1 UCLA (19-3, 9-1)
The nation's top-ranked team, regular-season MPSF champion and host of the MPSF Championship, UCLA rolls into the postseason on a wave of momentum.
The Bruins have not lost since March 11, and won 5-of-6 in the last month in straight sets. UCLA combines quick-reacting defense and powerful offense, featuring some of the top individual performers in the NCAA in blocks (Guy Genis); hitting percentage (Merrick McHenry); assists (Miles Partain); and service aces (Ethan Champlin).
No. 1 will be hard to dethrone, particularly with home-court advantage. The Bruins are 11-1 at Pauley Pavilion this season.
No. 2 USC (19-6, 6-4)
USC put together winning streaks of five and six matches this season, and the Trojans are threats to roll up the three-in-a-row necessary to win the MPSF Championship.
Chris Hall, the nation's leader in assists, with 1,033, helps set the table for 6-foot-8 Simon Gallas and Sam Kobrine, USC's pace-setters in kills and points.
Defensively, Cole Paxson is averaging almost 2.3 digs per set—good for No. 13 among all Div. I players.