2022 JVA World Challenge presented by Nike - Expo Only
JVA World Challenge Preview: Teams To Watch
JVA World Challenge Preview: Teams To Watch
The biggest JVA tournament of the season is the JVA World Challenge, taking place April 8-10, at the Kentucky Exposition Center in Louisville, Kentucky.
Apr 6, 2022
by Megan Kaplon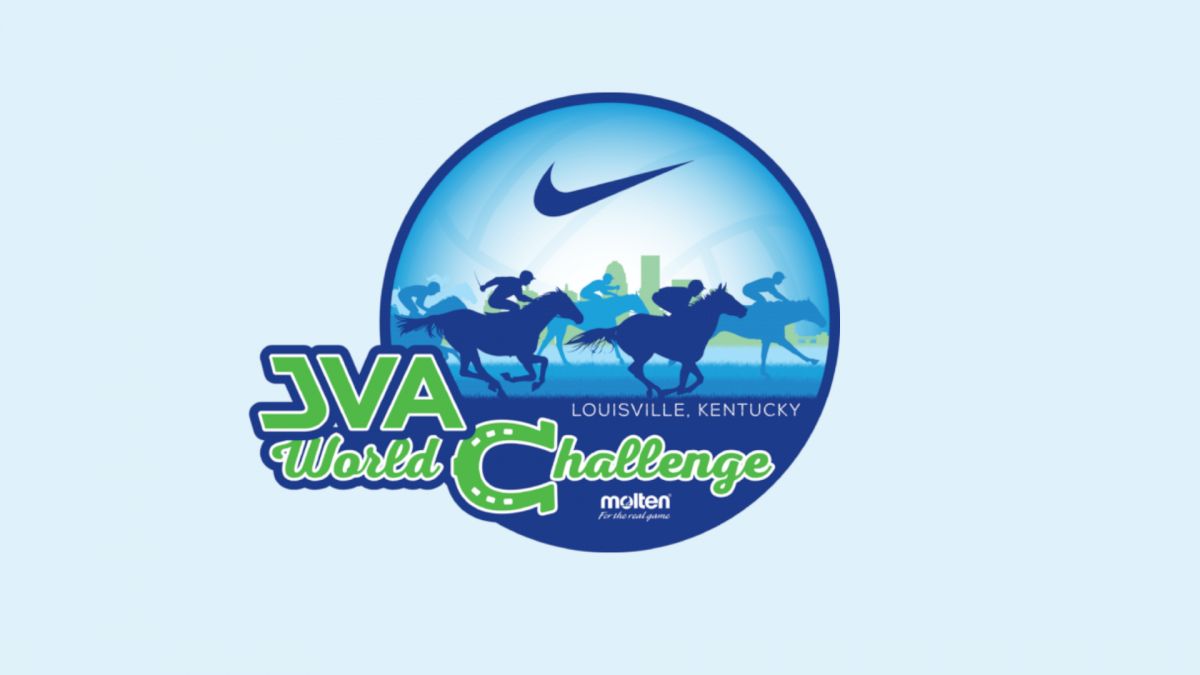 The biggest JVA tournament of the season is the JVA World Challenge, taking place April 8-10, at the Kentucky Exposition Center in Louisville, Kentucky. Always a proving ground for top teams, not to mention a hotbed of college recruiting, this year's JVA World Challenge shows no signs of being any less thrilling.
With USA Volleyball's 18s Girls Junior National Championships less than a month away, 18 Open teams in particular will be polishing and perfecting their games, taking advantage of the high level competition to prepare. Here are the teams to watch at this year's JVA World Challenge.
18 Open
With 42 teams in the division, including seven in PrepVolleyball's latest top 50 rankings, the JVA World Challenge 18 Open division looks to be a doozy. Rockwood Thunder 18 Elite enters the competition as our favorite to win it all, thanks in part to Vanessa Polk (Pepperdine) and Madilyn Sell (Marquette) in the middle and Madison Scheer (Auburn) on the left pin.
But you can't count out Sports Performance 18 Elite, which boasts one of the top 10 recruits in the Class of 2022 in 6-4 OH/RS Ella Wrobel (Wisconsin) and won big in Louisville just last month at the Bluegrass Volleyball Tournament. Circle City 18 Purple should be in a good mood heading into the weekend as the Indiana squad just scored an at-large bid to GJNCs. They try to ride the good vibes all the way to a World Challenge victory.
Rockwood Thunder 18 Elite
SPVB 18 Elite
Circle City 18 Purple
Tri-State Elite 18 Blue
FC Elite 18 Elite
SPVB 18 Kahl
Academy 18E Rage
Legacy 18-1 Adidas
Ku'ikahi 18 Wahine
Illini Elite 18 Cardinal
Kairos 18 Adidas
Alliance 18 Ren
NKYVC 18-1 Tsunami
Capital 18 Adidas
Club Unite 18 Abbie
17 Open
All eyes will be on Adidas KIVA 17 Red at this year's JVA World Challenge. Even with all the talent packed into the 18 Open division, I would argue this team might be the most fun to watch—regardless of age group.
Six-foot-five middle Nya Bunton and 6-3 outside Sydney Helmers will be playing together at the University of Texas in just over a year, and they've got future Fordham Ram Whitney Woodrow as their setter. Fresh off a third-place finish at Bluegrass last month, KIVA 17 Red will be looking to finally finish on top in their hometown.
Adidas KIVA 17 Red
Academy 17E Tsunami
Capital 17 Adidas
Upward Stars 17 Kayla
Asics Munciana 17 Pandas
Tri-State Elite 17 Blue
Michio Chicago 17Natl
Ku'ikahi 17 Wahine RSB
Sky High Adidas 17 Elite
FC Elite 17 Navy
H2 STL 17 Under Armour
VC United 171 Elite
MVP 17 Blue
Upward Stars 17 Helle
Athena VB 17-1
16 Open
If chalk holds, 16 Open should come down to Upward Stars 16 Amy versus Tri-State Elite 16 Blue. Players to watch include libero Carly O'Brien of Upward Stars and outsides Sophia Adkins and Reese Wuebker of Tri-State Elite.
But there's plenty of talent to go around: take Ava Novak, an outside hitter for Sports Performance 16 Elite and one of the top 20 recruits in the Class of 2024, and Morgan Gaerte, a 6-5 outside hitter for Team Pineapple who can serve receive in addition to absolutely bombing balls from either pin. If it's smooth setters you like, check out K2 16-1 Adidas Zac's Kinslee McGowan.
Upward Stars 16 Amy
Tri-State Elite 16 Blue
FC Elite 16 Navy
Munciana 16 Moana
Athena VB 16-1
Northeast 16 Open
K2 16-1 Adidas Zac
Alabama Perf 16 Red
Rev 16-1 Fury
SC Midlands 16 National R
Team Pineapple 16 Black
EU U16-Black
SPVB 16 Elite
Sky High Adidas 16 Elite
Upward Stars 16 Alex
15 Open
It's all about local talent in the 15 Open Division, with the lineup including fierce teams from Kentucky, Ohio, and Indiana.
Throw into the mix a tough Upward Stars team from South Carolina and Kairos 15 Adidas of Sioux Falls, South Dakota and you have the makings of a fun weekend of volleyball. Top players include Addie Applegate and Charlotte Vinson of Munciana 15 Lorax and Anna Kowalski of FC Elite.
Munciana 15 Lorax
Adidas KIVA 15 Red
Tri-State Elite 15 Blue
Upward Stars 15 Bing
Kairos 15 Adidas
Upward Stars 15 Tinsley
FC Elite 15 Navy
Wisconsin Ice 15 National
SPVB 15 Elite
Munciana Indy 15 Eagles
Tribe 15 Elite Dean
NKJV 15 Blue
Alabama Perf 15 Red
EVA 15 Blue
Team Pineapple 15 Black