2022 Xavier vs Villanova - Women's
BIG EAST Games Of The Week: Siegrist Soars, Creighton Looks To Keep Pace
BIG EAST Games Of The Week: Siegrist Soars, Creighton Looks To Keep Pace
Creighton and Villanova look to close out the month of conference play strong with wins this week.
Jan 21, 2022
by Briar Napier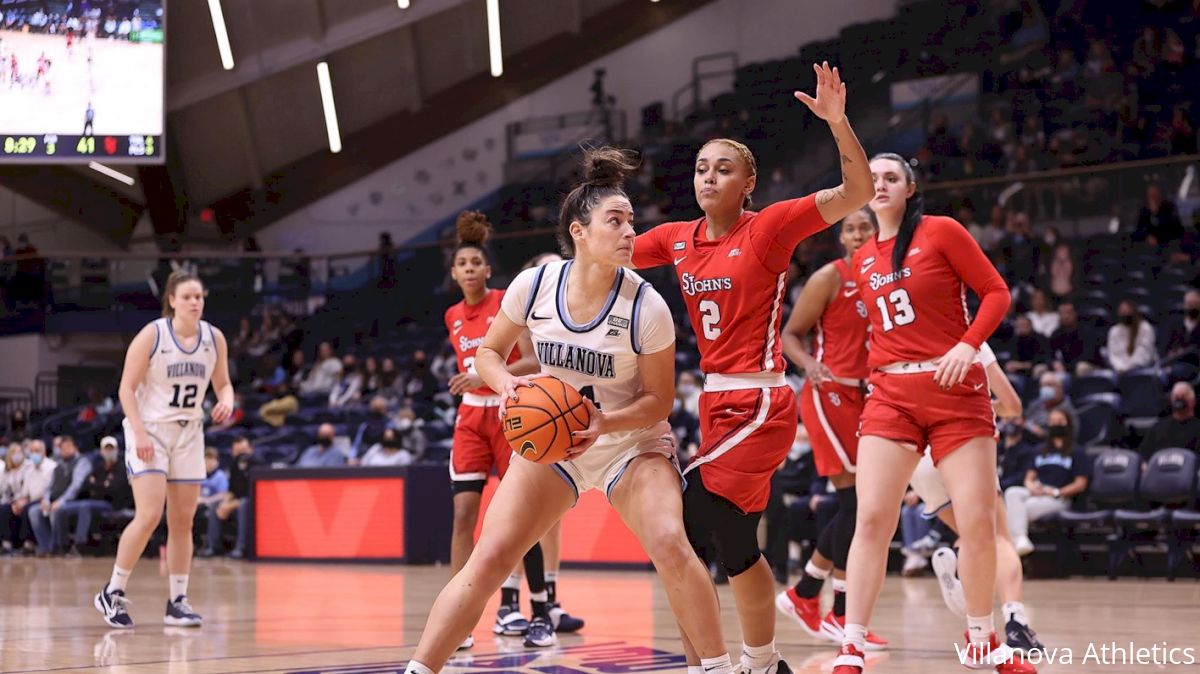 The point of no return in determining the BIG EAST contenders from the pretenders has passed.
As the final month of the season approaches and the fight for postseason positioning heats up, teams are either converting under the pressure or crumbling. There have been both surprising upstarts and some peculiar disappointments, with resumes both strengthening and weakening as the grind of BIG EAST play goes on.
In the final full week of January, what are the matchups to watch across the conference this week? Check out what to expect in this edition of BIG EAST Games of the Week, all of which will be broadcast live on FloHoops
Seton Hall Vs. Marquette
Marquette got the win of its season Jan. 12 at home, outdueling the offensive juggernaut of DePaul in overtime to give the Blue Demons their first league loss of the year. The Golden Eagles put their stamp on the season as a force to be reckoned with in the BIG EAST. Two games later, the team was humbled in a three-point home loss to Villanova, becoming another casualty of a white-hot Wildcats team that has gone 6-1 since getting star Maddy Siegrist back from injury.
Marquette's next three games—at Xavier, at Butler and at home against the Pirates—are matchups where the favored Golden Eagles can get some of that positive mojo back. Purdue transfer guard Karissa McLaughlin has been a star in conference games, averaging 16.9 points a night while making more 3-pointers (27) than any other player in BIG EAST play thus far. The grad student is just one weapon on the league's top-shooting 3-point team (39.5 percent) and an underrated defense, which even after playing DePaul (the No. 1-scoring team in America at 91.3 points per game) sits third in the BIG EAST at allowing just 57 points an outing.
Seton Hall, meanwhile, had a rough couple of weeks between New Year's Eve and mid-January, having two losses sandwiched between three COVID-related postponements from Dec. 31 to Jan. 14. However, the Pirates swindled wins from Providence (by 20 on the road, no less) and at home against St. John's, with guard Lauren Park-Lane filling up the stat sheet in league games, averaging 20.7 points and 6.4 assists per game. Seton Hall has the unfortunate honor of playing an angry UConn on Friday—the Huskies lost to Oregon earlier last week—but on the flipside, that should make it well-prepared for whatever Marquette throws its way.
Providence Vs. Creighton
Since dropping to 1-2 with a loss to Nebraska in November, Creighton has gone 12-2 with a two-point loss to South Dakota and an eight-point loss at mighty UConn, marking the first time the Huskies had not won a BIG EAST game by more than double digits. The Bluejays breezed through their three games since the loss in Storrs, beating Seton Hall, St. John's and Butler by an average margin of 26.7 points, including a 51-point rout against the Bulldogs.
Three Creighton players have averaged double figures in scoring conference play (Emma Ronsiek, Lauren Jensen and Morgan Maly) while Tatum Rembao has been a key distributor, feeding the Bluejays scorers and averaging more assists (6.2) than points (5.0) in BIG EAST play.
One of the keys for Providence will be to avoid an early deficit, like it did in its first matchup with Creighton on Dec. 19 in Omaha, when the Bluejays stormed out to a 28-11 lead after the first quarter. Consistent scoring in league play must be found if the Friars want to keep pace this time around at home, as Providence's 56.9 points per game are third-lowest in the BIG EAST.
Senior Friars guard and Michigan State transfer Janai Crooms (13.4 points, 9.9 rebounds, 4.3 assists, 1.3 blocks this season) has been an overlooked player across the BIG EAST, but will likely need to be a massive part in matching the Bluejays offensive firepower and efficiency, especially as they're No. 1 in America in assist-to-turnover rate (1.55).
Xavier Vs. Villanova
Where would Villanova be without Maddy Siegrist? Well, earlier this season, the Wildcats found out. After going 3-5 to start the season, 'Nova has won six of seven since (as of Thursday afternoon) getting its All-BIG EAST First Teamer back after missing six games. After all of that adversity—and how she's produced coming out of it—the junior forward now has a convincing case for ‌BIG EAST Player of the Year if she keeps up the pace.
Siegrist has averaged 25.3 points and 10.0 rebounds per game in conference play, which ranks first and third in the league, respectively, and her resume will only strengthen if Villanova keeps rolling. More impressive is that Siegrist has handled the extra workload without teammate Brianna Herlihy (14.3 points, 8.0 rebounds in BIG EAST play), who has been inactive since the Wildcats' win over St. John's on Jan. 2. If the Wildcats get both players fully healthy by the time they square off with Xavier, the Musketeers could be in trouble.
Xavier did get leading scorer Nia Clark (13.3 points, 3.2 assists) back from a month-long absence in time to play Jan. 15 in a loss at UConn. The more Clark features, the better things go for the Musketeers. One matchup that may help Xavier out is that, although it has the worst 3-point defense in BIG EAST play at 39.1 percent, Villanova shoots the triple at a lower rate in league games than anyone else (22 percent). The Musketeers are also great free throw shooters in conference games (81.6 percent) while the Wildcats tend to foul frequently (19.1 percent foul rate, 10th of 11 BIG EAST teams).
But if Siegrist gets going early, it's very easy to imagine that none of those other advantages will matter.