2021 MPSF Men's Volleyball Championship
BYU's Gabi Garcia Fernandez & GCU's Camden Gianni Earn All-MPSF Honors
BYU's Gabi Garcia Fernandez & GCU's Camden Gianni Earn All-MPSF Honors
A number of these players are set to face-off at the 2021 MPSF Men's Volleyball Championships.
Apr 22, 2021
by FloVolleyball Staff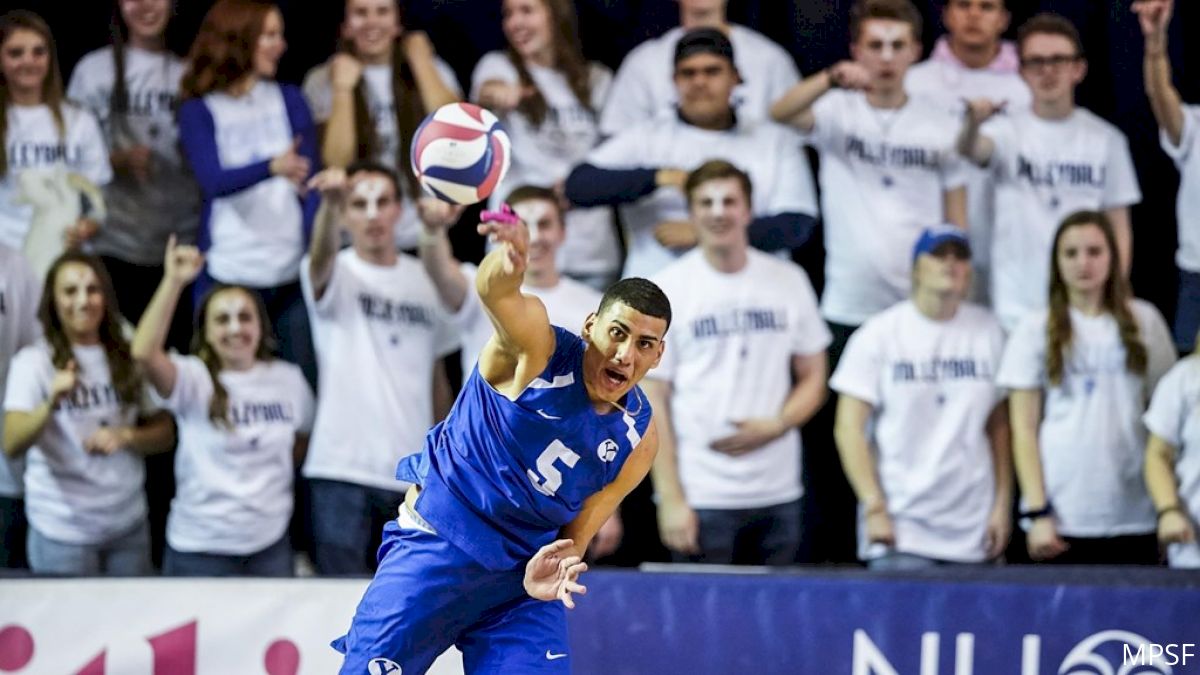 A number of these players are set to face-off at the 2021 MPSF Men's Volleyball Championships and even if they walk away empty handed, they will still come out of the season with some hardware.
Watch 2021 MPSF Men's Volleyball Championships
April 22-24
Gabi Garcia Fernandez · #5 · Senior · Opposite · BYU
BYU senior opposite Gabi Garcia Fernandez (San Juan, Puerto Rico) repeats the MPSF Player of the Year award, and is the fifth all-time to go back-to-back (David Wieczorek-Pepperdine, 2018-19; Taylor Sander-BYU, 2012-13; George Roumain-Pepperdine, 1998-99; Jeff Nygaard-UCLA, 1994-95). He is a four-time All-MPSF First-Team selection, the third all-time to achieve the feat (Sander, 2011-14; Carson Clark-UCI, 2009-12). Garcia Fernandez helped the second-ranked Cougars to a 17-3 (.850) regular season and No. 1 seed in the MPSF Tournament. He has recorded the MPSF's top-two single-match hitting percentages this year (12-kill minimum), in back-to-back matches which resulted in MPSF Offensive Player of the Week recognition following both efforts. He attacked for an errorless .833 clip with 15 kills against Pepperdine (Feb. 12) and an errorless .800 clip with 12 kills against UCLA (Feb. 6). In the MPSF's regular season, he compiled the most kills (254), most points (317.5), and served the most aces (33). His 33 aces are the fourth-most across the country, while he ranks ninth in the NCAA in points per set (4.67). Garcia Fernandez recorded 14 double-digit kill matches, while hitting at least .300 in 12 of BYU's 20 matches. His 172 career aces entering the postseason are within four of the MPSF's all-time top-10. Garcia Fernandez represents BYU's sixth MPSF Player of the Year (Garcia Fernandez-2021, '20; Taylor Sander-2014, '13; Carlos Moreno-2004; Ryan Millar-1997).
2021 MPSF Freshman of the Year

Camden Gianni · #5 · R-Freshman · Outside Hitter · Grand Canyon
Grand Canyon redshirt freshman outside hitter Camden Gianni (Carlsbad, CA/La Costa Canyon HS) finished the regular season in the MPSF's top-three in kills per set (3.76, T-3rd), points per set (4.71, 3rd), and aces per set (0.65, 1st) to help the Antelopes to a fourth-place finish. Each of those averages lead the MPSF Freshman class, while he completed his first two regular seasons in the top-five in each category. Gianni also ranks third in the nation in ace average and eighth in point average. On March 17, Gianni served an MPSF season-high seven aces in a straight-set home win over USC. On February 25, Gianni hit .567 with 19 kills (6.33 K/S) in a 3-0 home outcome over then top-ranked BYU, helping Grand Canyon to its first-ever win over a No. 1-ranked team. Against the Cougars on February 20 in Provo, Gianni totaled 32 points and 24 kills, the second and third-highest single-match totals in the conference this year. A two-time all-conference selection, he is the only freshman on this year's first-team list. Gianni, who returned to the team in 2020 after a life-threatening medical emergency in the first practice of 2019, is Grand Canyon's only MPSF major award winner in the four years in the conference. Gianni repeats the MPSF Freshman of the Year honor, receiving the year back after the shortened 2020 season.
First Team
Student-Athlete No. Year Position School Hometown/Last School
$ Gabi Garcia Fernandez 5 Senior Opposite BYU San Juan, Puerto Rico/St. Francis HS
# Davide Gardini 1 Junior Outside Hitter BYU Ravenna, Italy/Manfredi Azzarita
^ Cole Ketrzynski 3 Sophomore Opposite UCLA Toronto, Ontario, Canada/Yorks Mills Collegiate
Spencer Wickens 7 Senior Outside Hitter Pepperdine Irondequoit, N.Y./ McQuaid Jesuit HS
^ Camden Gianni 5 R-Freshman Outside Hitter Grand Canyon Carlsbad, CA/La Costa Canyon HS
Sam Kobrine 5 R-Senior Setter UCLA Newport Beach, CA/Corona Del Mar HS
^ Wil Stanley 3 Grad Setter BYU Honolulu, HI/Punahou HS
Second Team
^ Austin Wilmot 20 R-Junior Middle Blocker Pepperdine Valley Village, CA/UC Irvine
% Felipe de Brito Ferreira 16 Senior Middle Blocker BYU Maringa, Brazil/Colegio Regina Mundi
# Raymond Barsemian 1 R-Senior Opposite Concordia La Crescenta, CA/Pierce College Merrick McHenry 13 R-Freshman Middle Blocker UCLA Bedford, TX/L.D. Bell HS
^ Zach Eschenberg 11 Grad Outside Hitter BYU Newbury Park, CA/Newbury Park HS
Bryce Dvorak 6 Freshman Setter Pepperdine Newport Beach, CA/Corona Del Mar HS Billy Fauntleroy 11 Junior Opposite USC Wilmette. IL/New Trier HS
All-Freshman Team
Camden Gianni 5 R-Freshman Outside Hitter Grand Canyon Carlsbad, CA/La Costa Canyon HS
Merrick McHenry 13 R-Freshman Middle Blocker UCLA Bedford, TX/L.D. Bell HS Bryce Dvorak 6 Freshman Setter Pepperdine Newport Beach, CA/Corona Del Mar HS
Ethan Champlin 20 Freshman Outside Hitter UCLA Oceanside, CA/Classical Academy HS Nathan Lietzke 12 R-Freshman Setter Stanford Austin, TX/St. Andrews Episcopal
Will Rottman 15 R-Freshman Outside Hitter Stanford Santa Barbara, CA/Santa Barbara HS Trey Cole 18 Freshman Libero Pepperdine Long Island, NY/Connetquot HS
Honorable Mention
^ Austin Matautia 23 R-Senior Outside Hitter UCLA Ewa Beach, HI/U. of Hawaii
^ Christian Janke 11 Sophomore Outside Hitter Grand Canyon Carlsbad, CA/Sage Creek HS Jacob Steele 12 Sophomore Opposite Pepperdine Trabuco Canyon, CA/El Toro HS
^ Miki Jauhiainen 18 Grad Middle Blocker BYU Tampere, Finland/Kuortane HS
^ Jordan Hoppe 23 Senior Outside Hitter Concordia Greendale, WI/Orange Coast College
Cole Paxson 3 Senior Libero USC Laguna Beach, CA/Laguna Beach HS
^ Hugo Fischer 19 R-Sophomore Opposite Grand Canyon Verviers, Belgium/Waremme
% Kyler Presho 14 Senior Middle Blocker Stanford San Clemente, CA/San Clemente HS
$ Four-Time All-MPSF First Team Selection
% Four-Time All-MPSF Selection
# Three-Time All-MPSF Selection
^ Two-Time All-MPSF Selection