2021 MPSF Men's Volleyball Championship
5 Pieces Of MPSF Men's Volleyball History
5 Pieces Of MPSF Men's Volleyball History
In the history of collegiate men's volleyball, no conference can touch the MPSF.
Apr 12, 2021
by Megan Kaplon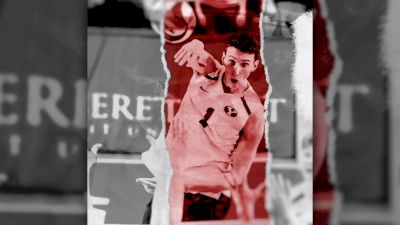 In the history of collegiate men's volleyball, no conference can touch the MPSF. The league boasts 16 national championships since 1992, alums in every Olympics since 2000, and some of the most legendary coaches in the history of the sport of volleyball.
Watch 2021 MPSF Men's Volleyball Championships
April 22-24
As we look forward to the 2021 MPSF men's volleyball championship taking place April 22-24 in Provo, Utah, and streaming live right here on FloVolleyball, let's consider some of the more impressive moments and facts in MPSF history.
Legendary Coaches
Three current or former MPSF coaches have led the U.S. men's national team: former Pepperdine coach Marv Dunphy, current Long Beach State head coach Alan Knipe (have to give MPSF credit for this one even though LBSU men's volleyball now competes in the Big West), and current men's national team and UCLA head coach John Speraw. That's not even counting current Pepperdine head coach David Hunt and former Pepperdine assistant Kayla Banwarth who have both served on the USA women's staff.
Dunphy, former UCLA head coach Al Scates, and former BYU head coach Carl McGown are both in the American Volleyball Coaches Association Hall of Fame. Dunphy and Scates are also a member of the International Volleyball Hall of Fame
Scates is the winningest volleyball coach in NCAA history. With 19 NCAA titles, he's tied with Arkansas track and field's John McDonnell for the most NCAA titles won by a coach in a single sport.
Olympic Impact
But we'll do our best. We tallied 31 former MPSF players who have competed in the Olympics with nine individuals with MPSF ties appearing as coaches in the games. Here is the complete list, compiled alphabetically. Please let us know if we've left someone out!
Players
*beach volleyball Olympian
**beach and indoor
Kevin Barnett (Pepperdine)

Brook Billings (USC)

Dain Blanton (Pepperdine)*

Gabe Gardner (USC/Stanford)

Kevin Hansen (Stanford)

Tom Hoff (Long Beach State)

John Hyden (San Diego State)

Mike Lambert (Stanford)

Rich Lambourne (BYU)

David Lee (Long Beach State)

Paul Lotman (Long Beach State)

Chip McCaw (Pepperdine)

David McKienzie (Long Beach State)

Stein Metzger (UCLA)*

Ryan Millar (BYU)

Jeff Nygaard (UCLA)**

Casey Patterson (BYU)*

Reid Priddy (Loyola Marymount)

Todd Rogers (UCSB)*

Sean Rooney (Pepperdine)

George Roumain (Pepperdine)

Taylor Sander (BYU)

Erik Shoji (Stanford)

Kawika Shoji (Stanford)

David Smith (UC Irvine)

Clay Stanley (Hawaii)

Donald Suxho (USC)

Brian Thornton (UC Irvine)

Murphy Troy (USC)

Andy Witt (Stanford)

Kevin Wong (UCLA)*
Coaches
Andrea Becker (UCLA)
Kayla Banwarth (Pepperdine)
Marv Dunphy (Pepperdine)
Matt Fuerbringer (Stanford)
Tyler Hildebrand (Long Beach State)
David Hunt (Pepperdine)
Alan Knipe (Long Beach State)
John Speraw (UCLA)
Erik Sullivan (UCLA)
16 National Championships
Of UCLA men's volleyball's 19 national championships, six occurred during the MPSF era. Of course, current member schools Stanford (1997, 2010), BYU (1999, 2001, 2004), and Pepperdine (2005) have also won the ultimate men's college volleyball trophy. Also, former MPSF team UC Irvine won in 2007, 2009, 2012, and 2013 while a member of the conference.
Watch 2021 MPSF Men's Volleyball Championships
April 22-24
Conference Championships
UCLA and BYU are tied with seven championships each, with UCLA reigning in the 1990s and 2000s and BYU picking up four of its seven wins since 2013. Pepperdine boasts five conference titles, while Stanford has two, and USC one. Former conference teams UC Irvine and Long Beach State have three and one, respectively.
Storied History: Stanford men's volleyball
As you no doubt are aware, Stanford University announced in July of last year that it would cut 11 sports, including men's volleyball at the end of the 2020-21 academic year. Volleyball community members were absolutely shocked at the announcement because of the prestigious men's volleyball program Stanford has fielded over the years.
You can see in that list of Olympians above, the program helped develop five Olympians just since 2000 (the total number is 12), not to mention their two MPSF titles, two national championships, 20 First Team All-Americans, two national players of the year (Canyon Ceman, 1993; Kawika Shoji, 2010), three national coaches of the year (Fred Sturm, Ruben Nieves, and current head coach John Kosty), three national freshmen/newcomers of the year (Duncan Blackman, Matt Fuerbringer, and Erik Shoji), and three NCAA tournament MVPs (Mike Lambert, Brad Lawson, Kawika Shoji). Stanford also boasts the longest win streak in the MPSF, winning 24 in a row between March 8, 1997 and February 20, 1998.