2021 Mizuno Big South National Qualifier (Courts 1-80)
Top Storylines & Recap Of Mizuno Big South National Qualifier
Top Storylines & Recap Of Mizuno Big South National Qualifier
The weekend was extra special for all involved after the 2020 edition was canceled.
Apr 6, 2021
by Megan Kaplon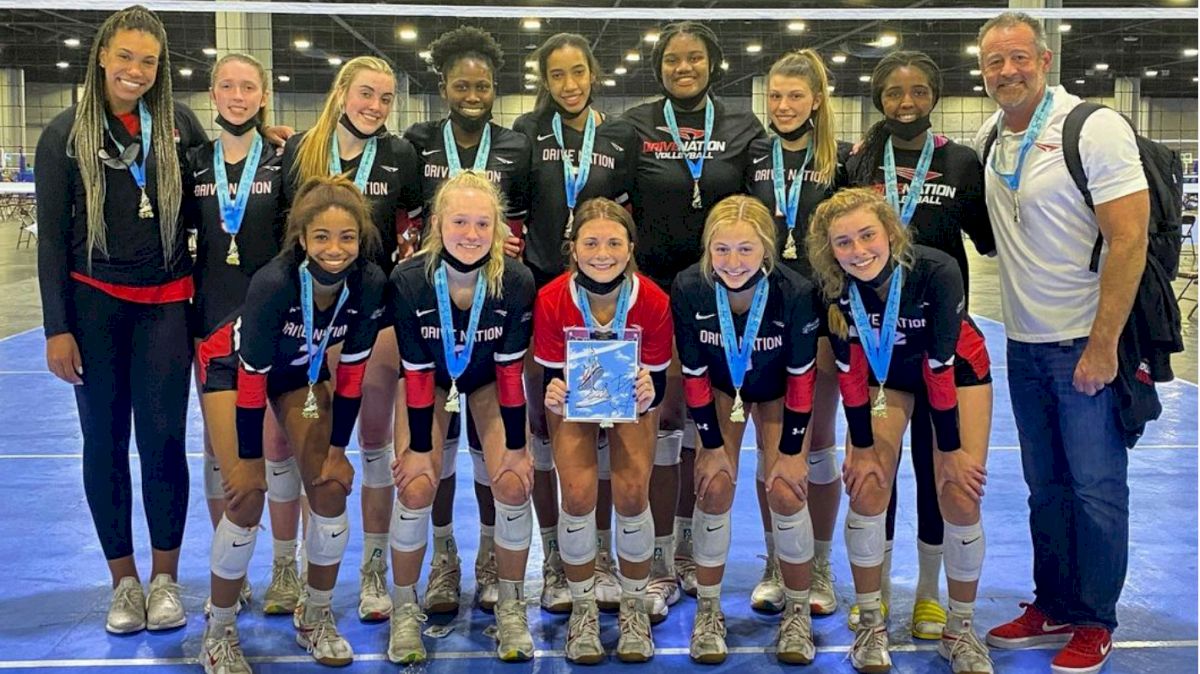 The largest girls volleyball national qualifier to be played on a single weekend — yep, I'm talking about the aptly named Big South — wrapped up on Easter Sunday. The weekend was extra special for all involved after the 2020 edition was canceled, but those who finished with medals or a spot at nationals had the best time of all.
Here is a quick recap of the results and qualifications earned in each of the Open divisions.
18 Open
In 18 Open, Sunshine Volleyball Club 18 South Bay won gold and a nationals bid, finishing the weekend with an 8-2 record and defeating Houston Skyline 18 Royal in the final. 18 South Bay dropped matches to Mintonette m.81 and Metro 18 Travel in pool play but went 3-0, and 6-0 in sets, in its third pool before facing Houston Skyline 18 Royal in the championship bout.
With 18 Royal and third-place finisher A5 18 Scott both already in possession of a bid, fourth- and fifth-place teams Coast 18-1 and ECVC Hurricanes 18 Black also secured spots at GJNCs. ECVC Hurricanes 18 Black had previously earned a bid in 18 National, but got to upgrade to Open, thanks to a 5-5 record which saw them go 4-5 in pool play but win the crucial gold trickle bracket match against Rockwood Thunder 18 Elite.
17 Open
The 17 Open winner also celebrated obtaining a berth to nationals. OTVA 17 T Jason went 10-0 on the weekend, dropping just three sets over the three days, and defeated Madfrog 17 National Green in the last match of the tournament. The Tampa-based squad fell to Madfrog 25-14 in the first set of the final but came roaring back to win the match in three.
Wave 17 Rachel and Circle City 17 Purple earned the remaining pair of bids, finishing third and fifth, respectively. 17 Rachel downed previously qualified Metro 17 Travel in the third-place match, while 17 Purple got past Rockwood Thunder 17 Elite, which was also in hunt of a nationals berth, in the fifth-place competition.
16 Open
Drive Nation 16 Red, PrepVolleyball's preseason No. 9, defeated Legacy 16-1, the PrepVolleyball preseason favorite, in the 16 Open final. The Texas team finished the weekend with an unblemished record, handing Legacy its only loss of the tournament. With both Drive Nation and Legacy already having earned nationals berths, the No. 3, 4, and 5 finishers had a lot to celebrate. Tstreet 16 Curtis took third, defeating Top Select 16 Curtis in their final match of the weekend, while Wave 16 Alfee scored the final bid with a 25-19, 25-21 victory over OTVA 16 J Will.
15 Open
Wave 15 Juliana lived up to the No. 3 preseason ranking granted to them by PrepVolleyball, going undefeated to snag the gold medal in 15 Open and earn a bid. They defeated previously qualified A5 18 Bob in the final. Metro 15 Travel lost to Dynasty 15-1 in the third-place match, but with Dynasty already owning a bid, Metro still had much to celebrate at the end of the tournament. Triangle 15 Black snagged the final nationals spot up for grabs, defeating Triangle 15 Black and OTVA 15 O Isaac in the trickle down bracket.
14 Open
14 Open belonged to Wildfire 14 Albert, which went 10-0 over three days to earn a gold medal. OTVA 14 T Laura and A5 14 Helen finished second and third, respectively, but with all three top finishers already owning bids, the fun didn't stop there. Fourth-place Circle City 14 Purple and fifth placers Tstreet 14 Carson and Madfrog 14 National Green will also appear at nationals in June.
13 Open
Last but not least, in the 13 Open competition, only two bids were on the line. Previously qualified Flyers 13 APX-Bill won it all, leaving second- and third-place finishers GP 13 Rox and Mintonette m.31 to claim the nationals berths.