2021 Capitol Hill Volleyball Classic
Everything You Need To Know About 2021 Capitol Hill Classic
Everything You Need To Know About 2021 Capitol Hill Classic
This year's installment of the 2021 Capitol Hill Classic will look a bit different but is set to bring the same high level action.
Feb 25, 2021
by FloVolleyball Staff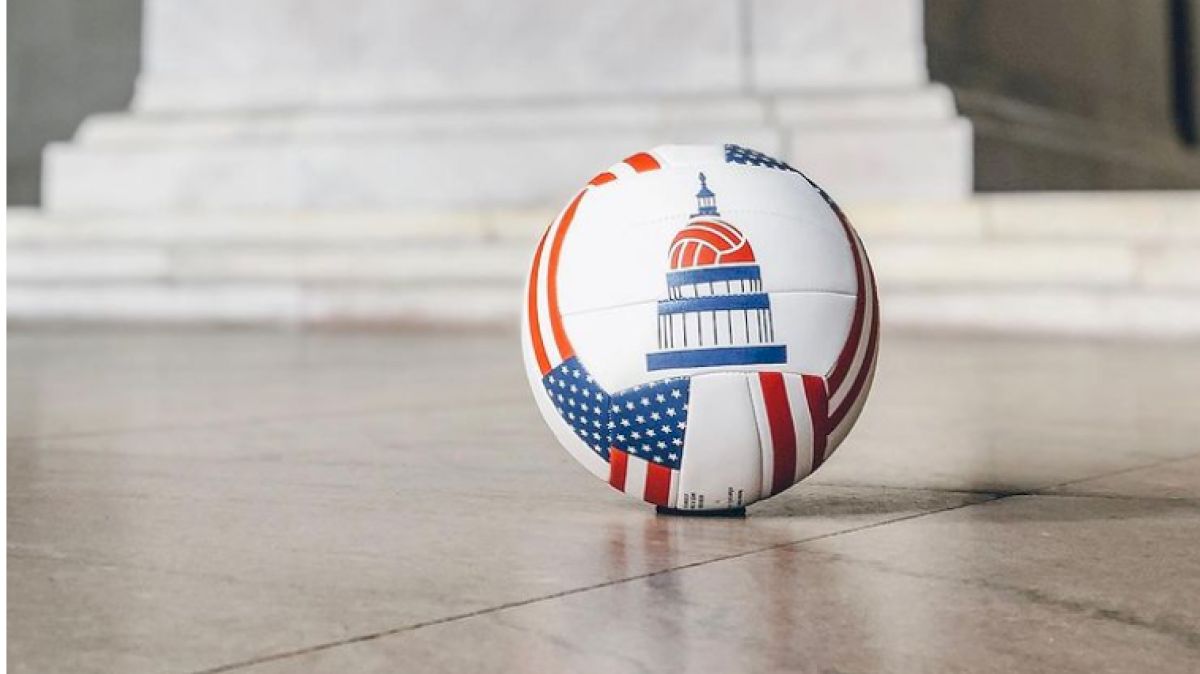 In 2007, Barry and Bonnie Goldberg founded the Capitol Hill Volleyball Classic and in the 15 years since, the tournament has lived up to its name becoming a favorite Presidents' Day weekend event for many clubs, teams, and players from the Mid-Atlantic region and beyond.
Watch Capitol Hill Volleyball Classic
Feb 26 - 28, 7:00 AM CST
The Goldbergs created the tournament to help Barry, the head women's volleyball coach at American University since 1989, compete in the recruiting game: he was tired of seeing the top talent visit colleges in other big cities simply because there were big convention-center tournaments in those towns and not in his. Washington D.C. needed a destination club volleyball tournament, and if no one else was interested in creating one, he'd just have to do it himself. Well, with a lot of help from his other half, of course.
From 144 teams on 18 courts that first year to almost 1,000 for the past few editions, Capitol Hill Volleyball Classic has simply exploded, becoming everything the Goldbergs had envisioned and more. And yet, like every other event — volleyball and otherwise — around the world the 2020-2021 season looks quite a bit different.
Most obviously, the 2021 Capitol Hill Volleyball Classic has a new subtitle: the Atlanta Edition. In late fall of last year, Bonnie and Barry and the rest of their team could see that their event just could not go on in Washington D.C. COVID restrictions in the nation's capital were still very strict, not to mention the intense political environment surrounding the 2020 election.
Watch Capitol Hill Volleyball Classic
Feb 26 - 28, 7:00 AM CST
Ultimately, the staff decided that a Capitol Hill Classic 625 miles away from Capitol Hill is better than no Capitol Hill Classic at all, and they booked the Georgia World Congress Center in Atlanta for the weekend of February 26-28.
"We wished we could have gotten Presidents' Day weekend," Bonnie said. "I think had we gotten Presidents' Day weekend, we would have had a grand turnout because it was our normal weekend and it's a holiday weekend, but there was an existing event in the convention center in Georgia on that weekend. So our only option was this upcoming weekend, and we did want to have a three-day tournament, so we did Friday-Saturday-Sunday, knowing that there's going to be issues with kids missing school, it's not a holiday weekend, it's off our tournament date, there's other tournaments going on, so there's all kinds of things that we expected.
"But we felt like something is better than nothing and we just want to give these kids some hope that they can get back on the court. I think that we'll get a couple thousand kids on the court this weekend which is more than what would have happened in DC."
With around 150 teams signed up for this weekend's Capitol Hill Volleyball Classic: Atlanta Edition, this year's will look a lot like year one and drastically different from 2020, when the Classic was one of the last tournaments to happen before the entire country shut down. Sure, there won't be any visiting a congressperson or walking the National Mall or browsing the exhibits at the Smithsonian during breaks, but at least there will be competition against teams from outside of your region.
Despite the relocation and the travel restrictions teams from some states are facing, the list of registered teams includes ones from as far away as New York, Michigan, and Colorado as well as plenty from Georgia, Florida, and North and South Carolina.
Watch Capitol Hill Volleyball Classic
Feb 26 - 28, 7:00 AM CST
"Many of the clubs right now are really staying local and either playing amongst themselves or just playing a handful of other clubs over and over and over again," Bonnie said. "So I think the thing about this coming weekend is you're going to play some teams that you haven't seen before. I look forward to seeing some of those kinds of matches."
So yeah, it's not the 1,000-team Capitol Hill Volleyball Classic hosted in the heart of Washington D.C. that everyone is used to, but it's a chance to compete, a chance to keep the tradition going despite of many obstacles. And thanks to FloVolleyball, family members and friends who aren't able to make the trip or didn't make the cut as one of the 30 spectators allowed per team, can watch the action from home.
While you're at it, go ahead and mark your calendars for Presidents' Day weekend 2022. The Capitol Hill Volleyball Classic has every intention of being back in D.C. and once again being one of the largest and most fun events to grace the inside of the Walter E. Washington Convention Center, just 10 blocks from the National Mall.
4 Teams To Watch
The Capitol Hill Volleyball Classic looks a little bit different this year.
Watch Capitol Hill Volleyball Classic
Feb 26 - 28, 7:00 AM CST
From a typical capacity of around 1,000 teams, the tournament will only feature 150 or so this year, and instead of taking place over Presidents' Day weekend in Washington D.C., the event has been moved to Atlanta, February 26-28.
So it goes without saying that the long-running event will have a different feel to it this year, but for the teams that are signed up and planning on making the trip to Atlanta this weekend, these changes present a unique opportunity to shine and to compete against teams from outside their state or region. In particular, I'll be eyeing these four teams competing in 18 Open.
Atlanta Extreme 18 Jackie (Atlanta, Georgia)
This local squad is not one you want to see across the net. Lefty right side Izzy Durnell, a Tennessee commit, led her high school team to the final four of the state tournament and was named volleyball player of the year by the Gwinnett Daily Post. On the opposite pin, 6-2 outside hitter JoJo Smith has had a decorated prep career at Jefferson High School, including leading the squad to the 2020 state tournament semifinals with a team-high 240 kills on the season. Also watch this team for young talent in the setter position: Isabella Garrish (2022) and Ava Massingill (2023).
Five:1 18 Black (Clio, Michigan)
Coached by Heather Seegraves, Five:1 18 Black will be making the trip down from Clio, Michigan, a small town an hour outside of Detroit. Of the 10 players on the roster, just two remain uncommitted, with the others having made commitments to a variety of schools in NCAA Divisions I, II, and III as well as the NAIA. Libero Grace Marshall is the squad's sole Division I recruit, having chosen Cleveland State as her destination for next fall. Five:1 18 Black's next tournament will be the Nike Mid-East Qualifier in Louisville, March 19-21, so they will be looking for a solid performance in Atlanta to prepare.
Watch Capitol Hill Volleyball Classic
Feb 26 - 28, 7:00 AM CST
Princeton Volleyball Club 18-1 (Princeton, New Jersey)
This squad from Princeton, New Jersey, has a lot of experience playing together, despite just starting practices for the 2020-2021 season in January. Most of the athletes on the roster played for PVC 17-1s last year, including college commits Izzy Marinelli (East Carolina), Katie Rodman (Montclair State), and Michaela Ryan (Gettysburg).
Rio Volleyball Club 18-1 (Atlanta, Georgia)
Four Division I recruits lead this Atlanta-based team. Outside/opposite Annette Baker has committed to Northern Colorado, and this fall she led her high school team to the state finals, serving as team captain for the second year in a row. Lauryn Moultrie and Christyn Ashby will play together at Georgia State in the fall. Moultrie is a 5-11 hitter capable of playing anywhere in the front row, while the 6-0 Ashby attacks best from the pins. Of his future player Oluwadamilola (Dami) Awojobi, Howard University head coach Shaun Kupferberg said, "Dami is a great, physical outside hitter with the ability to become one of our best. She has a strong arm and a high contact point, which will allow her to score against anyone."
How to Watch:
STREAMING: Watch the 2021 Capitol Hill Volleyball Classic on FloVolleyball. SIGN UP HERE.
On Your TV: Now Available on Roku, Fire TV, Chromecast & Apple TV.
Cast: Cast to your smart TV including Vizio, Samsung and LG TVs.
On The Go: Download the FloSports app on iOS or Android.
---
Archived Footage
Video footage from the event will be archived and stored in a video library for FloVolleyball subscribers to watch for the duration of their subscription.
---
Join the Conversation on Social
Follow us on Twitter @flovolleyball.
Follow us on Instagram @flovolleyball.
Like us on Facebook.