2021 Capitol Hill Volleyball Classic
4 Teams To Watch At 2021 Capitol Hill Classic
4 Teams To Watch At 2021 Capitol Hill Classic
These are the four teams to keep your eyes on throughout this year's Capitol Hill Classic.
Feb 25, 2021
by Megan Kaplon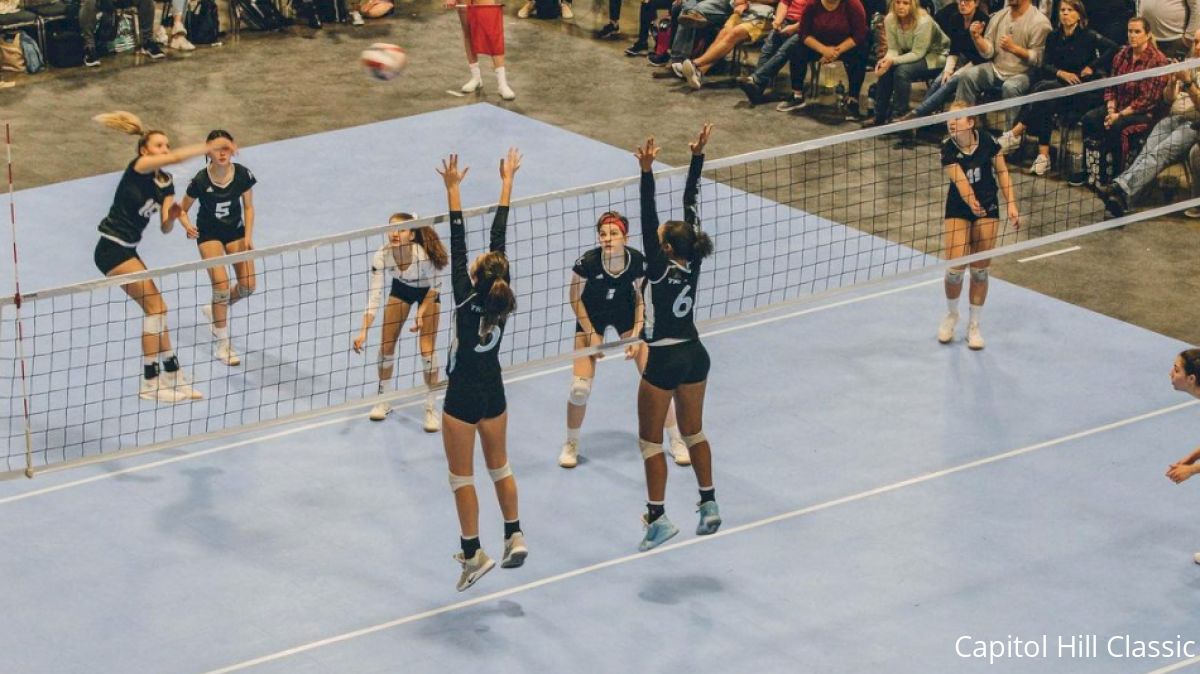 The Capitol Hill Volleyball Classic looks a little bit different this year.
Watch Capitol Hill Volleyball Classic
Feb 26 - 28, 7:00 AM CST
From a typical capacity of around 1,000 teams, the tournament will only feature 150 or so this year, and instead of taking place over Presidents' Day weekend in Washington D.C., the event has been moved to Atlanta, February 26-28.
So it goes without saying that the long-running event will have a different feel to it this year, but for the teams that are signed up and planning on making the trip to Atlanta this weekend, these changes present a unique opportunity to shine and to compete against teams from outside their state or region. In particular, I'll be eyeing these four teams competing in 18 Open.
Atlanta Extreme 18 Jackie (Atlanta, Georgia)
This local squad is not one you want to see across the net. Lefty right side Izzy Durnell, a Tennessee commit, led her high school team to the final four of the state tournament and was named volleyball player of the year by the Gwinnett Daily Post. On the opposite pin, 6-2 outside hitter JoJo Smith has had a decorated prep career at Jefferson High School, including leading the squad to the 2020 state tournament semifinals with a team-high 240 kills on the season. Also watch this team for young talent in the setter position: Isabella Garrish (2022) and Ava Massingill (2023).
Five:1 18 Black (Clio, Michigan)
Coached by Heather Seegraves, Five:1 18 Black will be making the trip down from Clio, Michigan, a small town an hour outside of Detroit. Of the 10 players on the roster, just two remain uncommitted, with the others having made commitments to a variety of schools in NCAA Divisions I, II, and III as well as the NAIA. Libero Grace Marshall is the squad's sole Division I recruit, having chosen Cleveland State as her destination for next fall. Five:1 18 Black's next tournament will be the Nike Mid-East Qualifier in Louisville, March 19-21, so they will be looking for a solid performance in Atlanta to prepare.
Watch Capitol Hill Volleyball Classic
Feb 26 - 28, 7:00 AM CST
Princeton Volleyball Club 18-1 (Princeton, New Jersey)
This squad from Princeton, New Jersey, has a lot of experience playing together, despite just starting practices for the 2020-2021 season in January. Most of the athletes on the roster played for PVC 17-1s last year, including college commits Izzy Marinelli (East Carolina), Katie Rodman (Montclair State), and Michaela Ryan (Gettysburg).
Rio Volleyball Club 18-1 (Atlanta, Georgia)
Four Division I recruits lead this Atlanta-based team. Outside/opposite Annette Baker has committed to Northern Colorado, and this fall she led her high school team to the state finals, serving as team captain for the second year in a row. Lauryn Moultrie and Christyn Ashby will play together at Georgia State in the fall. Moultrie is a 5-11 hitter capable of playing anywhere in the front row, while the 6-0 Ashby attacks best from the pins. Of his future player Oluwadamilola (Dami) Awojobi, Howard University head coach Shaun Kupferberg said, "Dami is a great, physical outside hitter with the ability to become one of our best. She has a strong arm and a high contact point, which will allow her to score against anyone."