2021 Nike Daytona Beach 100
Everything You Need To Know About 2021 Nike Daytona Beach 100
Everything You Need To Know About 2021 Nike Daytona Beach 100
The Nike Daytona Beach 100 will bring close to 300 teams to four venues in Daytona Beach, Florida, January 30-31, 2021.
Jan 29, 2021
by FloVolleyball Staff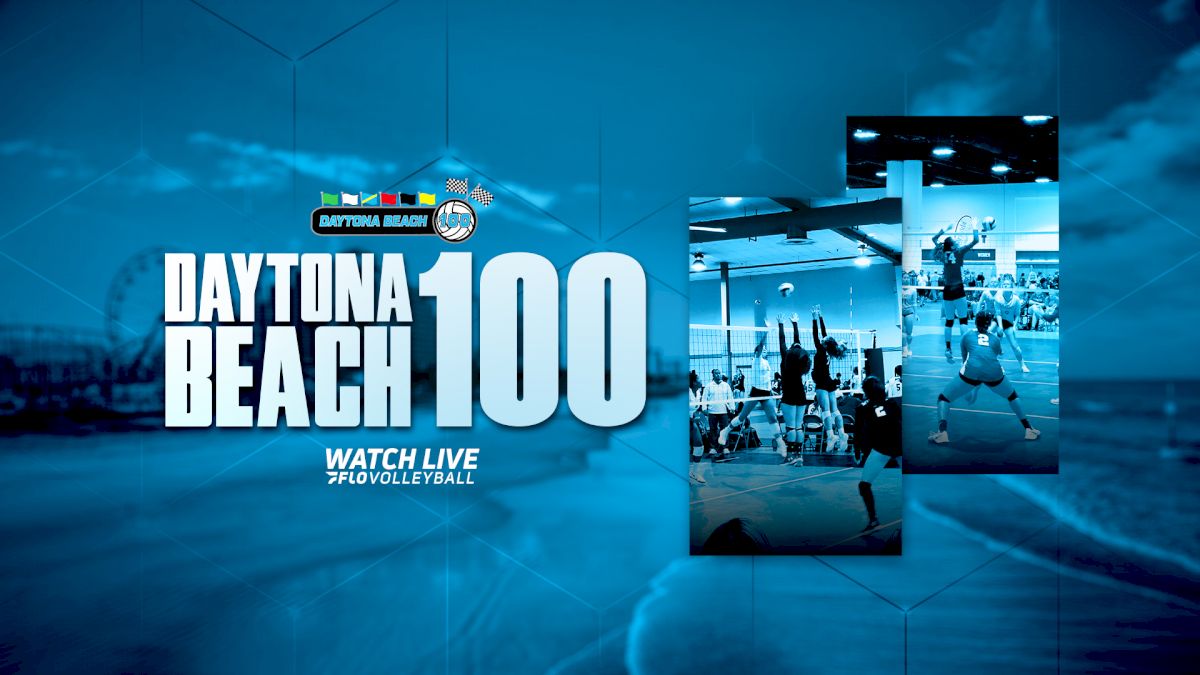 The Nike Daytona Beach 100 will bring close to 300 teams to four venues in Daytona Beach, Florida, January 30-31, 2021. With divisions from 18 Open to 10 Club, the Nike Daytona Beach 100 has something for everyone, but in this preview we're going to focus on the 18 Open division.
Watch 2021 Nike Daytona Beach 100
Eight teams will compete for the title in the top division, and six of those squads will be fresh off of playing at the Florida 18s Qualifier last weekend. We'll give you a quick rundown on each team, including their recent results.
Black Creek VBC 18 Smack | Orange Park, Florida
Made up of mostly the Middleburg High School varsity team, Black Creek 18 Smack competed in 18 American last weekend at the Florida qualifier where they finished fifth. Outside hitter Jenna Sypniewski and Shelby McKinney led Middleburg's offense this fall, and I'd expect them to do the same for Black Creek.
Cape Coast 18 ATLAS | Cocoa, Florida
The Daytona Beach 100 will be just the second tournament of the year for Cape Coast 18 Atlas. The squad finished 32nd in 18 USA last weekend in Orlando. With four setters on the roster (Piper Dowdell, Taylor Mullen, Alivia McNally, and Abigail Taylor), Atlas may just still be figuring out their offense. Working in their favor is that Mullen, middle/outside Olivia Yochim, and middle Mackenzie Sands all play for Holy Trinity Episcopal Academy in Melbourne.
Club Savannah 18 Adidas | Savannah, Georgia
Club Savannah was one of the two teams that didn't compete in the 18s qualifier last weekend, so perhaps they'll have just slightly fresher legs than the competition. Watch out for two-sport athlete Tynley Smeltzer. A star for Calvary Day School on the basketball court, Smeltzer has signed with College of Charleston for volleyball. In all, Club SAV 18 Adidas has six college commits, including setter/opposite Alexia Polychrones who will be headed to Mercer in the fall.
Game Point 18 Rox | Orlando, Florida
The only team competing in 18 Open at the Daytona Beach 100 that also competed in Open at the 18s qualifier, Game Point 18 Rox took a 24th last weekend. Already having faced top-level competition should serve them well in Daytona Beach. Look for outside Riley Cullen (USC Upstate) and libero Izabella De Lima (USC Aiken).
Game Point 17 Rox | Ocala Power United 18 Adidas
Ocala Power United 18 Adidas finished ninth in the ultracompetitive 18 USA division at the Florida qualifier with a 4-3 record. I'll have my eye on Montana State-bound libero Maci Abshier, but Taylor Lawrence, an honorable mention all county middle, will be worth watching too. Another fun thing: in addition to playing volleyball, OH/DS Kali Walker competes in the equestrian sport known as mounted games. Check it out on her Instagram.
OTVA Jacksonville 18 Dee | Jacksonville, Florida
OTVA Jacksonville 18 Dee started the season out strong, sweeping the competition on the first day of competition at the Florida qualifier. 18 Dee ended up with a 15th place finish in 18 USA. Six members of this team played together as 17s, including Palm Beach Atlantic commit Kyndal Elam and Tampa-bound Jangelyz Ramirez.
OTVA Orlando 18 Emily | Orlando, Florida
OTVA Orlando 18 Emily boasted a 6-1 record in the 18 American division last weekend, giving them a fifth-place finish. The roster features NOVA Southeastern commit Elizabeth Price. Ellise Everett is poised to have a good season as well following an appearance in the 7A state championship match with her Lake Nona High School team.
Upontop 18s Elite Tim | Port Saint Lucie, Florida
Last but not least, Upontop 18s Elite Tim will be looking to build on a second-place finish the team achieved at the Florida Winter Festival, January 9-10. Middle Cassidy Lee and setter Madison Lee are committed to Life University, and Shelby Kent is headed to Florida Gulf Coast. This fall, Kent became the first player at Treasure Coast High School to surpass 1,000 career kills.
Waves & Tournament Schedule
Wave times for Saturday, January 30th:
AM WAVE:
GIRLS 18 Open, 17's, 15's, 13 Club, 11's, 10's
PM WAVE:
GIRLS 18 Club, 16's, 14's, 13 Open, 12's
A full tournament schedule is posted on www.SportWrench.com.
Full Team List
Nearly 300 teams, mostly residing from Florida – with a few from Georgia – will take the courts at the 2021 Nike Daytona Beach 100.
Watch 2021 Nike Daytona Beach 100
Before we get to action this weekend, check out the full list of teams that have registered to be in the mix.
| | | | |
| --- | --- | --- | --- |
| Team Name | Club | Division | State |
| 904 Elite 15N | 904 Elite Volleyball | 15 USA | FL |
| A5 14 Allison | A5 Mizuno Volleyball | 14 Open | GA |
| A5 South 14 Ayla | A5 Mizuno Volleyball | 14 USA | GA |
| A5 17 Missy | A5 Mizuno Volleyball | 17 USA | GA |
| Beach Wave 15 Elite | Beach Wave Volleyball Club | 15 Club | FL |
| Beach Wave 16 Elite | Beach Wave Volleyball Club | 16 Club | FL |
| Black Creek VBC 13 1 | Black Creek Volleyball Club | 13 Club | FL |
| Black Creek VBC 14 1 | Black Creek Volleyball Club | 14 Club | FL |
| Black Creek VBC 15 1 | Black Creek Volleyball Club | 15 Club | FL |
| Black Creek VBC 16 1 | Black Creek Volleyball Club | 16 Club | FL |
| Black Creek VBC 17 1 | Black Creek Volleyball Club | 17 Open | FL |
| Black Creek VBC 18 1 | Black Creek Volleyball Club | 18 Open | FL |
| Brandon Elite 13 Samurai | Brandon Elite Volleyball Association | 13 Club | FL |
| Brandon Elite 14 Green | Brandon Elite Volleyball Association | 14 Club | FL |
| Brandon Elite 15 Green | Brandon Elite Volleyball Association | 15 Club | FL |
| Brandon Elite 16 Green | Brandon Elite Volleyball Association | 16 Club | FL |
| Brandon Elite 17 Green | Brandon Elite Volleyball Association | 17 Club | FL |
| Cape Coast Volleyball Club 12 Cassini | Cape Coast Volleyball Club | 12 Club | FL |
| Cape Coast Volleyball Club 13 Columbia | Cape Coast Volleyball Club | 13 Open | FL |
| Cape Coast Volleyball Club 14 Challenger | Cape Coast Volleyball Club | 14 Open | FL |
| Cape Coast Volleyball Club 15 Saturn | Cape Coast Volleyball Club | 15 Open | FL |
| Cape Coast Volleyball Club 16 Delta | Cape Coast Volleyball Club | 16 Club | FL |
| Cape Coast Volleyball Club 16 Titan | Cape Coast Volleyball Club | 16 Open | FL |
| Cape Coast Volleyball Club 76 Pegasus | Cape Coast Volleyball Club | 17 Club | FL |
| Cape Coast Volleyball Club 17 Falcon | Cape Coast Volleyball Club | 17 Open | FL |
| Cape Coast Volleyball Club 18 Atlas | Cape Coast Volleyball Club | 18 Open | FL |
| clubSAV 13 adidas | Club Savannah Volleyball | 13 Club | GA |
| clubSAV 14 National | Club Savannah Volleyball | 14 Club | GA |
| clubSAV 14 adidas | Club Savannah Volleyball | 14 Open | GA |
| clubSAV 15 National | Club Savannah Volleyball | 15 Club | GA |
| clubSAV 15 adidas | Club Savannah Volleyball | 15 USA | GA |
| clubSAV 16 National | Club Savannah Volleyball | 16 Club | GA |
| clubSAV 16 adidas | Club Savannah Volleyball | 16 Open | GA |
| clubSAV 17 adidas | Club Savannah Volleyball | 17 USA | GA |
| clubSAV 18 adidas | Club Savannah Volleyball | 18 Open | GA |
| Club Steel 14 Navy | Club Steel Volleyball | 14 Open | FL |
| Club Steel 14 Silver | Club Steel Volleyball | 14 USA | FL |
| Club Steel 16 Navy | Club Steel Volleyball | 16 Open | FL |
| Crossfire 18 Black | Crossfire Volleyball Club | 18 Club | FL |
| DME Adidas American 11U | DME Sports | 11 Club | FL |
| DME Adidas Elite 12U Black | DME Sports | 12 Open | FL |
| DME Adidas American 13U | DME Sports | 13 Club | FL |
| DME Adidas Elite 13U Black | DME Sports | 13 Open | FL |
| DME Adidas Elite 14U Blue | DME Sports | 14 Club | FL |
| DME Adidas Elite 14U Black | DME Sports | 14 Open | FL |
| DME Adidas American 15U | DME Sports | 15 Club | FL |
| DME Adidas Elite 15U Black | DME Sports | 15 Open | FL |
| DME Adidas Elite 15U Blue | DME Sports | 15 USA | FL |
| DME Adidas Elite 16U Black | DME Sports | 16 Open | FL |
| DME Hybrid 16U | DME Sports | 16 USA | FL |
| DME Adidas Elite 16U Blue | DME Sports | 16 USA | FL |
| DME 17 Adidas American 17-2U | DME Sports | 17 Club | FL |
| DME Adidas American 17U | DME Sports | 17 Club | FL |
| DME Hybrid 18U | DME Sports | 18 Club | FL |
| Dragons Gold | Dragons Volleyball Club | 18 Club | MA |
| DYV Academy 13 1 | DYV Academy, LLC | 13 Club | FL |
| DYV Academy 14 1 | DYV Academy, LLC | 14 Club | FL |
| Elevate Volleyball 15 | Elevate Volleyball | 15 Club | FL |
| Elevate Volleyball 17 - Reggie | Elevate Volleyball | 17 Club | FL |
| Elevate Volleyball 17 - Chuck | Elevate Volleyball | 17 Open | FL |
| Elevate Volleyball 17 - SB | Elevate Volleyball | 17 USA | FL |
| Elevate Volleyball 18 | Elevate Volleyball | 18 Club | FL |
| Five Stars VBC 15U Elite | Five Stars Volleyball Club | 15 Club | FL |
| Five Stars VBC 17U Elite | Five Stars Volleyball Club | 17 Club | FL |
| FPV 16-Katia | Florida Performance Volleyball | 16 Open | FL |
| FPV 17u-Fern | Florida Performance Volleyball | 17 USA | FL |
| Gainesville Jrs 12 1 | Gainesville Juniors | 12 Open | FL |
| Gainesville Jrs 13 1 | Gainesville Juniors | 13 Open | FL |
| Gainesville Jrs 15 -1 oorange | Gainesville Juniors | 15 Open | FL |
| Gainesville Jrs 15 1 Blue | Gainesville Juniors | 15 Open | FL |
| Gainesville Jrs 16 2 | Gainesville Juniors | 16 Club | FL |
| Gainesville Jrs 17 1 | Gainesville Juniors | 17 Open | FL |
| Gainesville Jrs 16 1 | Gainesville Juniors | 17 Open | FL |
| GP 11 Rox | Game Point Volleyball | 11 Club | FL |
| GP 13 Gold | Game Point Volleyball | 13 Open | FL |
| GP 12 Rox | Game Point Volleyball | 13 Open | FL |
| GP 14 Gold | Game Point Volleyball | 14 Open | FL |
| GP 13 Rox | Game Point Volleyball | 14 Open | FL |
| GP 15 Gold | Game Point Volleyball | 15 Open | FL |
| GP 16 Gold | Game Point Volleyball | 16 Open | FL |
| GP 15 Rox | Game Point Volleyball | 16 Open | FL |
| GP 14 Rox | Game Point Volleyball | 16 Open | FL |
| GP 17 Gold | Game Point Volleyball | 17 Open | FL |
| GP 16 Rox | Game Point Volleyball | 17 Open | FL |
| GP 18 Rox | Game Point Volleyball | 18 Open | FL |
| GP 17 Rox | Game Point Volleyball | 18 Open | FL |
| Jax Skyline 12 1 | Jacksonville Skyline | 12 Club | FL |
| Jax Skyline 13 2 | Jacksonville Skyline | 13 Club | FL |
| Jax Skyline 13 1 | Jacksonville Skyline | 13 Club | FL |
| Jax Skyline 14 1 | Jacksonville Skyline | 14 Open | FL |
| Jax Skyline 14 2 | Jacksonville Skyline | 14 USA | FL |
| Jax Skyline 15 2 | Jacksonville Skyline | 15 Club | FL |
| Jax Skyline 15 1 | Jacksonville Skyline | 15 USA | FL |
| Jax Skyline 16 2 | Jacksonville Skyline | 16 Club | FL |
| Jax Skyline 16 1 | Jacksonville Skyline | 16 USA | FL |
| Jax Skyline 17 1 | Jacksonville Skyline | 17 Open | FL |
| Jax Skyline 18 1 | Jacksonville Skyline | 18 Club | FL |
| Jupiter Elite 12E | Jupiter Volleyball Club | 12 Open | FL |
| Jupiter Elite 15E | Jupiter Volleyball Club | 15 Open | FL |
| Jupiter Elite 16E | Jupiter Volleyball Club | 16 Open | FL |
| MPV 13's MAX | Max Performance Volleyball | 13 Club | FL |
| MPV 15's MAX | Max Performance Volleyball | 15 Open | FL |
| Miami Hype 12U Nekane | Miami Hype | 12 Club | FL |
| Miami Hype 13U Diaz | Miami Hype | 13 Club | FL |
| Miami Hype 15U Emilio | Miami Hype | 15 Open | FL |
| Miami Hype 16U Josh | Miami Hype | 16 Club | FL |
| Miami Hype 16U Alain | Miami Hype | 16 Open | FL |
| Miami Wave 14 Aqua | Miami Wave Volleyball Club | 14 Club | FL |
| Momentum 10 A | MOMENTUM VOLLEYBALL ACADEMY | 10 Club | FL |
| Momentum 11 A | MOMENTUM VOLLEYBALL ACADEMY | 11 Club | FL |
| Momentum 12 Neón Gold | MOMENTUM VOLLEYBALL ACADEMY | 12 Open | FL |
| Momentum 13 A | MOMENTUM VOLLEYBALL ACADEMY | 13 Club | FL |
| Momentum 14 A | MOMENTUM VOLLEYBALL ACADEMY | 14 Open | FL |
| Momentum 15 A | MOMENTUM VOLLEYBALL ACADEMY | 15 Club | FL |
| NMB14U National Ashley | NMB Volleyball Academy | 14 USA | FL |
| NMB 15U National Cuqui | NMB Volleyball Academy | 16 Club | FL |
| NMB 16U Elite Danny | NMB Volleyball Academy | 16 Club | FL |
| OPU 10 LAUREN | Ocala Power United | 10 Club | FL |
| OPU 11/12 BRAD | Ocala Power United | 12 Club | FL |
| OPU 12 ADIDAS | Ocala Power United | 12 Open | FL |
| OPU 13 ADIDAS | Ocala Power United | 13 Open | FL |
| OPU 14 ADIDAS | Ocala Power United | 14 Open | FL |
| OPU 14 POWER | Ocala Power United | 14 USA | FL |
| OPU 15 POWER | Ocala Power United | 15 Club | FL |
| OPU 15 ADIDAS | Ocala Power United | 15 Open | FL |
| OPU 15/16 THUNDER | Ocala Power United | 16 Club | FL |
| OPU 16 ADIDAS | Ocala Power United | 16 Open | FL |
| OPU 16/17 POWER | Ocala Power United | 17 Club | FL |
| OPU 18 ADIDAS | Ocala Power United | 18 Open | FL |
| 10 O Cynthia | OTVA Volleyball Academy | 10 Club | FL |
| 12 O Gibby | OTVA Volleyball Academy | 12 Open | FL |
| 13 T Liz | OTVA Volleyball Academy | 13 Club | FL |
| 13 O Amber | OTVA Volleyball Academy | 13 Club | FL |
| 13 J Rico | OTVA Volleyball Academy | 13 Open | FL |
| 13 T Tabitha | OTVA Volleyball Academy | 13 Open | FL |
| 14 T Ike | OTVA Volleyball Academy | 14 Club | FL |
| 14 O Jordan | OTVA Volleyball Academy | 14 Club | FL |
| 14 J Dee | OTVA Volleyball Academy | 14 Open | FL |
| 14 T Kesha | OTVA Volleyball Academy | 14 Open | FL |
| 14 O Alex | OTVA Volleyball Academy | 14 Open | FL |
| 13 O Felix | OTVA Volleyball Academy | 14 Open | FL |
| 15 J Asante | OTVA Volleyball Academy | 15 Club | FL |
| 15 T Wendy | OTVA Volleyball Academy | 15 Club | FL |
| 15 O Gabe | OTVA Volleyball Academy | 15 Club | FL |
| 15 J John | OTVA Volleyball Academy | 15 Open | FL |
| 15 T Justin | OTVA Volleyball Academy | 15 Open | FL |
| 14 T Laura | OTVA Volleyball Academy | 15 Open | FL |
| 15 O Cristobal | OTVA Volleyball Academy | 15 Open | FL |
| 14 O Tom | OTVA Volleyball Academy | 15 Open | FL |
| 16 T Michelle | OTVA Volleyball Academy | 16 Club | FL |
| 16 T Kiki | OTVA Volleyball Academy | 16 Club | FL |
| 16 O Omi | OTVA Volleyball Academy | 16 Club | FL |
| 16 O Dragana | OTVA Volleyball Academy | 16 Club | FL |
| 16 J Will | OTVA Volleyball Academy | 16 Open | FL |
| 15 O Isaac | OTVA Volleyball Academy | 16 Open | FL |
| 16 J Hayley | OTVA Volleyball Academy | 16 USA | FL |
| 17 O TJ | OTVA Volleyball Academy | 17 Club | FL |
| 17 J Rico | OTVA Volleyball Academy | 17 Open | FL |
| 17 O Semei | OTVA Volleyball Academy | 17 Open | FL |
| 16 O Meg | OTVA Volleyball Academy | 17 Open | FL |
| 18 J Dee | OTVA Volleyball Academy | 18 Open | FL |
| 18 O Emily | OTVA Volleyball Academy | 18 Open | FL |
| OVA 11 BLACK | Oviedo Volleyball Academy | 11 Club | FL |
| OVA 12 BLACK | Oviedo Volleyball Academy | 12 Club | FL |
| OVA 13 BLUE | Oviedo Volleyball Academy | 13 Club | FL |
| OVA 13 BLACK | Oviedo Volleyball Academy | 13 Open | FL |
| OVA 14 BLUE | Oviedo Volleyball Academy | 14 Club | FL |
| OVA 14 BLACK | Oviedo Volleyball Academy | 14 Open | FL |
| OVA 15 WHITE | Oviedo Volleyball Academy | 15 Club | FL |
| OVA 15 BLACK | Oviedo Volleyball Academy | 15 Open | FL |
| OVA 15 BLUE | Oviedo Volleyball Academy | 15 USA | FL |
| OVA 16 WHITE | Oviedo Volleyball Academy | 16 Club | FL |
| OVA 16 BLACK | Oviedo Volleyball Academy | 16 Open | FL |
| OVA 16 BLUE | Oviedo Volleyball Academy | 16 USA | FL |
| OVA 17 BLUE | Oviedo Volleyball Academy | 17 Club | FL |
| OVA 17 BLACK | Oviedo Volleyball Academy | 17 Open | FL |
| Pinellas Heat 11 Elite | Pinellas Heat Elite | 11 Club | FL |
| Pinellas Heat 12 Elite | Pinellas Heat Elite | 12 Club | FL |
| Pinellas Heat 13 Elite | Pinellas Heat Elite | 13 Club | FL |
| Pinellas Heat 13 Heat | Pinellas Heat Elite | 13 Club | FL |
| Pinellas Heat 14 Heat | Pinellas Heat Elite | 14 Club | FL |
| Pinellas Heat 14 Elite | Pinellas Heat Elite | 14 USA | FL |
| Pinellas Heat 15 Megan | Pinellas Heat Elite | 15 Club | FL |
| Pinellas Heat 15 Jessie | Pinellas Heat Elite | 15 Club | FL |
| Pinellas Heat 15 Elite | Pinellas Heat Elite | 15 USA | FL |
| Pinellas Heat 16 Elite | Pinellas Heat Elite | 16 Club | FL |
| Pinellas Heat 17 Heat | Pinellas Heat Elite | 17 Club | FL |
| Pinellas Heat 17 Elite | Pinellas Heat Elite | 17 USA | FL |
| POV 16U - Valle | Port Orange Volleyball | 16 USA | FL |
| POV 17U Valle | Port Orange Volleyball | 17 USA | FL |
| PVA 13 National | Power Volleyball Academy | 13 Club | FL |
| PVA 15 Elite | Power Volleyball Academy | 15 USA | FL |
| PVA 17 Elite | Power Volleyball Academy | 17 Open | FL |
| PVA 18 Elite | Power Volleyball Academy | 18 Club | FL |
| Quest 12 Karly | Quest Volleyball Academy | 12 Club | FL |
| Quest 13 Karly/Teresa | Quest Volleyball Academy | 13 Club | FL |
| Quest 13 Jay | Quest Volleyball Academy | 13 Club | FL |
| Quest 14 Sarah | Quest Volleyball Academy | 14 Club | FL |
| Quest 14 Taylor | Quest Volleyball Academy | 14 USA | FL |
| Quest 15 Sam | Quest Volleyball Academy | 15 Club | FL |
| Quest 15 Teresa | Quest Volleyball Academy | 15 Club | FL |
| Quest 16 Ashley | Quest Volleyball Academy | 16 Club | FL |
| Siesta Key Jrs 12 Stef | Siesta Key Juniors | 12 Club | FL |
| Siesta Key Jrs 13 C.D. | Siesta Key Juniors | 13 Club | FL |
| Siesta Key Jrs 14 Nancy | Siesta Key Juniors | 14 Club | FL |
| Siesta Key Jrs 15 Angie | Siesta Key Juniors | 15 Club | FL |
| Siesta Key Jrs 17 Nate | Siesta Key Juniors | 17 Open | FL |
| Society 16 Elite | Society Volleyball | 16 Open | FL |
| ST7 16U ERREA | ST7 Volleyball | 16 Club | FL |
| ST7 17U ERREA | ST7 Volleyball | 17 Club | FL |
| TJVBC 13 pro | Tallahassee Juniors Volleyball Club | 13 Club | FL |
| TJVBC 14 elite | Tallahassee Juniors Volleyball Club | 14 Club | FL |
| TJVBC 14 pro | Tallahassee Juniors Volleyball Club | 14 Club | FL |
| TJVBC 15 elite | Tallahassee Juniors Volleyball Club | 15 Club | FL |
| TJVBC 15 Pro | Tallahassee Juniors Volleyball Club | 15 Open | FL |
| TJVBC 16 Elite | Tallahassee Juniors Volleyball Club | 16 Club | FL |
| TJVBC 16 Pro | Tallahassee Juniors Volleyball Club | 16 Club | FL |
| TJVBC 17 Pro | Tallahassee Juniors Volleyball Club | 17 Open | FL |
| TVA 12 Smack | Tallahassee Volleyball Academy | 12 Club | FL |
| TVA 13 Smack | Tallahassee Volleyball Academy | 13 Club | FL |
| TVA 14 Gold | Tallahassee Volleyball Academy | 14 Club | FL |
| TVA 14 Black | Tallahassee Volleyball Academy | 14 Club | FL |
| TVA 14 Smack | Tallahassee Volleyball Academy | 14 Club | FL |
| TVA 15 Gold | Tallahassee Volleyball Academy | 15 Club | FL |
| TVA 15 Black | Tallahassee Volleyball Academy | 15 Open | FL |
| TVA 15 Smack | Tallahassee Volleyball Academy | 15 Open | FL |
| TVA 16 Black | Tallahassee Volleyball Academy | 16 Club | FL |
| TVA 16 Smack | Tallahassee Volleyball Academy | 16 Open | FL |
| TVA 17 Smack | Tallahassee Volleyball Academy | 17 Open | FL |
| TVA 17 Black | Tallahassee Volleyball Academy | 17 USA | FL |
| Tampa North 17 | Tampa North Volleyball Club | 17 Club | FL |
| TAMPA UNITED VBA 12T ROX | Tampa United Volleyball Academy | 12 Club | FL |
| TAMPA UNITED VBA 12U ROX | Tampa United Volleyball Academy | 12 Club | FL |
| TAMPA UNITED VBA 13U ROX | Tampa United Volleyball Academy | 13 Club | FL |
| TAMPA UNITED VBA 13T ROX | Tampa United Volleyball Academy | 13 Club | FL |
| TAMPA UNITED VBA 14BL ROX | Tampa United Volleyball Academy | 14 Club | FL |
| TAMPA UNITED VBA 14U ROX | Tampa United Volleyball Academy | 14 Club | FL |
| TAMPA UNITED VBA 14T ROX | Tampa United Volleyball Academy | 14 Club | FL |
| TAMPA UNITED VBA 15T ROX | Tampa United Volleyball Academy | 15 Club | FL |
| TAMPA UNITED VBA 16T ROX | Tampa United Volleyball Academy | 16 Club | FL |
| Top Select 10 Elite | TOP SELECT VOLLEYBALL | 10 Club | FL |
| Top Select 11 Elite | TOP SELECT VOLLEYBALL | 11 Club | FL |
| Top Select 13 Select | TOP SELECT VOLLEYBALL | 13 Club | FL |
| Top Select 14 Select | TOP SELECT VOLLEYBALL | 14 Club | FL |
| Top Select 15-Top | TOP SELECT VOLLEYBALL | 15 Club | FL |
| Top Select 16 Top | TOP SELECT VOLLEYBALL | 16 Club | FL |
| Trinity 13 Gold | Trinity Volleyball Club | 13 Club | FL |
| Trinity 15 Gold | Trinity Volleyball Club | 15 USA | FL |
| Trinity 16 Garnet | Trinity Volleyball Club | 16 Club | FL |
| Trinity 16 Gold | Trinity Volleyball Club | 16 Open | FL |
| Trinity 17 Gold | Trinity Volleyball Club | 17 Open | FL |
| Trinity 18 Gold | Trinity Volleyball Club | 18 Club | FL |
| Upontop 12s Wes | UPONTOP VOLLEYBALL ACADEMY | 12 Club | FL |
| Upontop 13s National Sal | UPONTOP VOLLEYBALL ACADEMY | 13 Club | FL |
| Upontop 13s Elite Tim | UPONTOP VOLLEYBALL ACADEMY | 13 Open | FL |
| Upontop 14s National Hever | UPONTOP VOLLEYBALL ACADEMY | 14 Club | FL |
| Upontop 15s National Brie | UPONTOP VOLLEYBALL ACADEMY | 15 Club | FL |
| Upontop 16s National LeAnna | UPONTOP VOLLEYBALL ACADEMY | 16 Club | FL |
| Upontop 16s National Felicia | UPONTOP VOLLEYBALL ACADEMY | 16 Club | FL |
| Upontop 16s National Stacy | UPONTOP VOLLEYBALL ACADEMY | 16 Club | FL |
| Upontop 16s Elite Ed | UPONTOP VOLLEYBALL ACADEMY | 16 Open | FL |
| Upontop 16s Elite Abbey | UPONTOP VOLLEYBALL ACADEMY | 16 USA | FL |
| Upontop 18 National Stacy | UPONTOP VOLLEYBALL ACADEMY | 18 Club | FL |
| Upontop 18s Elite Tim | UPONTOP VOLLEYBALL ACADEMY | 18 Open | FL |
| VEVA 17 Black | Vero Elite Volleyball Academy | 17 Open | FL |
| Volleytech 15 1 | Volleytech Academy | 15 Club | FL |
| Volleytech 16 1 | Volleytech Academy | 16 Club | FL |
| Volleytech 17 1 | Volleytech Academy | 17 Club | FL |
| Warrior 16 Black | Warrior Athletics | 16 Club | FL |
| Warrior 17 Black | Warrior Athletics | 17 Club | FL |
| WVBA 14 ELITE NATALIE | Wellington Volleyball Academy | 14 Open | FL |
| WVBA 15 ELITE SERGIO | Wellington Volleyball Academy | 15 Open | FL |
| WVBA 16 ELITE MARK | Wellington Volleyball Academy | 16 Open | FL |
| WVBA 17 ELITE DANIELLE | Wellington Volleyball Academy | 17 Club | FL |
| WVBA 17 ELITE PATTY | Wellington Volleyball Academy | 17 Open | FL |
| WVBA 18 ELITE MARKO | Wellington Volleyball Academy | 18 Club | FL |
| WPVC 11 Armour Black | Winter Park Volleyball Club | 11 Club | FL |
| WPVC 12 Armour Black | Winter Park Volleyball Club | 12 Open | FL |
| WPVC 13 Elite Black | Winter Park Volleyball Club | 13 Club | FL |
| WPVC 13 Armour Black | Winter Park Volleyball Club | 13 Open | FL |
| WPVC 14 Elite Black | Winter Park Volleyball Club | 14 Club | FL |
| WPVC 14 Armour Black | Winter Park Volleyball Club | 14 USA | FL |
| WPVC 15 Elite Orange | Winter Park Volleyball Club | 15 Club | FL |
| WPVC 15 Elite Black | Winter Park Volleyball Club | 15 Club | FL |
| WPVC 15 Armour Black | Winter Park Volleyball Club | 15 Open | FL |
| WPVC 16 Elite Orange | Winter Park Volleyball Club | 16 Club | FL |
| WPVC 16 Elite Black | Winter Park Volleyball Club | 16 Club | FL |
| WPVC 16 Armour Black | Winter Park Volleyball Club | 16 Open | FL |
| WPVC 16 Armour Orange | Winter Park Volleyball Club | 16 USA | FL |
| WPVC 17 Armour Black | Winter Park Volleyball Club | 17 Open | FL |
| WPVC 17 Armour Orange | Winter Park Volleyball Club | 17 USA | FL |
| First Coast Elite 12's Smack | YMCA of Florida's First Coast | 12 Club | FL |
| First Coast Elite 13's Smack | YMCA of Florida's First Coast | 13 Club | FL |
| First Coast Elite 14's Smack | YMCA of Florida's First Coast | 14 Club | FL |
| First Coast Elite 15's Smack | YMCA of Florida's First Coast | 15 Club | FL |
| First Coast Elite 17's Smack | YMCA of Florida's First Coast | 17 Club | FL |