Top Olympic Volleyball Moments
Top Olympic Volleyball Moments
With the Tokyo Olympics postponed until 2021, we thought we'd highlight the top indoor and beach volleyball Olympic moments.
Mar 31, 2020
by Megan Kaplon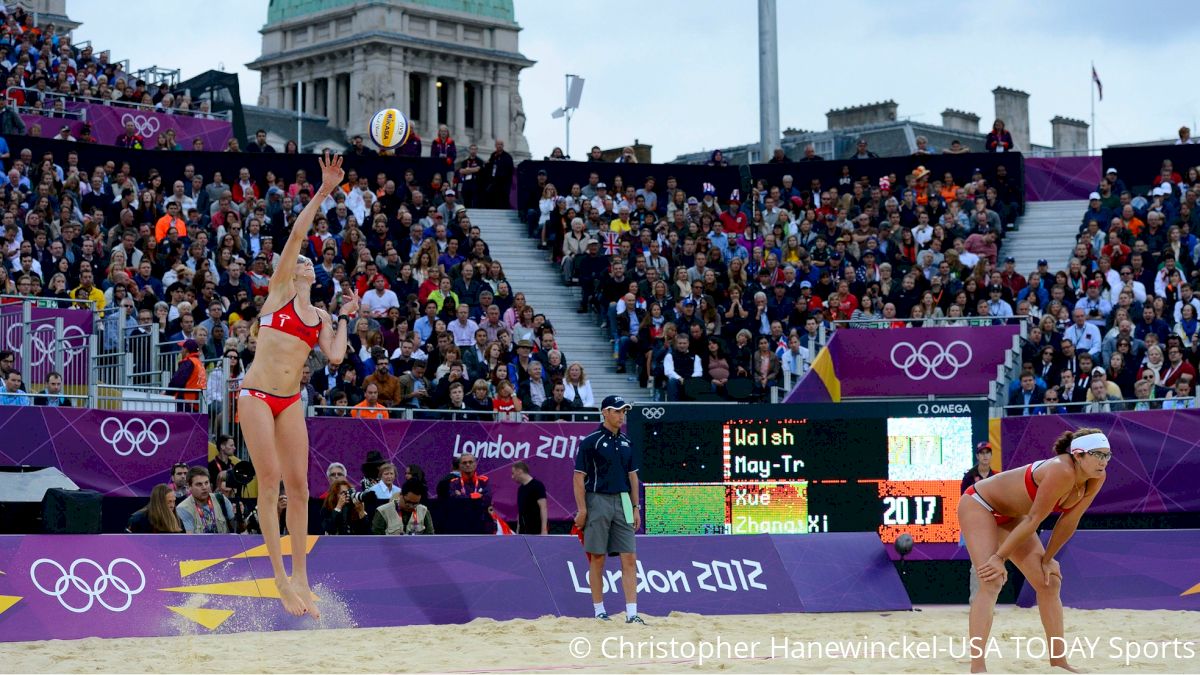 With the Tokyo Olympics postponed until 2021, we thought we'd highlight the top indoor and beach volleyball Olympic moments.
Indoor Volleyball Makes Its Debut In 1964
Although it had earned Olympic-sport designation by the IOC back in 1957, indoor volleyball didn't officially debut at the games until 1964 in Tokyo. That year, the USA qualified both a men's and women's team, with the men finishing ninth (out of 10 teams) and the women ranking fifth (out of six teams).
The Soviet Union men's team won the gold medal, while on the women's side, Japan went undefeated in the round-robin format tournament. The Japan women continued to do well for the next 15 years, winning the World Championships in 1967 and 1974, to go with another worlds gold from 1962, and claiming Olympics gold in 1976.
Similarly the Soviet men became a constant presence on the Olympics podium. They repeated in 1968, finished third in 1972, took silver in 1976, gold in 1980, and silver in 1988.
Cuba Women Dominate the 1990s
Nicknamed Las Espectaculares Morenas del Caribe "The Spectacular Caribbean Girls," Cuba's women's national team reigned supreme from 1991 to 2000. The Cuban women won gold at the Olympics in 1992, 1996, and 2000 after not participating in the 1984 and 1988 Games. In that time frame, Cuba also won the 1991 World Cup, 1994 World Championship, 1998 World Championship, and 1999 World Cup.
In 2000, entering the Sydney competition as two-time reigning gold medalists, Cuba made it back to the final but let Russia take a 2-0 lead and had to execute an epic comeback to win in five.
With that win, Cuba became the first nation to win three consecutive volleyball gold medals.
Six-foot-three middle blocker Magaly Carvajal led Cuba to its first two Olympic golds, winning Best Blocker in 1992 and Best Middle Blocker at the 1996 Games. Regla Torres, another middle blocker, played a significant role in all three Olympic championships, and has since been inducted into the International Volleyball Hall of Fame.
Kerri & Misty Go Three-For-Three
I'm assuming if you've found yourself on this page, you're enough of a volleyball fan that you know about Kerri Walsh Jennings and Misty May's incredible streak of three Olympic golds in a row (2004, 2008, 2012).
But here are some details about that amazing feat that you may not have realized. Misty and Kerri never lost a match in any of their three Olympics together — boasting a 21-0 record in Olympic competition.
In Athens in 2004, Walsh and May faced, and swept, fellow Americans Holly McPeak and Elaine Youngs in the semifinals. Then in the gold-medal match, the legendary pair defeated Brazil's Shelda Bede and Adriana Behar.
Four years later, after steamrolling their way through pool play in Beijing, Kerri and Misty had to get past two Brazilian teams (Larissa/Ana Paula and Talita/Renata) before meeting the home team Tian Jia and Wang Jie of China in the gold-medal match.
Finally, in London, they traversed an even more epic road to gold. Playing Xue and Zhang of China in the semifinals, May and Walsh barely snuck away with a 22-20, 22-20 victory to set up a meeting with fellow Americans April Ross and Jen Kessy for the gold medal.
Kerri & April's Bronze-Medal Redemption
Being the best women's beach volleyball player ever means you qualify for more than one top Olympic moments bullet point.
After ending her partnership with Misty May, Kerri Walsh Jennings paired up with Whitney Pavlik for part of a season before creating another super team with April Ross. Between the AVP and FIVB tours, Walsh Jennings and Ross played 44 tournaments together, winning 23 of them.
But when it came to the 2016 Olympics in Rio, the story wasn't quite so perfect. Walsh Jennings lost just her second SET ever at the Olympics to Isabelle Forrer and Anouk Verge-Depre during pool play, then the pair lost to Agatha Bednarczuk and Barbara Seixas in the semifinals to eliminate the chance of a fourth gold medal for Walsh Jennings.
Walsh Jennings struggled with serve receive in the semifinals, getting aced five times, and the same difficulties continued in the first half of the bronze-medal match versus Talita and Larissa of Brazil. Larissa served three aces in the first set alone. But incredibly, Walsh Jennings and Ross flipped a switch to come back from down 0-1 and win the bronze in three sets.
The full match isn't available on YouTube, but this condensed replay does a good job of capturing the essence.
Russia Men Make A Massive Comeback For Gold In 2012
In the men's indoor gold-medal match in 2012, Brazil dominated Russia in the first two sets and the vast majority of the third. With a 22-19 in the third set, Brazil put in its soon-to-be-retired captain Giba, who had not been playing due to injury, wanting him to be on the court when the team won the gold. The Brazilians even had match point 24-23 before the Russians finally began to launch their comeback.
Russia won the third set 29-27, then the fourth 25-22, and the fifth 15-9. Dmitriy Muserskiy, Russia's 7-2 middle blocker, finished the match with 31 points, leading Russia to its first men's volleyball gold medal since 1980.
The match is three hours long, but really, what else is on your agenda for today?