All Karch Kiraly Playlist
All Karch Kiraly Playlist
In this unprecedented time of no live sports, many diehards have turned to archival sources to get their fix.
Mar 26, 2020
by Megan Kaplon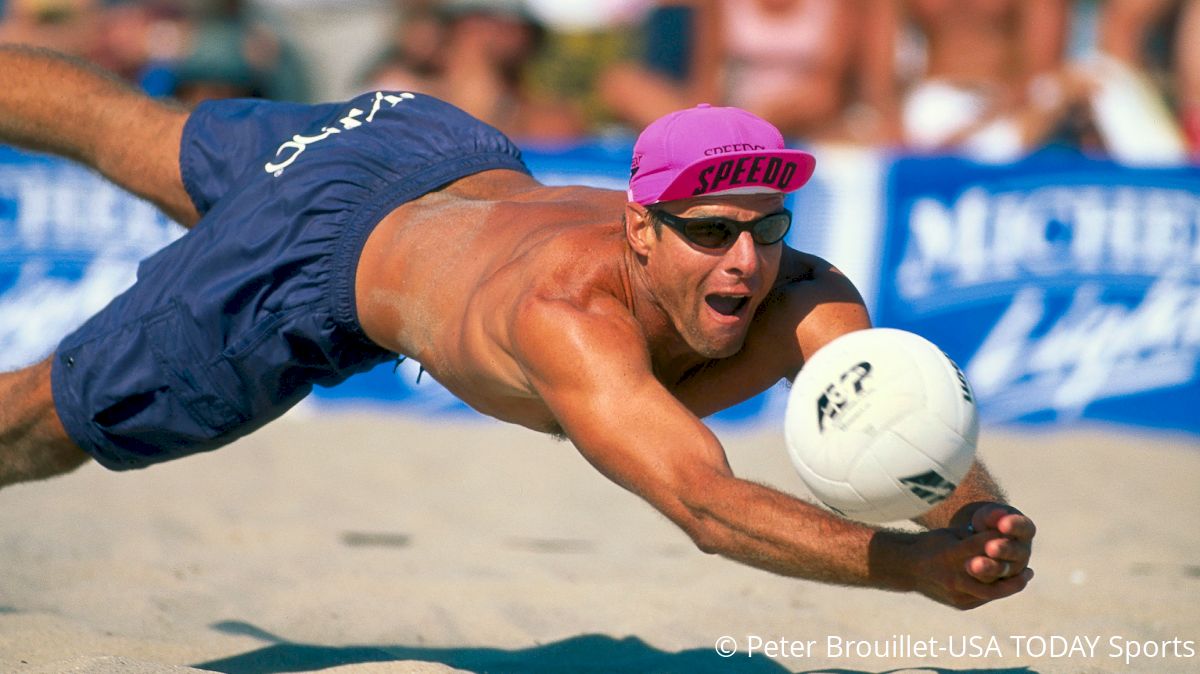 In this unprecedented time of no live sports, many diehards have turned to archival sources, like the FloVolleyball library or YouTube, to get their fix.
For lovers of beach volleyball, there's nothing more fun than diving headfirst into a bunch of old school matches from the 80s and 90s, and if you're going to go there, might as well narrow it down to just matches featuring the man of that moment: Karch Kiraly.
If you're relatively new to the world of volleyball, say under the age of 25, you might think of Kiraly first as the head coach of the U.S. women's indoor team. But this three-time Olympic gold medalist remains the best to ever play the game, winning two gold medals with the men's indoor team and spending a few years playing professionally in the Italian league before returning to the beach where he learned to play volleyball. In 1996, he won men's beach volleyball's first Olympic gold medal, and in four decades of playing pro beach volleyball tournaments, he won 144 AVP titles and amassed more than $3 million in winnings.
Here are just a few highlights from the king's career.
1984 Olympics: Gold Medal Match (indoor)
To really tell the story of Karch Kiraly in video form, you have to start with this match. At age 23, Kiraly helped the U.S. men win gold in Los Angeles in 1984 — this country's first medal in men's volleyball.
The U.S. team faced Brazil in the final, a rematch between the two teams after Brazil swept the USA in pool play. The video below doesn't show the entire gold-medal match, but does capture the last few points and then cuts to an in-studio player interview with Kiraly and teammate Dusty Dvorak.
1985 Superstars, Prelim & Final
It won't take you long to discover that these are not videos of volleyball matches. But, oh my goodness, they are worth your time nonetheless.
Superstars was a competition TV series in the 70s, 80s, and 90s that pitted athletes from different sports against each other in various tests of strength and athleticism. After the 1984 Olympics, the show hosted a two-part competition, which first had a group of Olympians from '84 compete head-to-head and then the best of that group did it all over again against the top finishers from another preliminary competition between a group of NFL athletes.
If you know anything about Karch, then this is not a spoiler alert: He does really well. And while this is not a surprise, it is still beyond cool to see how all-around ridiculously athletic this guy is and see him go up against some other legendary sportsmen, including Evander Hollyfield, Willie Gault, and Phil Mahre.
One of my favorite parts about this: Karch walks away with $28,900 in winnings from this competition. If you believe the online inflation calculator I used, that would be almost $70K today!
1989 AVP Rhode Island Open Final
Although Kiraly debuted on the AVP tour in 1984, this match from 1989 is one of the earliest I could find on YouTube featuring him. Not only is this one of many great examples of the rivalry between Kiraly (who played with Brent Frohoff for the entire 1989 season) and former partner Sinjin Smith, but it's also legendary for Karch's fiery outburst at the end of the match.
This video gives you the entire match with commentary by — who else — Chris Marlowe and Paul Sunderland, AND it provides player commentary at the end with all four competitors offering insight into the match from a few years down the road.
1992 AVP San Diego Open Final
The San Diego Open in 1992 marked just the fifth tournament in the partnership between Kiraly and Kent Steffes, which would last until 1996. At this time, Sinjin Smith held the title of winningest beach volleyball player with 132 career wins, and Steffes was still in undergrad at UCLA.
Lance Lee, the man behind most of these archival AVP matches on YouTube, says of this match, "I think this is the best final in AVP history." In the comments, you'll find other tidbits, like "If this isn't the best AVP final ever, it's very close." Need we say more? Watch it, you won't be disappointed.
1993 AVP King of the Beach, Daytona Beach, Florida
This King of the Beach tournament marked the end of the 1993 season in which Kiraly won 18 (!) tournaments on the AVP tour. For the uninitiated, a King of the Beach tournament (KOB) is essentially every man for himself. You still play two on two, but everyone plays with everyone and the best individual performer with the most total points at the end wins.
Kiraly competes in the final of this one alongside Mike Dodd, Adam Johnson, and a very young Jose Loiola, who is now the coach of Trevor Crabb/Tri Bourne and last year coached Sara Hughes and Summer Ross. This particular September weekend also dished up some extreme temperatures, making for a very dramatic competition.
1994 AVP Seal Beach Open Final
This video offers a double-header. Watch one semifinal and the title match, or go ahead and skip to the final — another match in the conversation for best of all time (the final starts around 16:30 in this video).
Mike Dodd and Mike Whitmarsh were Kiraly and Steffes' toughest opponents on tour at this time. Heading into the Seal Beach final, Mike and Mike had a 4-8 record against Karch and Kent — which might not sound great, but was better than pretty much anybody else could do at the time.
I won't spoil the outcome of this one, but it features a really great comeback.
2005 AVP Huntington Beach Open Final
Kiraly played on the AVP tour until 2007, but he won his last title in 2005 at the Huntington Beach Open. Playing alongside Mike Lambert, Kiraly went undefeated on his way to the final, knocking off Adam Jewell and John Hyden, Stein Metzer and Jake Gibb twice, and playing Larry Witt and Sean Rosenthal in the final after already defeating them in the quarters.
Not only is it cool to watch Karch play great volleyball well into his 40s, but this match offers a fun look at a young Sean Rosenthal.