2020 Mizuno Boston Volleyball Festival
Mizuno Boston Volleyball Festival Recap
Mizuno Boston Volleyball Festival Recap
Last weekend in Boston, the city saw a few snow flurries and an huge influx of club volleyball teams from around the country.
Mar 11, 2020
by Megan Kaplon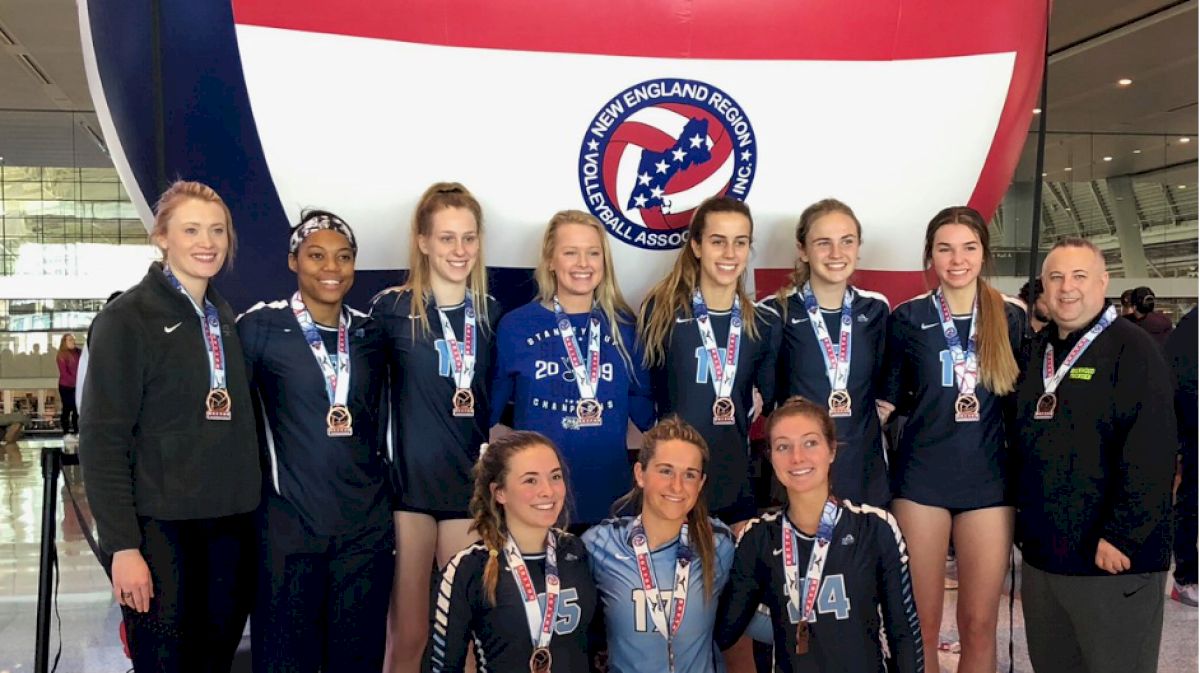 Last weekend in Boston, the city saw a few snow flurries and an huge influx of club volleyball teams from around the country.
Watch full archives from Mizuno Boston Volleyball Festival!
With Girls Junior National Championships bids on the line in the 18s division, all eyes were on the oldest competitors, and in 18 Open, East Coast Power KOP 18-Royal finally got its bid, battling through the extra challenge of championship Sunday also falling on Daylight Savings.
The Pennsylvania-based team came up just short of punching its nationals ticket at the Music City Championships in Nashville last month, but in Boston the squad left no doubt.
An 8-1 overall record saw 18-Royal go 5-1 in pool play, losing only to Orange County team Apex1 before getting redemption over the same squad in the championship match. Both meetings went to three sets and ended with the exact same sets scores. Apex1 won the pool-play matchup with a 20-25,25-21,15-10 final scoreline, while ECP secured the gold medal 25-20,21-25,15-10 on Sunday with 15 kills from Penn State commit Macy Van Den Elzen, also a First Team Under Armour High School All-American.
With its second-place finish, Apex1 double qualified for 18 Open, having earned its initial bid at the Northern Lights Qualifier.
Third-place finisher Rockwood Thunder 18 Elite had a spot locked up for the 18 National division at GJNC through its performance in the Gateway Region, but thanks to its performance in Boston, the team can choose to play Open instead.
Impressively, Rockwood secured its bronze-medal finish without usual starting setter Abby Lynn, who was out due to injury. Instead, defensive specialist Bailie Kearnes, who sets for her high school team, stepped up to fill in for Lynn.
Since Apex1 already had a spot at nationals locked in, fourth-place Carolina Union 18 Premier rode its 6-3 record to a bid — the first Open-level bid in the history of the club. CUVC nearly knocked off Apex1 in gold bracket pool play on Sunday, losing by just two points in the third. The team's next match, which was against Absolute Volleyball Club 18-1, also went three, but fell CUVC's way this time, securing the bid for the North Carolina-based squad.
If Rockwood Thunder were to choose not to accept their Open spot, AVC18-1 would be the next team up thanks to its fifth-place finish, but I think it's fair to say Rockwood is pretty pumped about the upgrade.
18 ELITE FINISHES THIRD IN BOSTON AND EARNS THEIR OPEN BID TO NATIONALS! #rtvbc #gotthatbid #medals #openbid pic.twitter.com/OgqJPq5k1o

— Rockwood Thunder (@rockwoodthunder) March 8, 2020
In the 18 USA division, Nebraska Elite 18 Elite went undefeated on its way to gold, beating ACE 18 Smack 25-19, 18-25, 15-9. SCVC 18 Roxy walked away with the division's third nationals bid thanks to a defeat of Paradigm Revolution in the bronze-medal match.
Coast 18-2 claimed the sole bid on the line in the 18 American division, and it did it in dominant fashion. The Cali squad didn't lose a single set all weekend and outscored opponents almost two to one.