Create a free account to unlock this article!
Get Started
Already a subscriber? Log In
This week in our men's volleyball notebook: a Wednesday night match well worth watching, a growing win streak on the East Coast, and some more hype for the biggest match of the season to date.
Seven in a row for Penn State
Last week, we highlighted Penn State's five-match win streak and No. 10 ranking in the AVCA poll. Seven days later, the Nittany Lions of the EIVA have extended that unblemished run to seven in a row and jumped up two spots to No. 8 in Monday's poll.
Over the weekend, PSU earned straight-set victories over George Mason and the University of Charleston, making the last four wins in a row sweeps. Strong serving played a major role in both contests, with the Lions blasting eight aces versus GMU and 14 in the Charleston match.
On Monday, the EIVA named Henrik Falck Lauten its offensive player of the week. In three matches last week (the Lions swept Saint Francis on Tuesday, Feb. 25), Falck Lauten collected 25 kills, hitting a team-high .465.
"Team confidence is at an all-time high," Penn State coach Mark Pavlik said. "Doesn't matter who's in there ... there's a standard that they're setting in the training gym."
Against George Mason, which has struggled with multiple injuries throughout the 2020 season, sophomore Cal Fisher led the offense with 16 kills.
"(Setter) Cole (Bogner) has just been laying them right up there for me so it makes my job a lot easier," Fisher said after the match on Friday.
Penn State is undefeated in EIVA play (7-0), with only Princeton (7-1) close enough in the standings to pose a real challenge. In the two teams' first meeting this year, Penn State got the four-set victory over Princeton, but they play again on April 4, just three weeks before the EIVA Tournament.
BYU & Hawaii still undefeated heading into mid-week matchups
Last week, we started hyping the impending matches between No. 1 Hawaii and No. 2 BYU, and this week, we're going to hype it some more.
Just a day away from the first head-to-head matchup between the top two teams in the nation, both are still undefeated. Over the weekend, Hawaii played a second match against visiting Japanese university team Nittaidai, earning the sweep Friday night with a match-high 13 kills from star opposite Rado Parapunov.
BYU hosted No. 13 Stanford on Saturday, winning in straight sets in front of its largest home crowd (5,817) since 2005. The Cougars are the top blocking team in the country and they certainly looked it against Stanford, collecting a season-high 15.5 blocks. Outside hitter Zach Eschenberg led the blocking effort with a career-high six stuffs.
The 16-0 start to the season marks a program-best for BYU and is the second-longest winning streak for the Cougars in the rally-scoring era.
Hawaii plays host to BYU this week, with back-to-back matches Thursday and Friday night. Expect some major fireworks. The only downside of this highly touted matchup is that with it being in Hawaii, the game won't start until midnight East Coast time (7 PM HST).
Ryan Coenen is the national POW for the second time this year
Lewis is another one of the nation's hottest teams right now. With a 13-4 overall record, 6-1 in the MIVA, Lewis sits atop its league and ranks No. 5 in the most recent national coaches poll.
Senior outside hitter Ryan Coenen deserves a lot of credit for the Flyers' success. He leads the team with 223 kills (3.98/set), hitting .318. He also averages 0.38 aces, 0.5 blocks, and 1.77 digs per set.
Last week, Coenen led Lewis to its fifth and sixth victory in a row, sweeping Purdue Fort Wayne and Loyola. The 6-9 senior averaged 4.83 kills and 2.33 digs per set in the pair of matches, hitting .480. His numbers get even more impressive as you dive deeper: he hit .704 against Loyola on Saturday — a season-high, but surprisingly, not a career-high (he hit .778 in a sweep of North Greenville in 2019) — and 10 of his 19 kills came in the third set. He also collected his fourth double-double of the season in that match, adding 10 digs to his statline.
Those staggering stats earned Coenen his second AVCA National Player of the Week award of the season.
"Ryan is doing great work on and off the court," Lewis head coach Dan Friend said. "It shows with his play for us as the season progresses. He was a force in helping us win two key MIVA matches last week. I'm proud of Ryan and our team's overall focus."
Players to watch: tOSU vs Ball State
Wednesdays aren't generally big nights for men's volleyball, but this particular Hump Day had a match worth tuning into. Ohio State (10-7, 2-4) hosted Ball State (10-6, 3-3) in an important MIVA meeting.
Although neither team currently ranks in the top 15, both have been in an out of the rankings this year and each roster features some key players.
For Ohio State, that list includes freshman opposite Tim Baldwin and senior outside hitter Reese Devilbiss. The latter leads the team with 183 kills, hitting .335 and ranking second on the squad with 86 digs. Just last week against Quincy, Devilbiss topped the stat sheet with 17 kills and zero errors on 23 swings, hitting .739.
A redshirt freshman and transfer from BYU, Baldwin, on the other hand, has just 47 kills on the year, but his star is on the rise for the Buckeyes. Like his team, which opened the season 6-0 and won eight of its first nine matches before going on a three-match losing streak, Baldwin has been pretty inconsistent throughout the season, but when he's on, he can be quite impactful. To wit, he contributed 12 kills, hitting .500 against UCLA in January, and more recently, he tallied seven kills on 15 attempts with just one error to hit .400 versus Purdue Fort Wayne on Feb. 22.
For Ball State, keep an eye out for the Cardinals' trio of offensive leaders: sophomore Kaleb Jenness (213 kills, .277), senior Blake Reardon (145 kills, .327), and senior Matt Szews (134 kills, .231).
Another note on Ball State: the Cardinals' head coach Joel Walton recently celebrated his 400th career win on the same night that Ball State picked up its first win at Loyola Chicago since 1999.
Watch the full replay here: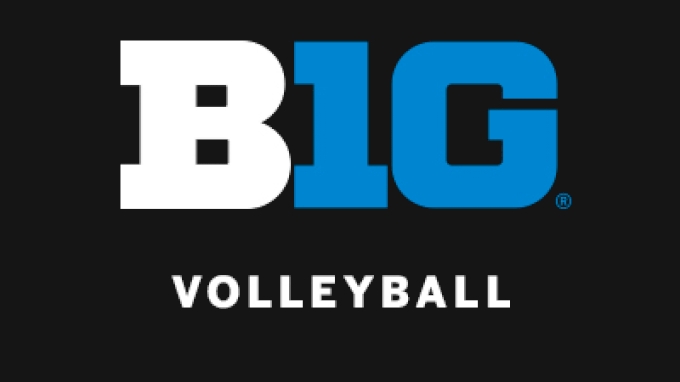 Unlock this video, live events, and more with a subscription!
Get Started
Already a subscriber? Log In