2020 Mizuno Boston Volleyball Festival
Mizuno Boston Volleyball Festival Team Breakdown
Mizuno Boston Volleyball Festival Team Breakdown
Starting Friday, twenty-three 18 Open teams will arrive at the Boston Convention and Exhibition Center for the Mizuno Boston Volleyball Festival.
Mar 3, 2020
by Megan Kaplon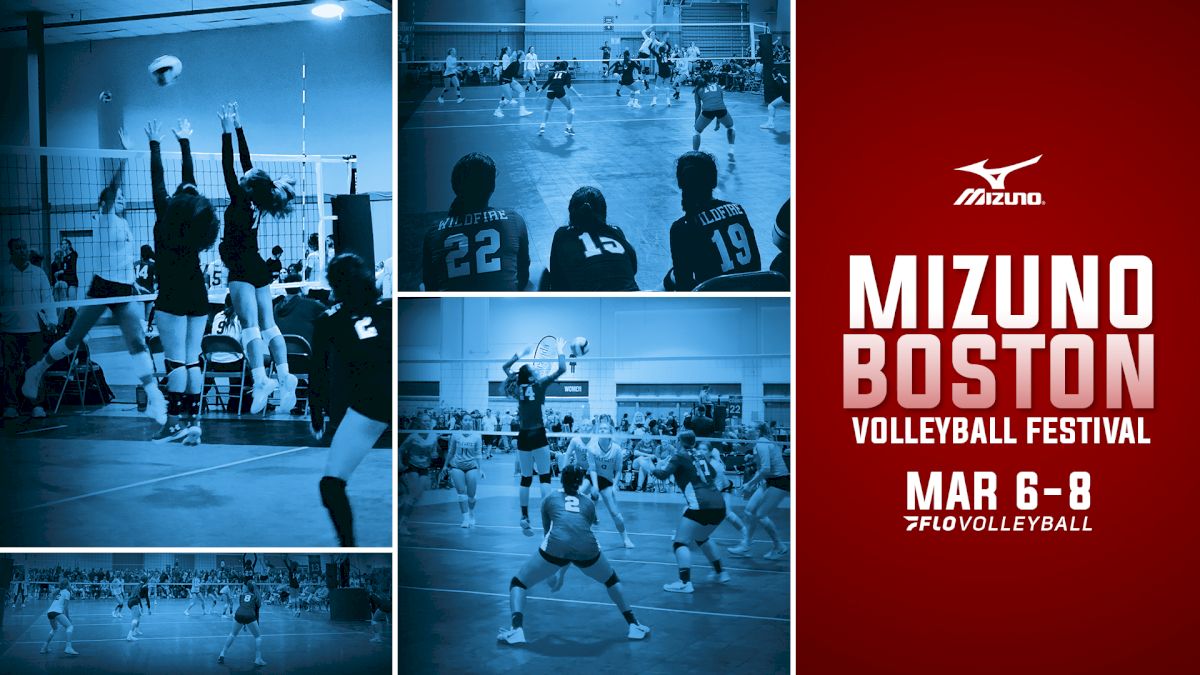 Starting Friday, twenty-three 18 Open teams will arrive at the Boston Convention and Exhibition Center for the Mizuno Boston Volleyball Festival.
Teams will contend for medals and three bids to USA Volleyball's 18s Girls National Championships.
Here are the six teams we think have the best chance of winning it all.
Watch the 2020 Mizuno Boston Volleyball Festival LIVE on FloVolleyball, March 6-8.
Apex1 Volleyball 18 Black
Orange County-based Apex1 will be playing pressure-free this weekend after earning its nationals bid at the Northern Lights Qualifier last month. Most recently, Apex1 went 4-4 in the 18 Open Elite division at SCVA's Las Vegas Classic, finishing in fifth place. During the tournament in Vegas, Apex1 scored big wins over Goldenwest 18 Asics and AZ Revolution 18 Adidas, and even pushed No. 7 Mizuno Long Beach 18 Rockstar to three, losing 16-14 in the third.
Rockwood Thunder Volleyball Club 18 Elite
PrepVolleyball ranked this Rockwood Thunder 18 Elite team No. 42 in the nation in its most recent club rankings, and the Missouri-based squad is 15th in the AES Power Rankings.
Rockwood Thunder's top 18s team finished 13th at the Music City Championships Qualifier in Nashville, but a third-place finish at Triple Crown shows just how good this team can be. Like Apex1, Rockwood Thunder will be playing in Boston without the pressure of earning a spot at nationals, since it scored the Gateway Region bid at the St. Louis Power League last month.
East Coast Power KOP 18-Royal
ECP 18 Royal sits just outside the top 50 nationally, according to PrepVolleyball. The squad went 10-1 at Music City Championships, finishing in fifth place, just two spots away from earning a bid, making this team one of the favorites to lock in a nationals ticket in Boston.
The ECP roster features some serious height between 6-4 Penn State committed opposite Macy Van Den Elzen, 6-3 NC State-bound middle Riley Shaak, and 6-2 outside/opposite Drew Kofke, who will play at LaSalle next fall. Six-foot-one middle Abby Campell is no slouch either, leading the team at usic City with an impressive 46 kills, hitting .474.
Madfrog 18 National Green
Texas-based Madfrog 18 National Green has already secured a bid to nationals in the 18 USA division (by finishing third in 18 USA at Music City), but it certainly has the talent to compete in Open. All but two players on the roster are committed to play in college, including NM State bound Darian Markham and Dartmouth commit Bomi Ogunlari, and the team earned honorable mention honors in PrepVolleyball most recent national rankings.
Carolina Union 18 Premier
Another PrepVolleyball honorable mention squad making an appearance in Boston is Carolina Union 18 Premier. This team finished ninth at Music City and went 5-4 at Triple Crown.
Keep an eye out for UNC Chapel Hill recruits Maylen Mitrovich (S, 2020) and Marissa Meyerhoefer (L, 2021) as well as Wichita State-bound middle Mac Russ and Virginia Tech-signed outside Cierra Huntley.
Momentum 18 Staci
One of the top teams coming out of Colorado this year, Momentum 18 Staci boasts three players headed to Power Five teams next fall — Payton Brgoch (Ole Miss), Leanne Lowry (Iowa), and Audrey Black (Iowa).
A 24th-place finish in 18 Open at Music City may motivate this squad to achieve more this weekend, maybe even landing a bid.