2020 JVA Rock n Rumble presented by Mizuno USA
5 Teams To Watch At JVA Rock 'N Rumble
5 Teams To Watch At JVA Rock 'N Rumble
The JVA Rock 'n Rumble always serves as one of the first major club tournaments in the Midwest.
Jan 7, 2020
by Megan Kaplon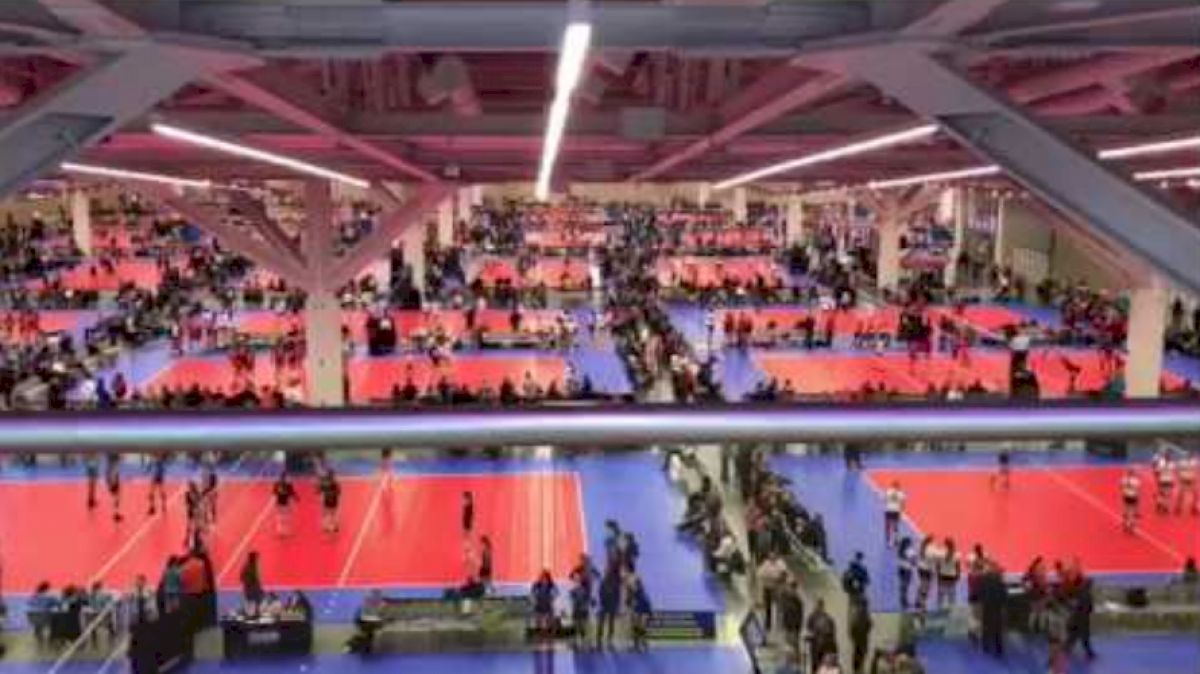 The JVA Rock 'n Rumble always serves as one of the first major club tournaments in the Midwest, and this year will be no different. Taking place Jan. 18-19 in Cleveland, Ohio, the Rock 'n Rumble will pit some of the top club teams from the area against each other, each looking to make an early season statement.
Here are a few of the teams you should be keeping an eye on at the Rock 'n Rumble, which will stream live right here on FloVolleyball.
Also, this year we will be streaming all 40 courts!
Mintonette m.71
This team from Central Ohio is a 17s team but will be playing up in 18 Open at the Rock 'n Rumble, and they certainly have the talent to compete with the older squads. The Mintonette m.71 roster features powerful outside London Davis (Kansas), 5-10 Xavier-bound setter Logan Flaugh (daughter of former Ohio State All-American setter and current BTN analyst Audrey Flaugh), and Ohio State-committed libero Sydney Taylor.
As 16s in 2019, this team won the 17 Premier division at the 2019 AAU Nationals and 16 National at GJNCs. Davis was named MVP of the division at the USAV event.
Munciana 18 Samurai
You heard it here first: there's absolutely no reason Munciana 18 Samurai shouldn't win 18 Open at Rock 'n Rumble. All but four players on the roster are committed to college programs, most in Power Five conferences. Wisconsin-bound 6-1 setter MJ Hammill headlines that group, along with outside hitter Mabrey Shaffmaster, a junior verbally committed to North Carolina.
Adding even more depth, you've got outsides Regan Tinkle (Georgia) and Caitlin Snyder (Ball State), middles Lauren Gilliland (Ball State) and Lindsey Winner (Dayton), opposite Camryn Haworth (Indiana, 2021), and defensive players Lexie Almodovar (Dayton), Carly Mills (Indiana, 2021), and Ellee Stinson (Northwestern, 2021).
AVC 17 Red
In 17 Open, we'd put our money on Academy Volleyball Cleveland's 17 Red. Like Municiana Samurai, AVC 17 Red is stacked with Division I talent, and these kids are still just juniors in high school. Setter Kamiah Gibson will be taking her talents to West Virginia after two more club seasons and one more high school season; libero Emmy Klika has a Pitt jersey in her future; and middle Abby Walker has verbaled to Cincinnati. Don't forget setter Hanna Bissler (Miami), middles Maddy Hooper (Palm Beach Atlantic), Jen Sivak (Bucknell), and DS Emma Walker (Cleveland State).
Watch JVA Rock 'N Rumble Live!
As 16s, this group from AVC finished the season ranked 13th in their age group, according to PrepVolleyball. The team needed just one win to get to the championship bracket at GJNC, and that narrow shortcoming may just provide some powerful fuel for the 2020 season.
Munciana 17 Pandas
Let's be honest, powerhouse club (and Rock 'n Rumble host) Munciana will be a threat in every division this weekend. In 17 Open, the Pandas squad features Xavier recruit Lucia Corsaro, who started at libero for legendary Indiana high school program Cathedral this fall, scooping an impressive 416 digs. Bailey Cox, a Georgia bound 5-7 outside/defensive specialist, will add even more to Munciana's defensive game, while outside hitters Rose Crist (Villanova) and Kenzie Daffinee (Indiana) bring the heat from the pin.
Union 17-1
Eleanor Beavin will be the star of this Union 17-1 lineup. PrepVolleyball selected the Kentucky-bound libero as one of just three defenders on its Top 50 Juniors list. Setter Emma Kaelin (Indiana State) is the only other college commit on the team, and with just one player 6-foot or taller, they're a bit undersized, but one should never underestimate the power of good defense.