2019 Under Armour High School All-America Match
Under Armour All-American Profile: Elena Oglivie
Under Armour All-American Profile: Elena Oglivie
Elena Oglivie has been one of the best volleyball players in Hawaii for a number of years already.
Dec 29, 2019
by Megan Kaplon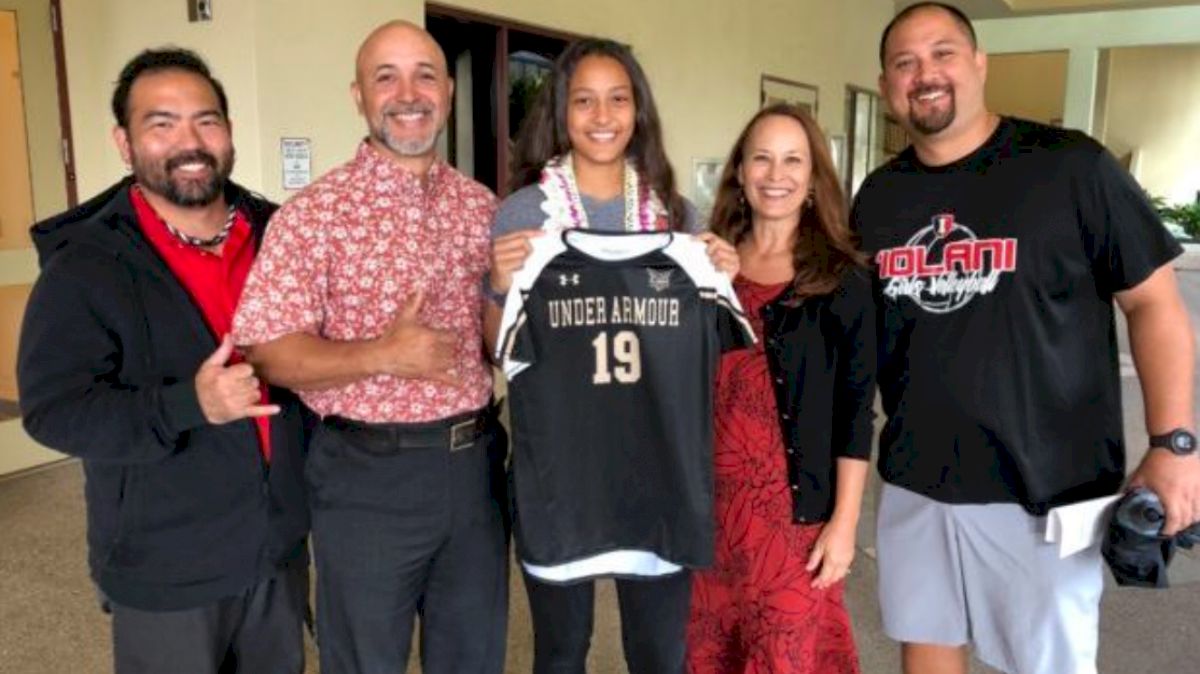 Elena Oglivie has been one of the best volleyball players in Hawaii for a number of years already.
Now a high school senior getting ready to begin her college career at Stanford next fall, led her 'Iolani High School team to state championships in 2016 and 2018. Both years, she earned the title of Honolulu Star-Advertiser state player of the year and after last season's title was named 2018-19 Hawaii Gatorade Player of the Year and 2018 All-Hawaii Girls Volleyball Player of the Year.
---
The Elena Oglivie File
Position: Outside Hitter
Height: 5-11
Hometown: Honolulu, Hawaii
High School: 'Iolani School
Club: Ku'ikahi VBC
College Commitment: Stanford
In 'Iolani's final match of the 2019 season and Oglivie's last match in the red and black uniform, a 3-2 loss to Kamehameha, Oglivie led all players with an absurd kill total of 41 to go with 18 digs. On the year, she averaged 4.8 kills and 3.5 digs per set, more than good enough to earn her First Team Under Armour All-America status.
#Kamehameha survives 41 kills from 'Iolani's Elena Oglivie to pull off stunning comeback in winner-take-all match for a state-tournament berth: https://t.co/hU04K3k1ja @KSKAthletics @Iolani_Raiders pic.twitter.com/tze4t52qfQ

— Hawaii Prep World (@HawaiiPrepWorld) October 9, 2019
Watch Elena Oglivie in action at the 2019 Under Armour High School All-America Match, streaming live right here on FloVolleyball, Dec. 31 at 7 PM ET.
Oglivie has committed to Stanford where she will mostly likely be a defensive specialist or libero, but she's certainly proven herself capable of banging with the best throughout her career to date. A member of the U.S. youth national team that won gold at the U18 World Championship in September, Oglivie finished fifth on the team with 58 total points, scoring five kills in the final match versus Italy, a tally that doesn't even begin to encapsulate her contributions to the team.
"Elena was really critical to our team's success," Youth National Team head coach Jim Stone said. "She and the libero received about 90 percent of the serves and she was totally consistent with ball control, defense, and serving and she chipped in offensively. She never came off the floor. We couldn't afford to take her off the floor. She was kind of a linchpin to our team doing well."
2x girl's volleyball player of the year put pen to paper today, signing to play for Stanford. The @Iolani_Raiders star played for the US youth national team this year. https://t.co/6W5b0hI4yR pic.twitter.com/CHsjjiCkxK

— Ren Clayton (@Ren_Clayton) November 13, 2019
Her high school coach Kainoa Obrey has compared Oglivie to former University of Hawaii outside hitter Kalani Danielson, who at only 5-11 was a four-year letterwinner and three-time First Team All-American.
Elena will be the second Oglivie daughter to play Division I volleyball, following in the footsteps of older sister Ana Oglivie, a junior libero at Army West Point.
VIDEO: 'Iolani's Elena Oglivie presented with her Under Armour All-American jersey: https://t.co/Gb3AS1UhMK @Iolani_Raiders @stanfordvball pic.twitter.com/T9Ng1e1Dak

— Hawaii Prep World (@HawaiiPrepWorld) December 3, 2019
Family plays an especially important role of Oglivie.
"My ohana," she said when asked for the secret to her success. "In Hawaiian, ohana means family. My family has been my No. 1 support system, No. 1 fans, and has always been there for me. Also, the community of my friends, coaches, teachers, and Hawaii has influenced me to grow as a person and volleyball player."