2019 Women's FIVB World Cup Tournament
USA Women Claim Silver At FIVB World World Cup
USA Women Claim Silver At FIVB World World Cup
The U.S. women's national team left Japan this week with a silver medal at the World Cup, finishing the competition with a 10-1 record.
Sep 30, 2019
by Megan Kaplon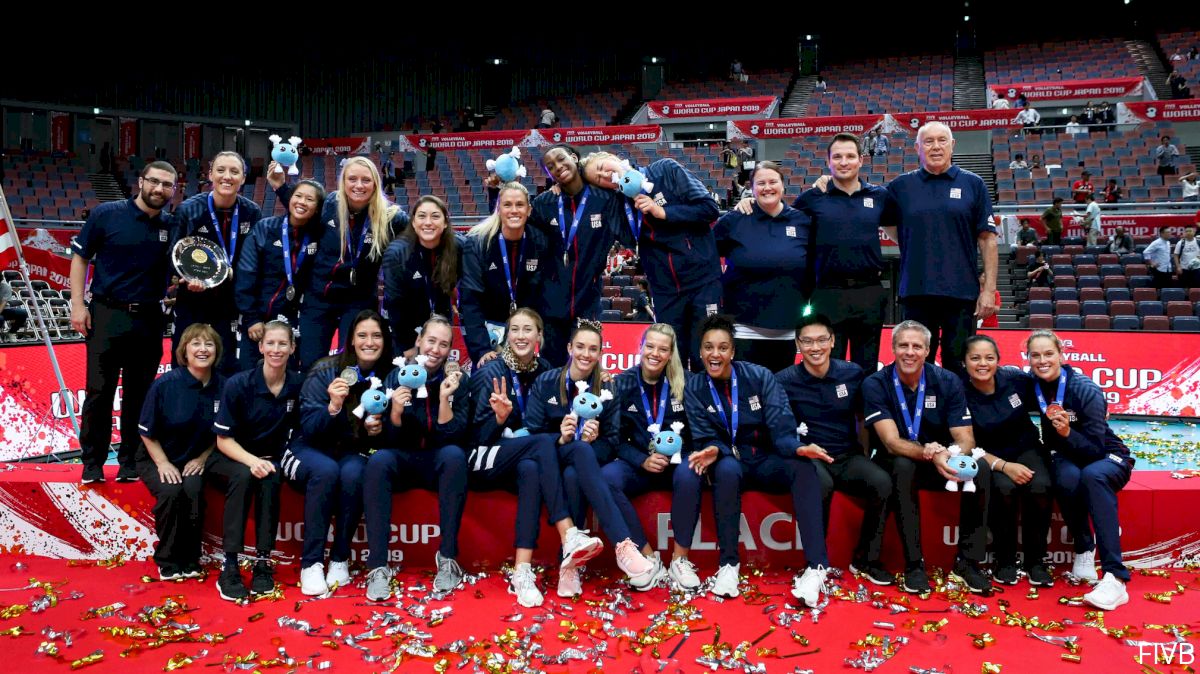 The U.S. women's national team left Japan this week with a silver medal at the World Cup, finishing the competition with a 10-1 record. Undefeated China, the only team to hand the USA a loss, won its second consecutive World Cup gold.
Watch Every TEAM USA Game On Demand!
"We have a lot to be proud of," USA head coach Karch Kiraly said. "We played a great tournament. All 14 of our players made really important and critical contributions to that. We had one disappointing loss to China — they are playing a very good tournament. But we have a lot to be excited about. We look forward to coming back here in way less than a year for the 2020 Olympics."
The final three-match phase of competition saw the USA defeat Russia, Cameroon, and Korea. The match versus Russia, which finished in third place, proved to be the most dramatic of the group, going to five sets (24-26, 25-22, 25-22, 17-25, 15-8).
Entering the Russia match, both teams boasted 7-1 records, meaning whoever emerged victorious would be the likely silver medalist.
The USA starting lineup featured outside hitters Kelsey Robinson and Jordan Larson, middles Haleigh Washington and Chiaka Ogbogu, setter Jordyn Poulter, and opposite Annie Drews. Tori Dixon subbed in for Ogbogu partway through the second set, and Kiraly utilized both Megan Courtney and Justine Wong-Orantes as liberos.
Robinson topped all players with 27 points, scoring eight in the critical fifth set.
"My teammates are amazing," Robinson said. "[Jordyn] Poulter is putting up great balls and we have great passing, the middles are holding blocks for us. The only reason I can do well is because of my teammates."
Kiraly changed the lineup against Cameroon, starting setter Lauren Carlini, Dixon and Hannah Tapp in the middle, Michelle Bartsch-Hackley and Kim Hill on the left, and Karsta Lowe at opposite. Wong-Orantes played the whole match in the libero uniform. The U.S. women easily defeated the African squad in straight sets (25-19, 25-15, 25-5).
"Our strength as a team is that we're 14-strong," Hill said. "Some of us have different roles, some of us are starting six, some come in to serve. I'm proud of us as a group because even if the roles are smaller, we think they are very important in their own ways and I think that's why we're strong. I think that's going to help in going to Tokyo next year and developing that. We challenge each other constantly and that's what makes it fun to be part of this group."
A 3-1 victory over Korea (25-21, 25-16, 16-25, 25-22) secured the silver medal for USA. Kiraly returned to the starting lineup from the Russia match, except choosing to go with Carlini instead of Poulter at setter. Drews led all players with 24 points on 20 kills, two blocks, and two aces. She was later awarded Best Opposite of the tournament. Robinson earned one of two Best Outside Hitter awards.
The long pre-Olympics season continues with the NORCECA Women's Continental Championships, Oct. 8-13, in San Juan, Puerto Rico.
"I think this summer has been really exciting for our team with new and younger faces getting an opportunity to play at a high level," Robinson said. "I think we have a lot of potential and room for growth. We have NORCECA to go back to and I think we can be a great team come 2020."