2019 Women's FIVB World Cup Tournament
USA Completes First Phase Of World Cup Undefeated
USA Completes First Phase Of World Cup Undefeated
The USA women's national volleyball team went 5-0 in the first, and longest, phase of the 2019 FIVB World Cup.
Sep 20, 2019
by Megan Kaplon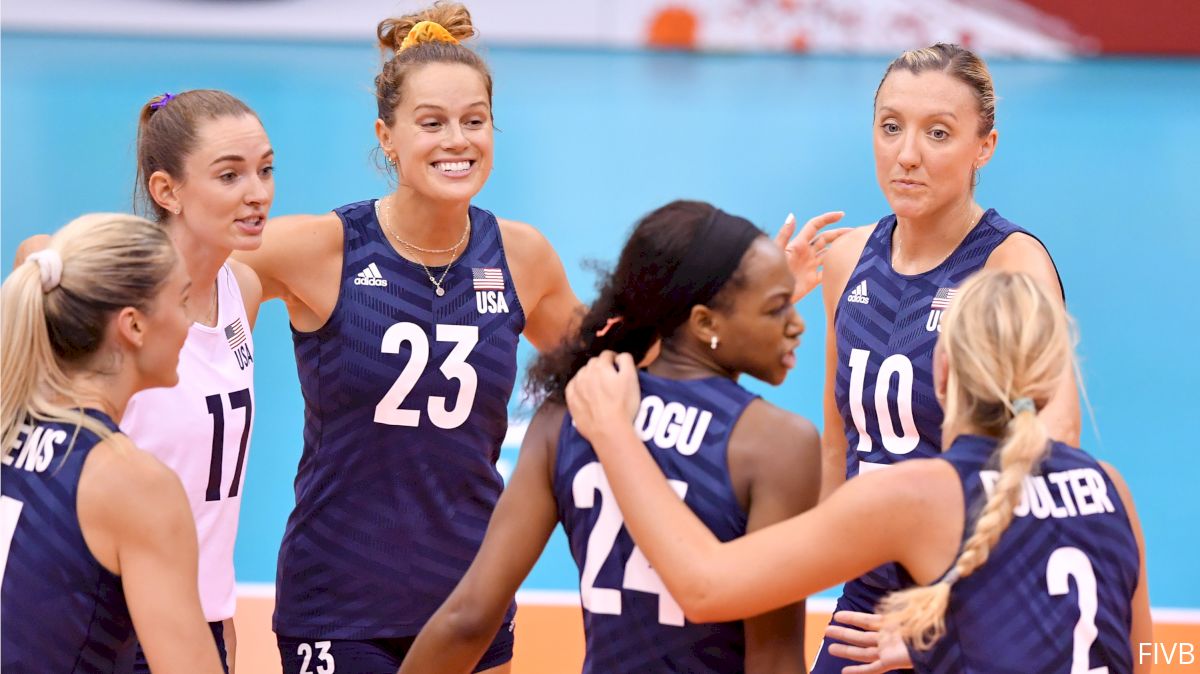 The USA women's national volleyball team went 5-0 in the first, and longest, phase of the 2019 FIVB World Cup.
The team putting itself in a strong position heading into the two remaining phases, each of which is made up of three matches. Big tests versus a full-strength China squad and an undefeated Russia team await, however.
Rewatch every game FIVB Women's World Cup
In four of the five World Cup matches so far, USA head coach Karch Kiarly has relied on the same starting lineup, with rookie setter Jordyn Poulter at the controls, Megan Courtney in the libero jersey, Kelsey Robinson and Jordan Larson hitting outside, Chiaka Ogbogu and Haleigh Washington in the middle, and Annie Drews on the right.
That group secured victories over Kenya (25-14, 25-20, 25-14), Serbia (23-25 25-17, 25-16, 25-15), Netherlands (25-23, 25-18, 25-19), and Brazil (25-22, 25-18, 25-19).
Against Kenya, setter Lauren Carlini and opposite Karsta Lowe entered the match in a double sub, and then versus Serbia after USA lost the first set, Kiraly replaced Drews with Lowe and the former UCLA All-American finished the match with a team-high 17 kills.
"We approached this match knowing it would be very difficult," Kiraly said of the contest versus Serbia. "They beat us in the first set, but the team did a nice job adjusting the block and defence and we are happy with the result. Karsta Lowe came in and gave us some great energy today and some great power, and she helped us change the match after we lost the first set."
Between the Serbia and Netherlands matches, Kiraly went for a different look versus Argentina, starting Carlini, Lowe, Michelle Bartsch Hackley and Kim Hill on the outside, Tori Dixon and Hannah Tapp in the middle, and Justine Wong-Orantes at libero. The USA and Argentina faced off just last month in the Olympic Qualification Tournament, but this time instead of scoring an easy sweep, Argentina pushed the USA to four (25-21, 25-18, 18-25, 25-11).
Rewatch every game FIVB Women's World Cup
"My compliments to the Argentina coach and team," Kiraly said. "They are clearly improving. They had a nice performance at the Pan American Games, so it's a team that's on the rise."
At the conclusion of phase one, Kelsey Robinson leads the USA stat sheet with 58 points, followed by Larson with 48, Drews with 43, and Lowe with 42. Former Texas Longhorn Ogbogu has a team-high 12 blocks.
The team will now travel to Sapporo, Japan, for its next three matches, versus host Japan, China, and Dominican Republic. China and Russia are the only other two teams to finish phase one undefeated, with China having yet to drop a single set and Chinese captain and star outside hitter Zhu Ting ranking fifth among all players in the tournament with 78 points.
Japan and Dominican Republic managed to push Russia to five sets, but led by Nataliya Goncharova with 92 points, second-most among all players, the Eastern European powerhouse looks deadly.
Competition starts back up again on Saturday.