At the end of a major tournament, it often seems like the silver medalists are the most disappointed team on the podium. Sure, the bronze medalists lost in the semifinals, but they finished the tournament with a win.
The USA was that silver-medal winning team at the 2019 Volleyball Nations League tournament, improving on its bronze-medal finish from 2018 and marking the first time its finished higher than third in a major tournament since the 2015 World Cup. But those accomplishments didn't dull the frustration of being beat by Russia 3-1 (25-23, 20-25, 25-21, 25-20) in the final.
"I've gotten way too many third places in my life, and so this isn't the worst thing that's happened," USA outside hitter Taylor Sander said after the match, "but it makes me hungry. I want to get a gold medal and that's what we're going to work towards."
Against Russia, the U.S. men lead with 51 attacking points to Russia's 49, but the European team had a slight advantage in blocking (10-7) and serving (7-6).
"The serving was the only thing that I feel like we didn't do very good, so everywhere else I thought we were able to beat that team," Sander said.
Heading into the fourth set down 2-1, USA head coach John Speraw made a major change in his lineup, moving starting opposite Matt Anderson to the left in place of Garrett Muagututia and inserting Ben Patch to play right side. (Anderson plays outside for his professional team, but has played opposite for USA since 2013.)
"Garrett did a good job of passing, but we needed more punch on the left side," Speraw said. "I tried moving Matty over to the left where he is comfortable. But it just didn't work."
Patch ended the match with just one kill and three attack errors. Middle Jeff Jendryk, who helped spark the comeback coming in off the bench versus Brazil in the semifinals, entered the final midway through the third set but was only able to manufacture two points on one kill and one block.
"We managed to control Matt Anderson, the key player, and Taylor Sander in attack," Russia's first-year head coach Tuomas Sammelvuo said. "Blocking was a difference while their reception broke down."
Sander led the match with 20 points, while Anderson added 19. Russia, on the other hand, had four players in double-digit scoring, and the USA made 29 errors in the match, compared to Russia's 25.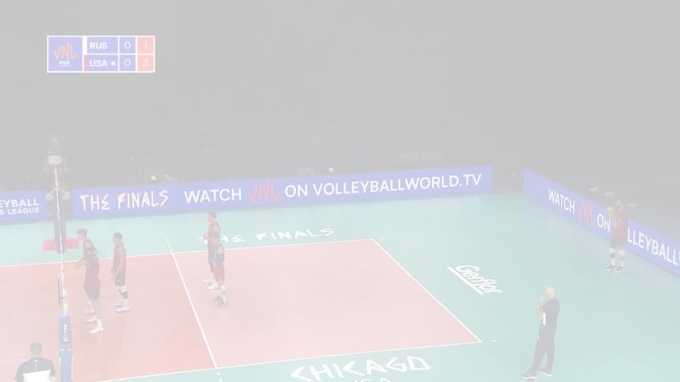 "I think we were patient because we knew USA was a great passing team," Sammelvuo said. "We wanted to play a long match because they also played five sets late. Maybe their serving and passing wouldn't be as effective. We started the game in trouble with our opposite, but then he was able to get the most important balls down when we really needed it. It was a team effort, to believe and to trust in each other. We played as a team."
Four American players made the Volleyball Nations League Dream Team, highlighted by Anderson winning Most Valuable Player and Best Opposite. Micah Christenson received Best Setter, Erik Shoji Best Libero, and Max Holt Best Middle Blocker.
"It's tough to be happy with losing a gold medal match," Anderson said. "I am happy with the way that I played. But I can play a lot better. I'm going to work really hard these next two weeks before we take off for the [Olympic qualification tournament], as I'm sure all of us are."
Team USA wen 12-7 overall at the 2019 VNL and will now focus on recovering from the grueling seven-week competition in order to bring their best at the upcoming Olympic qualification tournament in the Netherlands versus Belgium, Netherlands, and Korea.
"It's been good," Sander said of the 2019 VNL. "We've gotten better. It's been a battle. It's been hard. We've had some bruised up hurt guys, so it's tough, but it's fun to experience this."