Create a free account to unlock this article!
Get Started
Already a subscriber? Log In
It wasn't exactly the Curse of the Bambino, but the members of the U.S. men's national volleyball team are no less relieved to have finally vanquished the semifinal curse that has kept them out of gold-medal matches in four major tournaments in the past four seasons.
WATCH USA vs RUSSIA IN THE GOLD MEDAL MATCH
6PM CT
With a five-set, come-from-behind victory over Brazil in Saturday night's second semifinal (25-21, 17-25, 21-25, 25-20, 15-9), the USA men advanced to the Volleyball Nations League final on Sunday versus Russia.
And you might have to say 23-year-old middle blocker Jeff Jendryk, a Chicago native who came in for David Smith in the third set and stayed in for the remainder of the match, made it happen for Team USA.
In the fifth set, Jendryk went back to serve with the USA leading 6-5 and he proceeded to go on a six-point serving run, during which he scored an ace and scooped up two digs, to lead the USA to an almost insurmountable six-point lead.
"I went with Jeff because of his serve," USA head coach John Speraw said after the match. "David [Smith] wasn't serving the ball well tonight. Jeff gives us a little more experience in terms of how to block those guys. Obviously you saw how big that serve came up in the end."
"What can I say of Jeff," setter Micah Christenson added. "He killed every ball he got set. He made a huge run in the fifth to really propel us to victory. I am so proud of him for coming in to do that in front of his home crowd in Chicago."
Garrett Muagututia also came in off the bench, replacing Aaron Russell midway through the third set and playing for the rest of the match. The stat sheet only credits the 31-year-old outside hitter with two points, but his contributions on serve receive were invaluable to the USA's comeback effort.
"Garrett has been for us all the way through VNL," USA head coach John Speraw said. "He can really come in and pass the ball. We knew we needed it at that point. I thought our offensive numbers on first-ball sideout were pretty good. At one point they were better than Brazil. We just were not beating them in transition. There were times we were not passing the ball well enough to get ourselves in system. When we were in system we were good."
Starting opposite Matt Anderson and starting outside hitter Taylor Sander lead the USA in points, with 22 and 17, respectively, and middle blocker Max Holt led all players with three blocks.
On Sunday, the USA will take on Russia in the VNL gold-medal match. The USA and Russia faced off just two days ago in the last match of Final Round pool play, but in that match, with both teams guaranteed a spot in the semifinals, Russia chose not to use its top players. No doubt the USA will have to contend with the A team in the final.
"Power," Anderson said of what Russia brings to the table. "They are big boys. They jump high and hit hard and serve tough, but I think our system that we play with USA is better than theirs. As long as we stay in our own heads and stay together as a team, we have a great chance tomorrow."
Poland and Brazil play in the bronze-medal match at 3 PM CT. The gold-medal match is scheduled for 6 PM CT.
Rewatch Team USA's comeback win over Brazil: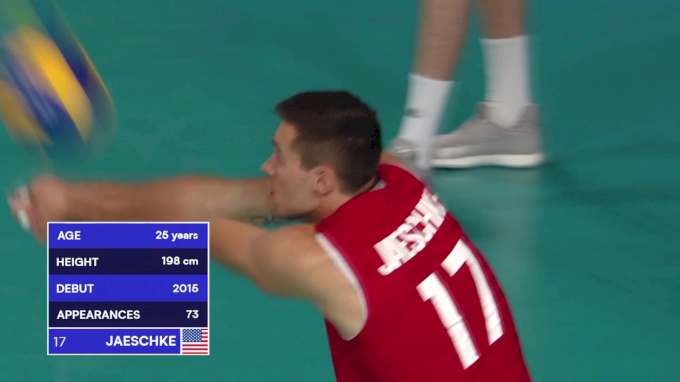 Unlock this video, live events, and more with a subscription!
Get Started
Already a subscriber? Log In