A year and a few months after tearing his ACL, you'd have to say Thomas Jaeschke is officially back.
In Team USA's pool play match versus Russia at the Volleyball Nations League Final Round in Chicago, the 25-year-old outside hitter topped all players with 13 points, leading his team to a 25-21, 25-17, 25-20 sweep.
"Everybody's pulling for him," USA head coach John Speraw said of Jaeschke. "I thought he did a great job tonight just getting comfortable out there."
Even though the USA and Russia had both already secured a spot in the semifinals by virtue of both teams defeating France earlier in the week, Speraw started the match with almost the exact same group of veterans he used against France on Wednesday, replacing only Aaron Russell on the outside with Jaeschke.
"We haven't had a ton of time together with this group, so I wanted them out on the court tonight and play a little more together," Speraw said. "I think they clicked a lot more efficiently [than in the France match]."
Russia on the other hand, rested its usual starters, giving the B team a chance to get some reps, and the difference in experience on the court showed almost immediately with the USA surging out to sizable leads in the first and second sets.
Speraw gave his starters—Micah Christenson setting, Jaeschke and Taylor Sander on the left, Matt Anderson on the right, Max Holt and David Smith in the middle, and Erik Shoji at libero—a set an a half to work on their connections before he began filtering in some players from the bench.
By the end of the match, every guy on the USA roster saw playing time versus Russia, with the exception of Aaron Russell, who wore the second libero jersey. As a team, USA won the blocking battle (12-7) and out-served (5-0) and out-hit (41-30) its young opponents.
In Saturday's semifinals, the U.S. men will take on Brazil, which advanced after defeating Iran in five sets on Friday. Poland and Russia will compete in the night's first match. Play begins at 5 PM CT, with USA/Brazil set to begin at 8 PM CT.
Rewatch Team USA take out returning champion, Russia: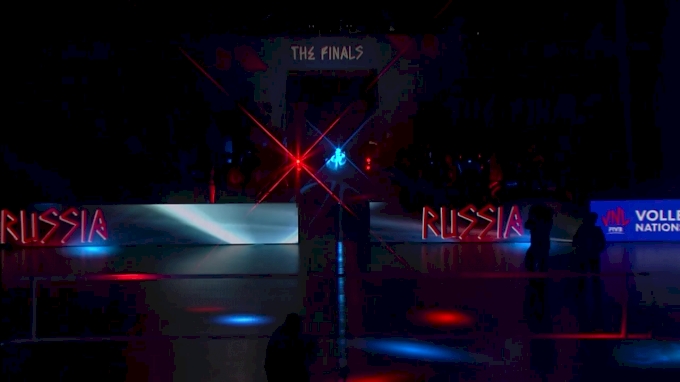 Unlock this video, live events, and more with a subscription!
Get Started
Already a subscriber? Log In