2019 NORCECA Womens XVIII Pan-American Cup
Women's Pan Am Cup Preview
Women's Pan Am Cup Preview
The Pan Am Cup is an annual competition hosted by NORCECA and featuring the top teams from North, South, and Central America, as well as the Caribbean.
Jul 5, 2019
by Megan Kaplon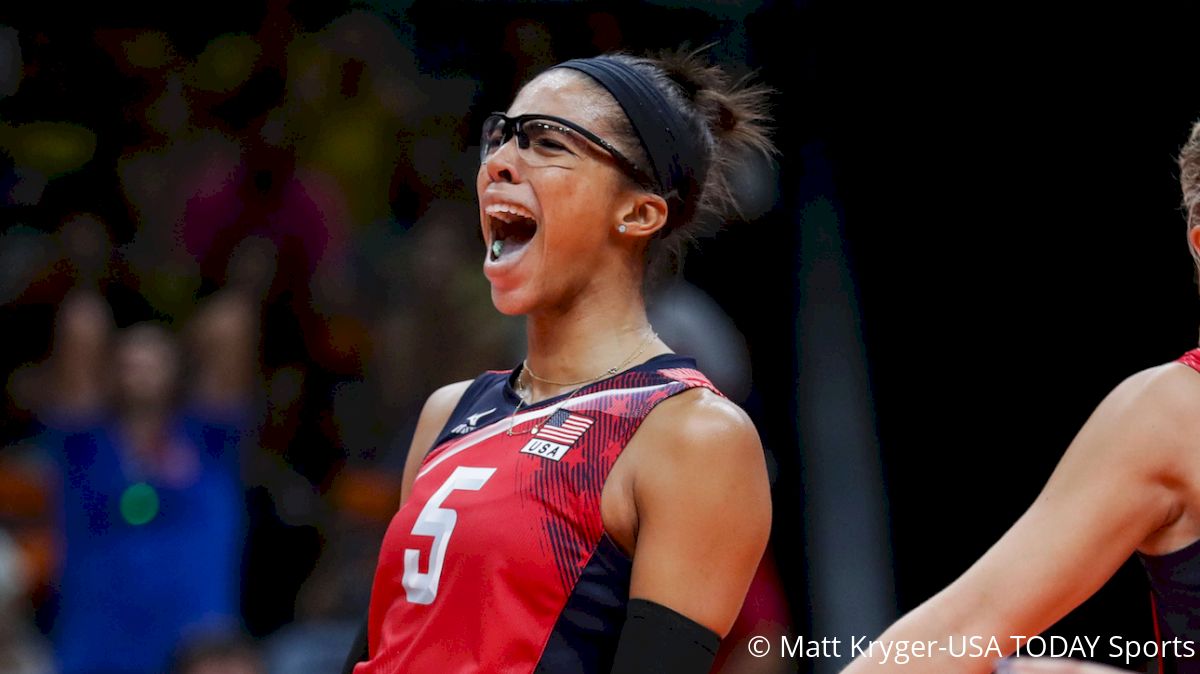 While the top U.S. women's national team players compete in Nanjing, China, this week in pursuit of a second consecutive Volleyball Nations League gold medal, another group of female athletes in red, white, and blue heads to Peru for the 2019 Pan Am Cup.
Watch NORCECA Womens XVIII Pan-American Cup Live
Jul 6-14 · Starts at 4:00 PM CT
Not to be confused with the Pan Am Games—which are also being host in Peru this year, Aug. 7-11—the Pan Am Cup is an annual competition hosted by NORCECA and featuring the top teams from North, South, and Central America, as well as the Caribbean.
The USA has won five of the last seven Pan Am Cups and boasts six titles in total, and in this year's edition of the tournament, the Americans will take on Mexico, Trinidad & Tobago, Colombia, and Puerto Rico in Pool B. Argentina, Canada, Dominican Republic, Cuba, Guatemala, and Peru make up Pool A.
The group of athletes that has been selected to represent the USA at this tournament is listed below.
U.S. Pan American Cup Women's Volleyball Team Roster
# - Name (Position, Height, Hometown, College)
1 – Micha Hancock (S, 5-11, Edmond, Oklahoma, Penn State University)
2 – Kathryn Plummer (OH, 6-6, Aliso Viejo, California, Stanford University)
4 – Justine Wong-Orantes (L, 5-6, Cypress, California, University of Nebraska)
5 – Rachael Adams (M, 6-2, Cincinnati, Ohio, University of Texas)
9 – Madi Kingdon Rishel (OH, 6-1, Phoenix, Arizona, University of Arizona)
10 – Gabby Curry (L, 5-8, Buford, Georgia, University of Kentucky)
11 – Madison Lilley (S, 5-11, Overland Park, Kansas, University of Kentucky)
15 – Roni Jones-Perry (OH, 6-0, West Jordan, Utah, BYU)
16 – Danielle Cuttino (OPP, 6-4, Indianapolis, Indiana, Purdue University)
19 – Hannah Tapp (M, 6-3, Stewartville, Minnesota, University of Minnesota)
20 – Brionne Butler (M, 6-4, Kendleton, Texas, University of Texas)
22 – Kadie Rolfzen (OH, 6-3, Papillion, Nebraska, University of Nebraska)
24 – Jenna Rosenthal (M, 6-6, Fond du Lac, Wisconsin, Marquette University)
25 – Karsta Lowe (OPP, 6-4, Rancho Santa Fe, California, UCLA)
Saint Mary's College head coach Rob Browning will serve as head coach for the Pan Am Cup squad, while former Texas A&M head coach Laurie Corbelli and two-time Olympian Tayyiba Haneef-Park will be Browning's assistants.
The training period for the Pan Am Cup included two exhibition matches versus Canada on June 14 and 15 in Southern California and a Red-Blue intrasquad scrimmage on June 28. Team USA split the pair of matches against Canada, with former BYU outside hitter Roni Jones-Perry leading the team in points both nights.
Jones-Perry once again impressed at the Red-Blue scrimmage, tying with Kathryn Plummer for a match-high 15 points.
Six players on the Pan Am Cup roster also appeared on the 25-player VNL roster—Rachael Adams, Danielle Cuttino, Micha Hancock, Madi Kingdon-Rishel, Karsta Lowe, and Hannah Tapp—although Adams and Cuttino never made a travel roster throughout the five weeks of preliminary action at VNL.
In a continuation of 2019's themes of depth and youth for the women's national team program, the Pan Am Cup roster features four women still in college: Brionne Butler (Texas), Gabby Curry (Kentucky), Madison Lilley (Kentucky), and Kathryn Plummer (Stanford). Two more Pan Am Cup athletes—Jones-Perry and Jenna Rosenthal—just used up their final season of collegiate eligibility in 2018.
The Competition
Although the USA enters the Pan Am Cup as the two-time reigning champion, the competition will be stiff for the 2019 crown. Dominican Republic has won Pan Am Cup gold four times, including in 2014 and 2016. In VNL just last month, the Dominicans narrowly missed out on a spot in the Final Six, finishing eighth in the standings with a 8-7 record and signature victories over Brazil and the USA.
Dominican Republic head coach Marcos Kwiek selected his top players for Pan Am Cup, all of whom were on the VNL roster, including Brayelin Martinez, a 6-7 opposite who finished the VNL preliminary rounds as the tournament's No. 2 scorer with 258 points, and Bethanie de la Cruz, who ranked as the No. 3 scorer in VNL with 241 points.
Canada has also already announced roster for the Pan Am Cup. The Canadian squad, fresh off earning a spot in the 2020 VNL by winning the Challenger Cup, includes NCAA alums Autumn Bailey (Marquette/Michigan State, 2013-2017), Jennifer Cross (Michigan, 2010-2013), Alicia Ogoms (USC, 2012-2015), Alexa Gray (BYU, 2012-2015), Shainah Joseph (Florida, 2013-2017), and Emily Maglio (Hawaii, 2014-2017). Ontario native Andrea Mitrovic, a 6-2 outside transferred to Arizona State from Buffalo at the end of the 2018 NCAA season and has two years of NCAA eligibility remaining.
Gray starred for Canada in the Challenger Cup, leading the team to an undefeated record in the five-day tournament with 77 total points, 13 more than the event's second-highest scorer. Since graduating from BYU, the 6-2 outside hitter has competed professionally, including spending the last two seasons with Pomi Casalmaggiore in Italy's Serie A and recently signing with VolAlto Caserta of Serie A2.
The most ferocious opponent USA will have to face in pool play is likely Puerto Rico, which will get a boost from the return of 37-year-old outside hitter Aury Cruz, who has not appeared in competition for Puerto Rico since the 2016 Olympics.
The University of Florida alum and three-time First Team All-American has had a decorated career, competing professionally in Puerto Rico, Spain, Korea, Azerbaijan, Turkey, and Italy. Even though she hasn't played for Puerto Rico the last few years, that doesn't mean she has been taking a break from volleyball all together. Since Rio, Cruz has played for Scandicci and Cuneo in Italy's Serie A and Sariyer Belediyespor in Turkey.
Daly Santana, a 2016 Olympian and University of Minnesota alum, will not represent her native Puerto Rico at the Pan Am Cup, as she is recovering from knee surgery, but former Arkansas Razorback Pilar Victoria and former Texas Longhorn Paulina Prieto will be present in Peru. Sofia Victoria, Pilar's younger sister who is still just 17, also earned a spot on the Pan Am Cup roster, and we will no doubt be seeing her in the jersey of a top NCAA team in just over a year's time.
Pan Am Cup pool play begins on July 6 and playoffs kick off on July 12, with the medal rounds taking place July 14.