2019 FIVB Volleyball Nations League
USA Men Head Into Final VNL Test Run In Bulgaria
USA Men Head Into Final VNL Test Run In Bulgaria
In the final test run before results really start to matter for Team USA, the American squad takes on Bulgaria, Serbia, and Iran this week in Plovdiv.
Jun 27, 2019
by Megan Kaplon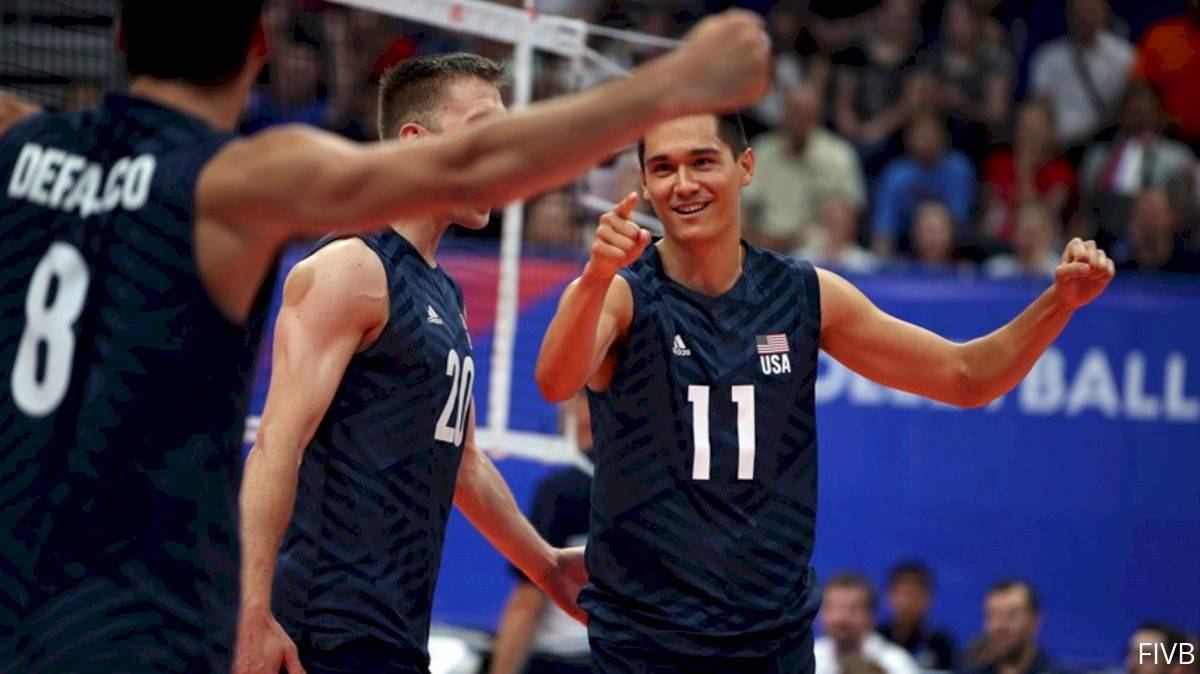 In the final test run before results really start to matter for Team USA, the American squad takes on Bulgaria, Serbia, and Iran this week in Plovdiv, Bulgaria.
As we've said countless times, as the host country of the Volleyball Nations League Final Round coming up July 10-14 in Chicago, USA could have gone the entirety of the preliminary rounds without winning a set and would still have a guaranteed spot in the Final Six.
But of course, they've done much better than that. Heading into Week 5, USA boasts a 7-5 record and sits in seventh place in the standings, and USA head coach John Speraw has been able to check a number of boxes throughout the four weeks of the tournament so far.
For one, he gave five young players—Kyle Dagostino, Micah Ma'a, Kyle Russell, Josh Tuaniga, and Larry Tuileta—their first top-level international competition experience. Then, just last week, Speraw welcomed Thomas Jaeschke back to the court for the first time since the 25-year-old tore his ACL in last year's preliminary VNL action. Each week, Speraw's added veteran players back into the roster, with Matt Anderson, Micah Christenson, Max Holt, Erik Shoji, David Smith, and Taylor Sander all appearing on the Week 4 travel roster.
Here's what to expect from USA's last three matches of the 2019 VNL preliminary round.
Team USA
Instead of shipping his A team back across the Atlantic, Speraw elected to keep his top players in Anaheim for a week of recovery and training and send some of the younger players to Bulgaria for Week 5's matches. Speraw won't be in Bulgaria either, as he'll be in Anaheim prepping the team for the Final Round. Assistant coach Rob Neilson will serve as USA's head coach this week.
After playing on the Pam Am Cup team that finished fifth in Mexico over the weekend, Kyle Russell, Josh Tuaniga, and Kyle Dagostino rejoin the VNL roster, and two of their Pan Am Cup teammates who weren't even on the original 25-player VNL roster will make the journey to Bulgaria. Former BYU middle Price Jarmon and current Princeton opposite/middle George Huhmann get their chance to play in VNL thanks to injury exemptions.
The complete roster appears below.
U.S. Men's Roster for Bulgaria
4 Jeff Jendryk (MB, 6-10, Wheaton, Ill., Loyola of Chicago)
8 T.J. DeFalco (OH, 6-5, Huntington Beach, Calif., Long Beach State)
9 Jake Langlois (OH, 6-10, San Jose, Calif., BYU)
13 Ben Patch (Opp, 6-8, Provo, Utah, BYU)
14 Micah Ma'a (S, 6-3, Kaneohe, Hawaii, UCLA)
16 Josh Tuaniga (S, 6-3, Long Beach, Calif., Long Beach State)
17 Thomas Jaeschke (OH, 6-6, Wheaton, Ill., Loyola)
18 Garrett Muagututia (OH, 6-5, Oceanside, Calif., UCLA)
19 Taylor Averill (MB, 6-7, San Jose, Calif., Hawaii)
21 Dustin Watten (L, 6-0, Long Beach, Calif., Long Beach State)
24 Kyle Dagostino (L, 5-9, Tampa, Fla., Stanford)
25 Kyle Russell (Opp, 6-9, Loomis, Calif., UC Irvine)
29 Price Jarman (MB, 6-9, Las Vegas, Nev., BYU)
30 George Huhmann (MB, 6-11, St. Louis, Mo., Princeton)
The Competition
Bulgaria | Friday, June 28, 12:40 PM CT | Watch Live
Ranked No. 14 in the world, this week's host Bulgaria is not only the lowest ranked opponent on USA's schedule but also the team with the worst VNL record to date (4-8).
The number 11 seemed to be a curse on Bulgaria last year, as the Eastern European country finished 11th at the 2018 VNL and World Championships. Late in the 2018 season, the Bulgarian federation decided to make a change, replacing head coach Plamen Konstantinov with Silvano Prandi, an Italian native who previously coached Bulgaria's national team from 2008 to 2010 and has also spent time with the Italian national team and professional teams in Italy and France.
Although their wins have been scarce in VNL so far, the ones they have managed to college are impressive. Most surprising is probably the upset of France, in which Bulgaria's scoring leader Rozalin Penchev topped the score sheet with 17 points and 24-year-old middle Krasimir Georgiev contributed five stuff blocks to help Bulgaria come back from down 0-2 to defeat France in five during Week 2.
Behind Penchev, Tsvetan Sokolov ranks as Bulgaria's next highest scorer with 103 total points. The 6-foot-9 opposite helped his professional team Cucine Lube Civitanova win the Champions League and Italian league this spring before signing with Russian powerhouse Zenit Kazan for the upcoming 2019-20 season.
Another fun tidbit for fans of NCAA men's volleyball: University of Hawaii opposite Rado Parapunov plays for Bulgaria and even saw some court time last week versus Germany.
---
Serbia | Saturday, June 29, 9 AM CT | Watch Live
Serbia has only fared slightly better than Bulgaria so far in 2019 VNL action, entering Week 5 in 11th place in the standings with a 5-7 record, but the Serbian men may have some unfinished business with the USA fueling their performance this week.
With a 3-1 defeat in the bronze-medal match, the USA ended Serbia's hopes of earning a medal at the World Championships last fall, and at the 2018 VNL Serbia advanced to the Final Round after finishing fourth in the preliminaries but did not earn a medal. (USA beat Serbia in straight sets in the preliminary rounds of the 2018 VNL.)
In 2019, Lazar Cirovic leads Serbia with 113 total points, just one point ahead of No. 2 scorer Dusan Petkovic. Serbia's head coach Nikola Grbic did not utilize either of these players much last year, but they have been go-tos this season.
Petar Krsmanovic also plays a major role for Serbia—the 6-9 middle has tallied 22 stuff blocks, good for 0.42 per set and a ranking in the top 10 among all blockers in the tournament.
Although, like the U.S. team, Serbia's players compete professionally all over the world, the Serbian contingent that plies its trade in Italy serves as a whos who of the top players on the team: Uros Kovacevic (No. 2 scorer at 2018 VNL and World Champs, Trentino), Cirovic (Pallovolo Padova), Petkovic (Argos Volley Sora), Aleksandar Atanasijevic (top scorer at World Champs, Perugia), and Srecko Lisinac (Trentino).
---
Iran | Sunday, June 30, 9 AM CT | Watch Live
If you see just one match this week, make it this one versus Iran. The Iranians suffered just two losses over the first four weeks of VNL—to Brazil in five and France in three—and trails only Brazil in the standings. They have won six of their 12 matches in straight sets and gone to five just twice.
Click on over to the VNL stats page, and you'll see Iranian players all over the top 10 of every category. In particular, take a gander at VNL current top scorer Amir Ghafour's ridiculous numbers: 182 total points, 161 attacks, and a 57.30 attack success percentage. Then there's Seyed Mohammad Mousavi Eraghi, who ranks second in blocks per set with 0.51; Mir Saeid Marouflakrani, who is the tournament's top setter; and Mohammadreza Hazratpourtalatappeh and Milad Ebadipour Ghara, the No. 2 and 3 receivers.
Yeah, we might have our hands full with this Iranian squad, but it will be a good opportunity to get to know them before we, maybe, see them again in the Final Round. That said, if Iran secures its spot in the Final Six before Sunday's match, which is likely, I'd expect to see head coach Igor Kolakovic rest some of his top players against the USA.
In 2016, Iran competed in its first Olympics and placed fifth, but last year finished a disappointing 10th at VNL and did not make it out of the second round at World Championships. With a very hot start to 2019, however, this looks like the year Iran could finally score its first major international medal.
Non-USA Match of the Week
Canada vs. Italy | Friday, June 28, 3 PM CT | Watch Live
Sitting at No. 5 in the standings with an 8-4 record heading into the final week of preliminary play, Italy appears to be in a good position to advance, but it will have to maintain its high level in these last three matches.
In particular, Saturday's bout with Canada pits Italy against one of the other teams with a chance to crack to final six. Canada currently ranks eighth with a 7-5 record and just five fewer points than Italy. A head-to-head victory over Italy would not only elevate Canada in the standings, but also knock Italy down a notch, so a lot rides on this Friday-night battle.