2019 FIVB Volleyball Nations League
USA Men Roll Through France, Head Home On Four-Game Win Streak
USA Men Roll Through France, Head Home On Four-Game Win Streak
Just in time to return home and play in front of U.S. fans, the USA men were able to sustain a high level of performance.
Jun 18, 2019
by Megan Kaplon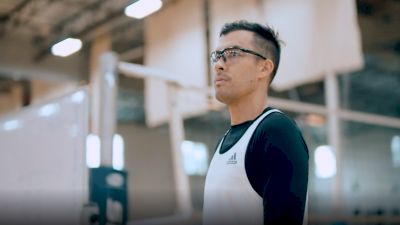 Just in time to return home and play in front of U.S. fans, the USA men were able to sustain a high level of performance. After managing just two wins in the first six matches, the Americans won all three matches in Week 3's action in Cannes, France, to head into Hoffman Estates this weekend on a four-match win streak.
Here are a few takeaways from the team's victories over Argentina, Germany, and France and the tournament to date.
Kawika Shoji Is One Of The Top Servers In The World
Kawika Shoji has spent the majority of his national team career playing backup setter to Micah Christenson, but right now he's playing second-to-none from behind the service line.
Service pressure can be hard to see on the stat sheet. For instance, Shoji is credited with just two aces in Saturday's match versus Germany (the only match in which he played this week), but his aggressive jump serve kept Germany out of system more often than not, giving the USA a better chance to pick up a block or dig.
USA ?? clinches 1st set 25-22 in Cannes over Germany ??.
Will the Europeans rebound in the 2nd?

Stay tuned!

? https://t.co/KO2zm2ahyq#BePartOfTheGame #volleyball #VNL #VNLMen @USAvolleyball @TeamGER_Volley pic.twitter.com/jaRBbdls0k

— Volleyball World (@FIVBVolleyball) June 15, 2019
During a timeout, USA head coach John Speraw, frustrated with his teams struggles to score points asked his guys to revert to a jump float serve, get it in, and get set on defense. Except for Shoji.
"Let's go with some floats. We're just not scoring enough doing what we're doing," Speraw said. Then addressing Shoji, "You can consider a float, too. Actually you keep jump serving, you're our best guy."
Opposite Position Still Up For Grabs
In Week 1, Kyle Ensing and Kyle Russell shared time on the right, with Ensing scoring 10 versus Brazil and 14 versus Australia, and Russell tallying 15 versus Poland. Neither player ever led the team in points, however, which is something you typically expect from an elite opposite.
Ben Patch joined the travel roster for Week 2 and lead USA in points in all three matches in Ufa, Russia, and then in a four-set victory over Argentina in Cannes in Week 3.
Ensing reemerged in the starting lineup against Germany, presumably so Patch could get some rest before USA faced its toughest opponent of the week, France, on Sunday.
And indeed, Patch started against France, but he didn't dominate the way Speraw and company probably hoped he would. He scored just four points in the first set, which France won, and then Speraw inserted Ensing for set two. Patch came back in off the bench in the fourth, scoring six points to finish the match with 10.
All that to say, Speraw doesn't seem to have settled on one favorite for the opposite position. It's important to keep in mind that USA's top and most veteran opposite, Matt Anderson, has yet to travel with the team for VNL, so it's possible that once he returns all of this competition on the right will be a mute point anyways.
Mitch Stahl Injured
Mitch Stahl suffered what USA Volleyball referred to as a hand injury (although it looked more like a finger dislocation) in the third set of the match versus Argentina on Friday after getting a touch on a swing from one of Argentina's outside hitters.
David Smith subbed in for the injured player and Stahl did not return to action on Saturday or Sunday. It's unclear whether or not he will be healthy enough to play this week in Hoffman Estates.
Middles Jeff Jendryk, Smith, Taylor Averill, and Max Holt have all traveled with USA already in three weeks of VNL, so Speraw has plenty of talent to rely on if Stahl has to miss more time. Although he hasn't appeared in action yet at VNL, Dan Mcdonnell could also be called into action.
Before his injury on Friday, Stahl made major contributions to the team, ranking first on the USA roster with 13 blocks and seventh in total points with 42.
Micah Ma'a makes every match must-watch volleyball.
Micah Ma'a is making his senior national team debut this summer and has seen playing time at both the outside hitter and setter position.
He's made it onto the court in every match, with the exception of Sunday's versus France. Not only is he able to crack the starting lineup in two different positions, he's also able to switch between the two roles mid-match, giving Speraw some interesting opportunities.
For instance, against Germany, with Kawika Shoji setting and Ma'a hitting outside, Speraw occasionally replaced Shoji with big blocker Max Holt for a rotation when the USA was serving and Ma'a would set until USA lost the ball and went back on offense. Versatility like that is rare to say the least and makes the match super fun and interesting.
Oh yeah, and he makes the most expressive, insane faces during and between plays, so keep an eye out for those.
Can he set? Yes! Can he hit? Yes! Meet Micah Ma'a who has caught the eyes of #VNL fans with his all-around skills. We've seen him as a setter & as an outside hitter. What's next? Wait & see!

Want to watch Micah & USA? https://t.co/WzX737nNPK #BePartOfTheGame #Volleyball pic.twitter.com/6rWpDmtfoQ

— Volleyball World (@FIVBVolleyball) June 14, 2019