2019 FIVB Volleyball Nations League
Bolstered By Perfomance vs. China, USA Enters Week 5 On A Mission
Bolstered By Perfomance vs. China, USA Enters Week 5 On A Mission
With a 9-3 record, USA enters Week 5 in fourth place in the VNL standings, trailing Italy, Turkey, and Brazil.
Jun 17, 2019
by Megan Kaplon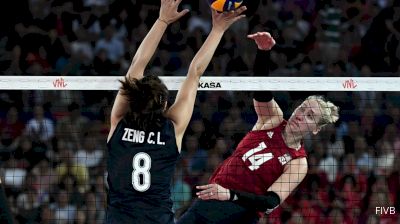 Last week, things really seemed to click for Team USA against China.
The Chinese team entered the 2019 season ranked No. 1 in the world, and on Thursday night in Jiangmen, Lang Ping fielded a lineup not of young, inexperienced players, but one featuring veterans who helped China win gold in Rio, including outside and captain Zhu Ting, outside Zhang Changning, setter Ding Xia, libero Lin Li, opposite Gong Xiangyu, and middle Yan Ni.
"That's just about as good as it gets for this Chinese team right now," the VNL commentator said as the lineups were announced. "That's a really super lineup on the floor for them."
But even that super lineup couldn't slow down the USA. With Lauren Carlini setting, Kelsey Robinson and Michelle Bartsch-Hackley hitting from the left, Annie Drews on the right, Chiaka Ogbogu and Haleigh Washington in the middle, and Mary Lake as the libero, the Americans kept China from winning even a single set.
"It was by far our best and cleanest match of the tournament, even though we have had lots of good things happen in this tournament and some disappointing things also," U.S. head coach Karch Kiraly said after the match.
It's no surprise then that Kiraly chose not to change his 14-player travel roster at all as the team heads from Nanjing, China, to Ekaterinburg, Russia, for the final three matches of the Volleyball Nations League preliminary rounds.
Each of the first four weeks, however, Kiraly did change his roster, sometimes significantly. With so much changing of lineups throughout the first four weeks of VNL, no USA player ranks in the top 15 on the VNL points list, but Drews remains the team's top scorer with 133 points. The 6-4 opposite has seen the court in all but three of the matches so far in the tournament and has established herself as a formidable attacker and server.
Obogu has also traveled for all five weeks of the VNL, playing in all but three matches and ranking second among all U.S. players with 100 points, 20 of which have come from stuff blocks.
Megan Courtney had been a steady presence in the lineup, starting in the libero spot in all but one match heading into last week's action in China, but she didn't play at all in Week 4, with Kiraly citing "health issues" as the reason for Courtney's absence.
With a 9-3 record, USA enters Week 5 in fourth place in the VNL standings, trailing Italy, Turkey, and Brazil (Turkey and Brazil being two of the three teams to have beaten the USA), and ahead of China by just one point. While they appear to be in a good position to finish in the top five and therefore advance to the Final Round, the Americans have to keep it up in Week 5 in order to guarantee their spot.
Here's what to expect from USA's opponents this week.
The Competition
Russia | Tuesday, June 18, 9 AM CT | Watch Live
Russia might be one of the most historically successful women's volleyball programs in the world, but in the 2019 VNL the team has struggled. With a 3-9 record, Russia enters Week 5 third from the bottom in the standings and with no hope of advancing to the Final Six.
USA faced Russia just twice last year, once at VNL and once at World Championships. Both times, the U.S. women came out victorious, although at Worlds, it required five sets. Russia finished eighth at 2018 VNL and ninth at World Champs.
So far at the 2019 VNL, two Russian players have surpassed 100 points: 23-year-old outside hitter Tatiana Iurinskaia with 133 (117 kills, four blocks, 12 aces) and 25-year-old Margarita Kurilo with 125 (109 kills, 12 blocks, four aces).
Netherlands | Wednesday, June 19, 6 AM CT | Watch Live
The USA also faced Netherlands twice in 2018, sweeping the up-and-coming European squad at VNL and then losing a dramatic five-set match in the third-round pool at World Championships.
In that World Champs meeting, the USA went up 2-0, but Netherlands made some significant substitutions and was able to win sets three, four, and five, ending the USA's hope of competing for a medal.
The Netherlands, coached by former USA assistant Jamie Morrison, went on to finish fourth at worlds. The team also boasts a fifth-place finish from 2018's VNL.
In 2019, however, Netherlands enters Week 5 with a 4-8 record. Like the USA, Netherlands has been playing with its lineups and travel rosters, only reunited all of its top players in Week 4. A five-set victory over Germany concluded Week 4 for the Dutch squad and gave it some hope heading into the remainder of the summer, even if a VNL Final Six berth is most likely out of reach.
"It's the first week we're all together, so we make progress every day but we also have to improve for what's to come," libero Kirsten Knip said.
"Now we have to find our rhythm for the Olympic qualification and the European Championship. That's our target for the last week at the Volleyball Nations League," Myrthe Schoot, Netherland's second libero, added.
Thailand | Thursday, June 20, 6 AM CT | Watch Live
World-level success has to date eluded two-time Asia champion Thailand. The Thai women have never qualified for the Olympics, finished no higher than 13th at World Championships.
At the VNL this year, Thailand has, however, managed to collect four victories, and they head into the final week of pool play having already won one more match than it did at the 2018 VNL. Germany, Korea, Bulgaria, and Serbia have all fallen at Thailand's hands so far in 2019.
With an average age of 28, Thailand is one of the older teams in VNL. However, 19-year-old Chatchu-On Moksri and 23-year-old Ajcharaporn Kongyot are tied for first on the team in total points with 126 each.
Providing the veteran element for Thailand are captain Nootsara Tomkom and Pleumjit Thinkaow. Thirty-three-year-old setter Tomkom first played for the senior national team in 2006, and her professional career has included stints with teams in Spain, Switzerland, Azerbaijan, and Turkey. While playing with Fenerbahce from 2016 to 2018, Tomkom won two Turkish League championships and the Turkish Cup.
Thinkaow has also played all over the world, competing in China, Russia, Vietnam, Turkey, and Azerbaijan. Since returning to the Thai league in 2013, she has been named Best Middle Blocker four times.
Non-USA Match of the Week
Japan vs. Poland | June 17, 11:30 PM CT | Watch Live
Each boasting a 7-5 record, Japan and Poland sit just outside the top five and the cutoff for the Final Round, so wins this week, especially against each other, will be of the utmost importance. In this week's opening match, will it be upset-happy Poland or crafty and calculated Japan?