2019 FIVB Volleyball Nations League
2019 FIVB VNL Preview: Argentina Men's National Team
2019 FIVB VNL Preview: Argentina Men's National Team
It's the dawn of a new era for Argentina's men's volleyball team who will take on Team USA in Week 3 of Men's VNL.
Jun 14, 2019
by FloVolleyball Staff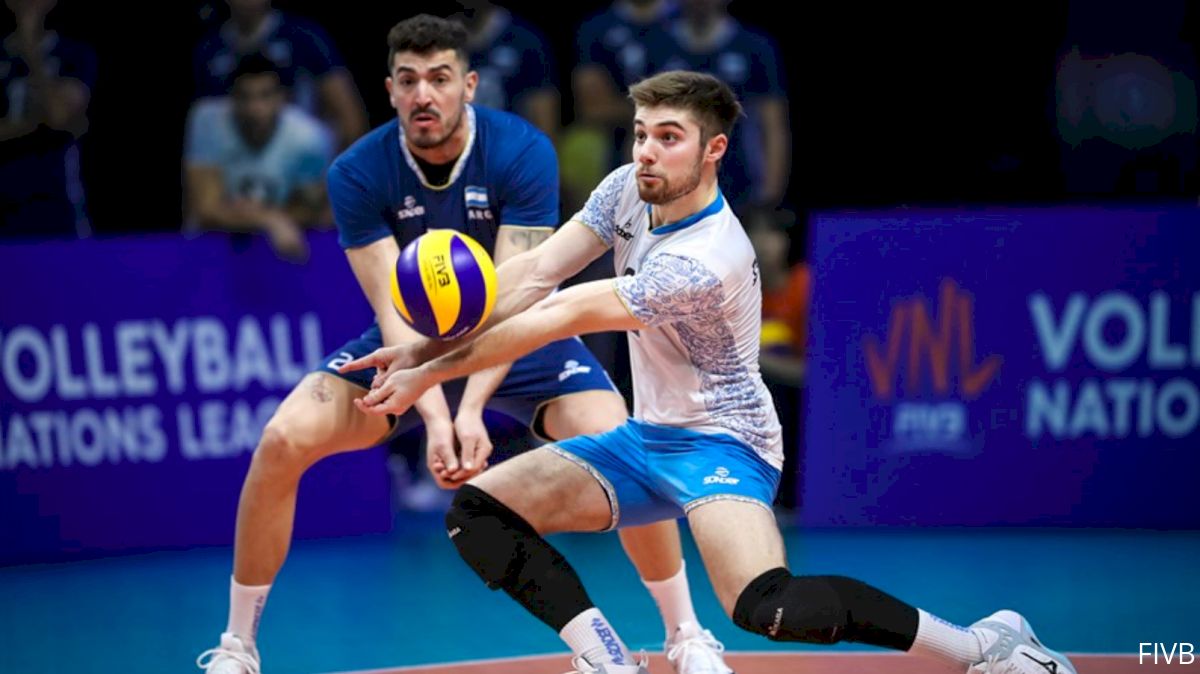 It's the dawn of a new era for Argentina's men's volleyball team. A new coach is at the helm and FIVB VNL 2019 will be the first test. It's also the world's first real opportunity to see what Argentina is all about and in which direction the team is going.
2018 FIVB VNL record & stats
Win/loss: 4 / 11
Points: 15
Sets win/loss/ratio: 23 / 34 / 0.676
Points win/loss/ratio: 1270 / 1326 / 0.958
Final position: 14th
What's new for Argentina in FIVB VNL 2019?
Julio Velasco, a celebrated and highly respected coach considered among the greatest of all time, has returned to Italy and will no longer man the sidelines for Argentina.
In his stead comes Marcelo Méndez, who brings with him a wealth of experience from coaching in Brazil and winning Club World Championship titles in 2013, 2015 and 2016. Méndez will lead the Argentine men's national team up until 2024, and will hope to revitalize a program that's struggled with success outside of the Americas.
Argentina world ranking: 7 (October 2018)
Argentina FIVB VNL 2019 remaining match schedule
Week 3
June 14 at 10 AM CT – USA v Argentina
June 15 at 1 PM CT – France v Argentina
June 16 at 7 AM CT – Argentina v Germany
Week 4
June 21 at 10 AM CT – Poland v Argentina
June 22 at 1 PM CT – Italy v Argentina
June 23 at 10 AM CT – Argentina v Serbia
Week 5
June 28 at 2 AM CT – China v Argentina
June 29 at 1 AM CT – Argentina v Russia
June 29 at 1 AM CT – Australia v Argentina
Argentina games to watch out for in FIVB VNL 2019
Velasco coached Argentina right up to the 2018 World Championship, where the team finished 15th. It wasn't a fancy result, but the team and Velasco still had their moments in the tournament. The most significant of which was when took down eventual gold medalist Poland during the second round in a thrilling five-setter. That was a huge fairytale moment for the team despite the ultimate result in the standings.
So it should be an exciting virtual rematch between Argentina and Poland at the FIVB VNL 2019. Also watch out for Argentina's home games against Portugal, Bulgaria and Canada. If you've ever at least seen what the Argentine football crowd is like on television, then you already have a good idea of the unique electric atmosphere an Argentina home game can produce.
Argentina provisional roster
Head coach: Marcelo Méndez
Liberos: Santiago Danani, Alexis Gonzalez, Franco Massimino, Facundo Santucci
Setters: Luciano De Cecco, Matias Sanchez, Maximiliano Cavanna, Nicolás Uriarte, Pablo Crer, Gaspar Bitar, Matias Giraudo
Middle Blockers: Augustin Loser, Sebastián Solé, Joaquin Gallego, Nicolas Zerba, Gaston Fernandez
Wing Spikers (Outside & Opposite Hitters): Federico Pereyra, Jan Martinez Franchi, Cristian Poglajen, Facundo Conte, Nicolas Bruno, Bruno Lima, Ezequiel Palacios, Nicolas Mendez, Martin Ramos, Lisandro Zanotti, German Johansen, Nicholas Lazo, Ignacio Luengas, Luciano Palonsky
Average age: 26.5 (7th oldest)
Average height: 192.9 cm (15th tallest)
Argentina players to watch in FIVB VNL 2019: Facundo Conte, Luciano De Cecco
The two main guys for Argentina are setter Luciano De Cecco, 30, who plays in Italy, as well as outside hitter Facundo Conte, 29, who has played in China recently. Wing spiker Cristian Poglajen, 29, is also one to watch after he led Argentina in scoring during last year's FIVB VNL 2019 with 163 total points.
The bottom line: Argentina navigates a new era under a new coach
It's a blank canvas for Argentina upon its return to FIVB VNL 2019. With the team's new coach only a few months into the job, it would be curious to see how the style of play has progressed, how the players have responded and what the chemistry is like overall.
This tournament will be our first chance to see how things are shaking out. Meanwhile, one of Méndez's more pressing long-term concerns is rearing the next batch of Argentine stars to take over from the veterans. Guys like De Cecco and Conte are ageing and other players need to step up after them.
The FIVB VNL 2019 would be a good environment to showcase any new talent this team has up its sleeve.
What is a realistic FIVB VNL projection for the Argentina men's team?
Argentina may be going through a period of major adjustment under a new coach, but it doesn't mean the team isn't capable of improving significantly from its 14th-place standing from last year's FIVB VNL.
The obvious goal for this squad is to climb up a few places. Crashing out of the tournament altogether would be a massive disappointment for them.
How to watch Argentina in FIVB VNL 2019
Watch the 2019 FIVB Volleyball Nations League in its entirety LIVE on FloVolleyball.