2019 FIVB Volleyball Nations League
After Loss To Turkey, U.S. Rebounds Emphatically In China
After Loss To Turkey, U.S. Rebounds Emphatically In China
Things may have gotten off to a rough start, but Week 4 of VNL turned out to be a solid one for the U.S. women.
Jun 14, 2019
by Megan Kaplon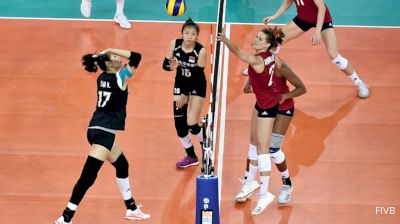 It didn't start the way they would have liked, but Week 4 of Volleyball Nations League proved to be a solid one for the U.S. women as they scored two valuable wins over Poland and China after being swept by Turkey.
National team veterans Lauren Carlini, Michelle Bartsch-Hackley and Karsta Lowe made their 2019 debuts this week, returning to the red, white, and blue after taking some time off following their appearances in the CEV Champions League Super Final with their professional teams on May 18.
With one week left in the preliminary rounds of VNL, of the 25 players on USA's VNL roster, only middle Rachael Adams, outside hitter Kim Hill, and opposite Danielle Cuttino have yet to be included on a 14-player travel roster.
Keep reading to find out more details on each of the U.S. women's three matches from Week 4.
Turkey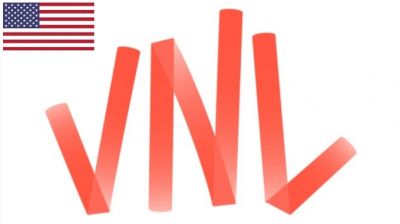 Unlock this video, live events, and more with a subscription!
Get Started
Already a subscriber? Log In
VNL standings leader Turkey started out hot in the first two sets of Tuesday's match, leading 8-2 in the first set before taking a 25-15 victory and then going up 21-12 in the second before winning 25-17.
Kiraly attempted to change the direction of the match by making some substitutions. After starting Lowe at opposite, Lauren Gibbemeyer at middle, and Carli Lloyd at setter, Jordan Thompson, Chiaka Ogbogu, and Carlini came in off the bench part way through the second set. Then those three subs started the third set, along with Bartsch-Hackley, who replaced Jordan Larson on the left.
The changes led to a slightly better performance for the U.S. women, who staved off three match points after trailing 19-22 in the third, but couldn't hold off Turkey forever, losing 27-25.
Despite playing just half the match, Thompson led Team USA with 10 points. Robinson had eight points, all kills. Turkey, however, benefitted from 21 points from Ebrar Karakurt and double digits from Fatma Yildirim and Meliha Ismailoglu.
Poland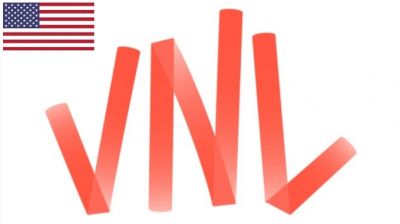 Unlock this video, live events, and more with a subscription!
Get Started
Already a subscriber? Log In
An opening set loss to Poland marked five set losses in a row for USA, but the team managed to turn it around in set two and hold onto the momentum to win in four.
In contrast to Tuesday's match versus Turkey, Kiraly made zero substitutions against Poland. Michelle Bartsch-Hackley and Kelsey Robinson started on the outside, collecting 18 and 10 points, respectively. Annie Drews led the team with 21 points from the right, while Lauren Carlini set the entire match. Chiaka Ogbogu and Tori Dixon earned the starting spots in the middle, and Mary Lake played all four sets at libero.
USA held Poland's prolific scorer Malwina Smarzek to 19 kills on her 53 attacks. A strong blocking effort saw the team finish the match with 11 blocks (a team-high four from Ogbogu and three from Dixon); however, Poland also played well at the net, tallying 10 blocks.
China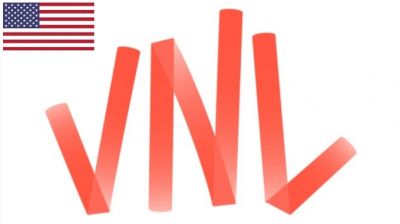 Unlock this video, live events, and more with a subscription!
Get Started
Already a subscriber? Log In
Against reigning Olympic champion China, the USA played perhaps their best match of the season so far, sweeping the world No. 1 team 25-17, 25-22, 25-21.
"Our team put together a really nice effort," Kiraly said. "Our coaches put together a great scouting plan and our players executed it. It was by far our best and cleanest match of the tournament, even though we have had lots of good things happen in this tournament and some disappointing things also. This is a nice way to end the China leg of Volleyball Nations League."
For the second night in a row, Carlini set the entire match, and against China, she showcased an excellent connection with her pin hitters. Robinson and Bartsch-Hackley led the match with 20 points a piece, while Drews ranked third on the team with 13.
Ogbogu and Haleigh Washington championed the USA's defensive efforts at the net, leading the team to a seven to three block advantage over China.
Lake played libero for the third match in a row. She's collected 38 digs so far in VNL and ranks fifth on the team.
"Mary Lake filled in for Megan Courtney really well this week," Kiraly said. "Mary has a lot to be proud of as Megan is working through some health issues."
With the result of Thursday's match, China and the USA both finish Week 4 with a 9-3 record. With 27 points, USA sits in fourth place in the standings, just one point ahead of China in fifth.
Next up, USA concludes the preliminary rounds against Russia, Netherlands, and Thailand in Ekaterinburg, Russia.