Patch Returns, USA Scuffles In Russia
Patch Returns, USA Scuffles In Russia
The U.S. men's national team went 1-2 in the second week of pool play at Volleyball Nations League.
Jun 10, 2019
by Megan Kaplon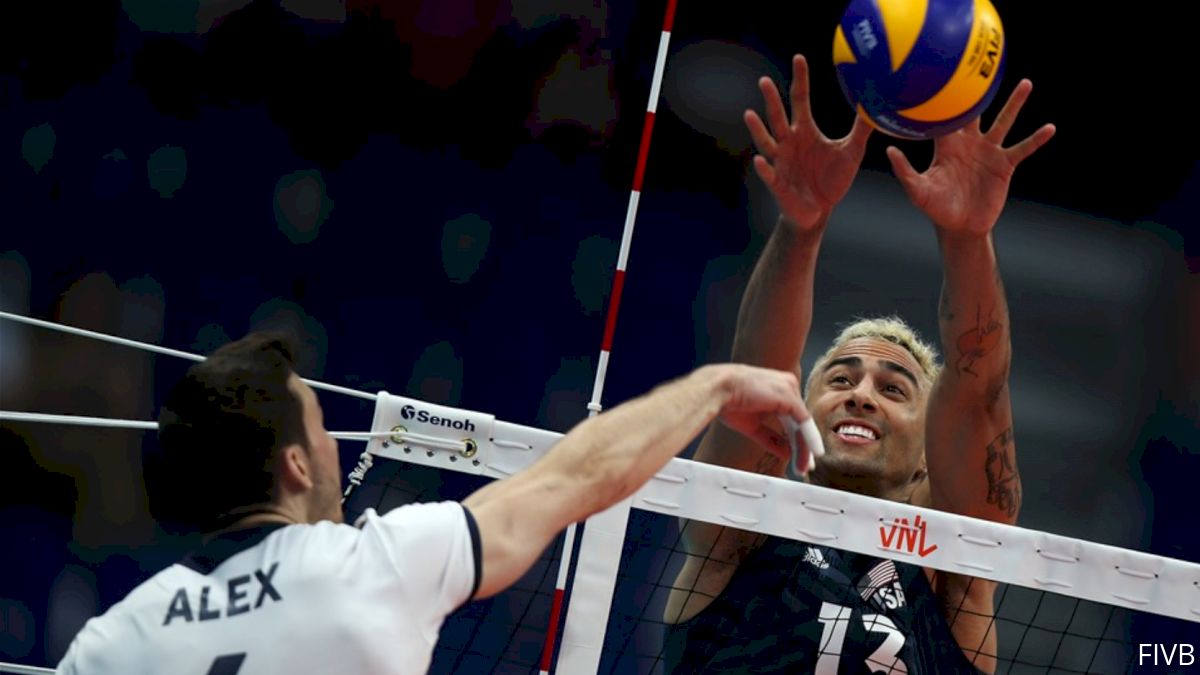 The U.S. men's national team went 1-2 in the second week of pool play at Volleyball Nations League, losing to Italy and Russia and defeating Portugal in Ufa, Russia. With a 2-4 overall record, the USA sits ninth in the tournament standings heading into Week 3.
Watch the 2019 Men's VNL Live on FloVolleyball
In his first week traveling with the team, opposite Ben Patch led the U.S. men in points in all three matches and was one of just three players to play all three nights.
Against Italy on Friday, the match was a battle of opposites as Italy's right side Gabriele Nelli led all players with 28 points to Patch's 24. The USA took a set off the 2016 Olympic silver medalist squad, dominating 25-13 in the second and finishing the match with more total points, but Italy secured a four-set victory.
American Benjamin Patch connects this ball in the sky and we're already watching a good game between Italy ?? and USA ??!

Don't miss it ? https://t.co/pTwTDFjokl #BePartOfTheGame #Volleyball #VNLMen #VNL #InGame @federvolley @usavolleyball pic.twitter.com/e56EuLyoXm

— Volleyball World (@FIVBVolleyball) June 7, 2019
Middle Max Holt appeared in the USA jersey for the first time this season versus Italy, and libero Kyle Dagostino made his senior national team debut. National team rookie Micah Ma'a made his first start at setter, after playing outside hitter last week.
"It was a great match, we played great," USA head coach John Speraw said. "We used a lot of our young players and it was a great experience for them. Dagostino played well, more or less good passing. It was a good and new experience. I don't think we blocked really well. We were not so good in our offence, but some of the defence positions were really good. We have do go back and evaluate how to serve well. We will have to learn from that and try to manage our bodies."
The next night, Russia swept the USA (25-22, 25-19, 25-16) with opposite Victor Poletaev scoring 19 points. On the U.S. side of the net, veteran setter Micah Christenson made his first start of the 2019 VNL, and Patch once again led, this time scoring 13 points.
"Well, we are obviously disappointed with how we lost the first set. We were close," Speraw said. "We need to search for a better connection between our setter and our outside hitters. We always appreciate the good crowd. We lost today but in general we love to travel all over the world and improve our performance."
ICYMI, @Spatch13 is blonde again! pic.twitter.com/E4WKArTntD

— USA Volleyball (@usavolleyball) June 7, 2019
Finally, in the third match of the week, the Americans celebrated a win, downing Portugal 25-20, 22-25, 25-22, 25-17 behind 20 points from Patch.
The win was important for the U.S. men, despite the fact they are already qualified for the Final Six in Chicago next month.
"We're not dumb, we know we have already qualified," Patch said. "But that's not our mentality… We're really trying to make sure that we are focused. Regardless of whether we're qualified or not, we're trying to win the VNL tournament. That's going to take winning right now and not just at the end."
Despite being on the travel roster, Taylor Sander, Kyle Ensing, and Kawika Shoji did not play at all in Ufa. In an interview with USA Volleyball after the Portugal match, Speraw indicated the team has been dealing with some injuries, which has affected their lineups.
"We've asked quite a bit from our pin hitters this weekend," Speraw said. "After a couple minor injuries, we ended up having only three available outsides and one of them, Ma'a, I was committed to playing at setter this week.
"T.J. [DeFalco] and Garrett had to battle and, eventually, I had to change plans and send Micah out there to hit."
Next, USA travels to Cannes, France, where it will face Argentina, Germany, and France. All three matches will stream live right here on FloVolleyball.