2019 FIVB Volleyball Nations League
Brazil Delivers Message In Victory Over Veteran U.S. Squad
Brazil Delivers Message In Victory Over Veteran U.S. Squad
In a four-set victory (25-19, 25-17, 22-25, 25-20), Brazil dominated the USA in almost every statistical category.
Jun 8, 2019
by Megan Kaplon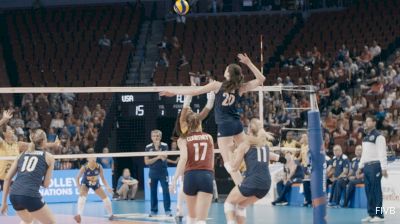 "Brazil just beat us," U.S. women's national team head coach Karch Kiraly said after Thursday's Volleyball Nations League match in Lincoln, Nebraska.
Indeed, in a four-set victory (25-19, 25-17, 22-25, 25-20), Brazil dominated the USA in almost every statistical category, collecting 64 kills to the U.S.'s 60, out-serving the Americans four to two, scooping up 55 digs to the USA's 44, and making just 11 errors in the match, as opposed to Team USA's 21.
Watch the 2019 Men's VNL Live on FloVolleyball
The loss to Brazil marks the USA's second in the tournament and drops team team to third in the standings with a 7-2 record and 21 total points, trailing Turkey (8-1, 24 points and Italy (7-2, 22 points).
Opposite Annie Drews led the team with 19 points versus Brazil, but was slow to get going, scoring just two points in the first set. Outside hitter Kelsey Robinson had a team-high five points in the first set, but scored just one in the second.
"On our side, we had troubles terminating," Kiraly said. "We weren't getting the ball to the floor much in the first and second sets, and we got out-worked. And that is not acceptable for USA, so that is why I called that timeout early in third. There will be plenty of times where we will might be out-scored on the scoreboard, but we can't get out-efforted."
Thank you to all the fans who showed up and watched USA from home! We ❤️ you all! ?

? @FloVolleyball #VNL #BePartoftheGame pic.twitter.com/wASThbNYTF

— USA Volleyball (@usavolleyball) June 7, 2019
After losing the first two sets, Kiraly starting making some major changes in his lineup, subbing in Chiaka Ogbogu for Tori Dixon in the middle, Mikaela Foecke for Kelsey Robinson on the left and utilizing a two-libero system where starting libero Megan Courtney would go in for serve receive and Mary Lake would play when the team was on defense.
"The team did a nice job of picking it up in the last two," Kiraly continued. "Mikaela [Foecke] came in and gave us some nice termination factor. We got some things going, and at least we were in the match after the third set. I am happy we made some adjustments and some improvements and upgrades, but not enough to win the match."
Over three days of competition in Lincoln, the U.S. women collected two wins (over Korea and Germany) and the loss to Brazil. Five athletes—Dixon, Robinson, Jordan Larson, Lauren Gibbemeyer, and Carli Lloyd—made their 2019 debuts for the national team, and Kiraly fielded three very different lineups. Of the 14 that traveled to Lincoln, only Madi Kingdon did not play in any of the three matches.
Up next, a long flight to Jiangmen, China, and matches against Turkey, the top team in the standings; upstart Poland, which has beaten Brazil, Netherlands, and Russia already at VNL; and host China, the No. 1 team in the world.