2019 FIVB Volleyball Nations League
2019 FIVB VNL Preview: Poland Men's National Team
2019 FIVB VNL Preview: Poland Men's National Team
Poland's men are widely considered the best team in the world after back-to-back FIVB World Championships
May 31, 2019
by FloVolleyball Staff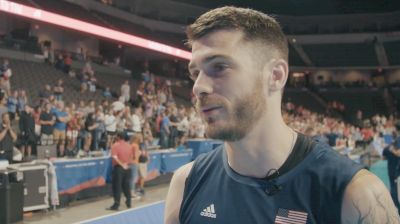 Poland's men's national team is widely considered the best team in the world right now after winning the FIVB World Championship for the second straight time in 2018.
Watch the 2019 FIVB Volleyball Nations League LIVE on FloVolleyball
Officially, the team is ranked fourth in the world, but the Polish have proven they can outclass fellow top teams on volleyball's grandest stage. Now, they're returning to the FIVB VNL 2019 in a bid to bounce back from a fifth-place finish last year.
FIVB VNL 2018 record & stats
Win/loss: 10 / 5
Points: 29
Sets win/loss/ratio: 32 / 19 / 1.684
Points win/loss/ratio: 1221 / 1124 / 1.086
Final position: 5th (tied with Serbia)
What's new for Poland in FIVB VNL 2019?
There has been plenty of interest surrounding naturalized player Cuban player Wilfredo Léon, a 25-year-old outside spiker who married a Polish citizen and could now play for Poland this summer. However, he hasn't been selected in the provisional squad for the FIVB VNL.
Léon has had a successful international career with Cuba, winning the silver medal in the 2010 World Championship. He now plays for Italian club Sir Sicoma Conad Perugia and is considered one of the best outside spikers in the world.
Poland world ranking: 4 (October 2018)
Poland FIVB VNL 2019 match schedule
Week 1
May 31 at 1:30 PM CT – Poland v Australia
June 1 at 10 AM CT – USA v Poland
June 2 at 10 AM CT – Brazil v Poland
Week 2
June 7 at 3 AM CT – France v Poland
June 8 at 3 AM CT – Poland v Bulgaria
June 9 at 6:30 AM CT – China v Poland
Week 3
June 14 at 6 AM CT – Russia v Poland
June 15 at 9 AM CT – Iran v Poland
June 16 at 6 AM CT – Poland v Canada
Week 4
June 21 at 10 AM CT – Poland v Argentina
June 22 at 10 AM CT – Poland v Serbia
June 23 at 1 PM CT – Italy v Poland
Week 5
June 28 at 10:30 AM CT – Poland v Japan
June 29 at 10:30 AM CT – Germany v Poland
June 30 at 10 AM CT – Poland v Portugal
Poland games to watch out for in FIVB VNL 2019
As a World Champion, Poland will have a massive target on its back when it competes at the FIVB VNL 2019. The team will immediately clash with fellow gold-medal contenders USA and Brazil.
The game against Brazil is of particular interest given that it would be a virtual rematch of last year's World Championship final, where Poland swept Brazil to win the gold. It may have been a straight-set victory, but the Brazilians were right there with the Polish, keeping it close throughout.
Poland provisional roster
Head coach: Vital Heynen
Liberos: Jędrzej Gruszczyński, Damian Wojtaszek, Paweł Zatorski, Jakub Popiwczak
Setters: Marcin Komenda, Fabian Drzyzga, Grzegorz Łomacz, Marcin Janusz, Jan Firlej
Middle Blockers: Piotr Nowakowski, Jakub Kochanowski, Mateusz Bieniek, Michał Szalacha, Piotr Łukasik, Karol Kłos, Andrzej Wrona, Norbert Huber
Wing Spikers (Outside & Opposite Hitters): Michal Kubiak, Maciej Muzaj, Dawid Konarski, Łukasz Kaczmarek, Artur Szalpuk, Aleksander Śliwka, Bartłomiej Bołądź, Bartosz Kwolek, Tomasz Fornal, Bartosz Bednorz, Bartosz Filipiak, Paweł Halaba, Damian Schulz
Average age: 25.9 (9th oldest)
Average height: 197.3cm (12th oldest)
Poland players to watch in FIVB VNL 2019: Paweł Zatorski, Jakub Kochanowski, Artur Szalpuk
Outside hitter Bartosz Kurek, 30, is the main man for Poland but doesn't appear to have been selected in Poland's provisional squad. In his absence Libero Paweł Zatorski, 28, is one to watch out for. He deservedly earned the Best Libero award at the 2018 World Championship and is the anchor for Poland's floor defense.
What ensured Poland's success at the World Championship was the understated back-up stars like Kurek received from the team's youngsters.
Middle blocker Jakub Kochanowski, 21, and outside hitter Artur Szalpuk, 24, provided ample support and now have a brand new opportunity to showcase what more they're capable of at FIVB VNL 2019.
The bottom line: After another successful World Championship, can Poland climb to the top of FIVB VNL?
The Polish men's national volleyball team will be coming into this tournament on a high from back-to-back World Championship victories in 2014 and 2018. Poland shocked some onlookers on its way to that 2018 win after the team was written off owing to poor form leading to the tilt.
But the efforts of coach Vital Heynen, who came in after the 2014 World Championship, bore fruit. He built quite the cohesive team that can execute well with minimal errors and has the offensive firepower to capitalize on it. They also showed they can serve and pass well throughout the World Championship.
The obvious question here is whether the Polish can replicate that feat and go from fifth to first place at this year's FIVB VNL? And can it continue growing at FIVB VNL and surprise more people once again?
What is a realistic FIVB VNL projection for the Poland men's team?
Poland is one of the teams that have a very real shot at winning gold in this tournament. Given the team's standing as best in the world due to its World Championship victory, expectations would unsurprisingly be very high for the FIVB VNL 2019.
A gold is the standard for them, but a podium finish – and therefore an improvement from last year's fifth place – would be ideal.
How to watch Poland in FIVB VNL 2019
Watch the 2019 FIVB Volleyball Nations League in its entirety LIVE on FloVolleyball.