The 2018 FloVolleyball All-America Team
The 2018 FloVolleyball All-America Team
While national No. 1 Assumption (KY) has three players on this year's FloVolleyball Girls All-American Teams, Yorktown's Kenzie Knuckles took the big prize.
Jan 1, 2019
by FloVolleyball Staff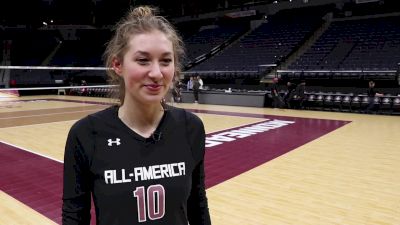 While national No. 1 Assumption High of Louisville, Ky., has three players represented on this year's FloVolleyball Girls All-America teams, the Player of the Year selection went to senior Kenzie Knuckles of No. 2 Yorktown (Indiana).
These teams, 13 on first team and 13 on second team, are based on a combination of factors, including which players led their schools to state championships or high national ranking finishes. Many of these players also are top national recruits, with many of the major college programs represented. Not all of those who were recently in the Under Armour All-America Match, however, are on these two teams. The main reason for that is that the Under Armour Match features only seniors, while all classes are eligible for the FloVolleyball squads.
Assumption's unbeaten No. 1 team features junior Rylee Rader and senior Camille Nazor on first team with junior Anna DeBeer on second team. Two highly-ranked California teams, Mater Dei (Santa Ana) and Redondo Union (Redondo Beach), both have two players chosen. Mater Dei has one on the first team, senior Natalie Berty, and one on the second, junior Mia Tuaniga. Both of Redondo's players, junior Nalani Iosia and sophomore Kami Miner, are on second team.
The 26 players on the first and second teams of All-Americans are joined by the selection of Maria Nolan from Immaculate Heart of Washington Township, N.J., as the 2018 FloVolleyball National High School Coach of the Year.
---
National Player of the Year
Kenzie Knuckles
Yorktown | Yorktown, Ind. | OH/L | 5-8 | Senior | Nebraska
If her team had slipped up in just one match all season, then it's arguable that Knuckles might not have collected all of her national and state honors. That didn't happen so her own accomplishments combined with being on the No. 2 team in the final Flo50 national rankings was the difference in her getting another one.
Knuckles will be a libero at NCAA powerhouse Nebraska, but was a dominant outside hitter at Yorktown. She led the Tigers with 4.2 kills per set and 3.9 digs per set as they finished 34-0 with a 3-0 sweep against Avon in the Class 4A state championship. Knuckles had 14 kills and 10 digs in that match.
5 things to know about Kenzie Knuckles https://t.co/YUtPhmSN0c pic.twitter.com/T67r4FxvwT

— The Star Press (@TheStarPress) August 10, 2018
For her four-year career at Yorktown, Kenzie earned all-state honors for all four years and as a sophomore had 30 kills and 18 digs in the Class 4A state final. She also recently competed in the Under Armour All-America Game and is a highly ranked Class of 2019 recruit.
"We believe we're getting one of the most talented players in the country in Kenzie and can't wait to get her in a Nebraska jersey," said Nebraska head coach John Cook in a release on signing day last November. "She is a ball-control machine who has the potential to be on the court right away."
---
First Team
High School | Hometown | Position | Height | Year | College Commitment
Izzy Ashburn
Champlin Park | Champlin Park, Minn. | S | 5-11 | Senior | Wisconsin
The Ms. Volleyball for Minnesota led her team to the Class AAA state title. Also an Under Armour All-American, Izzy handed out 12.2 assists per set and had a whopping 3,858 for her four-year career. Current Wisconsin setter Sydney Hilley also is from Champlin Park.
Natalie Berty
Mater Dei | Santa Ana, Calif. | OH | 6-3 | Senior | Stanford
Already named Ms. Volleyball for California by Cal-Hi Sports, Berty was the runaway leader in kills for the Monarchs, leading them to their first CIF state title and No. 3 final national ranking. Two of her best matches came in wins against nationally ranked Redondo. Natalie had 31 kills in a match in September and had 22 when Mater Dei topped the Sea Hawks in the CIF Southern Section Division I semifinals.
Skylar Fields
Ridge Point | Missouri City, Texas | OPP | 6-2 | Senior | Texas
Playing for one of the top-ranked teams all season in the Lone Star State (the Panthers finished 47-6), Fields was another with the combination of being a top recruit and leading a top team. In her case, she also has as much USA Volleyball experience as anyone who was still in high school this season. Fields, who had 471 kills and 37 blocks at Ridge Point and had more than 1,000 kills for her career, was on the 2018 US Junior National Team, which won the U20 NORCECA Continental Championship.
Who else? Skylar Fields. Ridge Point wins the third set 25-18 to sweep Dawson for the Region III-6A title. pic.twitter.com/z9ubMyIlNs

— Dennis Silva II (@densilva2) November 11, 2018
Gabby Gonzales
Walton | Marietta, Ga. | OH | 6-4 | Senior | Ohio State
In her last match in a Walton jersey, Gabby had 17 kills as the Raiders topped Milton to win their fourth straight state title. She was a major factor in all four state titles and had the team in a position to be No. 1 in the nation both last year and this year. For her senior year, Gonzales had 539 kills, 237 digs, 27 blocks and 34 aces.
Nicole Hoff
Millennium | Goodyear, Ariz. | L | 5-9 | Senior | Long Beach St.
With a final No. 4 national ranking and a 45-1 record with a state title in Arizona, Hoff was considered the top individual honors candidate from the Tigers. She had more than 800 digs for two straight seasons and nearly reached 3,000 for her four-year career.
Kenzie Knuckles
Yorktown | Yorktown, Ind. | OH/L | 5-8 | Nebraska
Also named as the FloVolleyball National Player of the Year.
Madi Kubik
Valley | West Des Moines, Iowa | OH | 6-2 | Senior | Nebraska
She's more highly regarded as a college prospect than our national player of the year, but didn't match Kenzie Knuckles' high school numbers. Still, at Valley, she averaged 5.16 kills per set this season and led team to Class 5A state semifinals. Kubik played on the U.S. Junior National Team last summer, which won gold medal at 2018 NORCECA Women's U20 Continental Championship.
Taylor Landfair
Plainfield Central | Plainfield, Ill. | OH | 6-5 | Junior | Minnesota
She was the top player in Illinois for 2018, based on her being the State Player of the Year on the prestigious News-Gazette All-State Team. Landfair led one of the top teams in the state with 515 kills, 249 digs and 44 blocks.
Georgia Murphy
The Woodlands | The Woodlands, Texas | L | 5-4 | Senior | Oregon
Considered the top-ranked libero recruit in the nation, Murphy had more than 2,000 career digs for her high school and was her district player of the year in one of the toughest districts in Texas. The Woodlands also reached the final eight of the Class 6A state playoffs. Most in volleyball know her, however, for her many years of play on the Texas Tornados club team.
Camille Nazor
Assumption | Louisville, Ky. | S | 6-1 | Senior | Duke
She was the quarterback of the No. 1 Rockets and was MVP of the Durango Fall Classic. Nazor's year-to-year improvement as the team's setter (she's expected to play right side hitter in college) was a key reason for its success. She had 982 assists as a junior and stepped it up to 1,185 as a senior.
Devon Newberry
Marymount | Los Angeles, Calif. | OH | 5-10 | Senior | UCLA
Her scholarship at UCLA will be for beach volleyball, but when she wasn't playing for the USA beach volleyball program this season she was a dominating player for her high school indoor team. Newberry was the difference when Marymount won the Nike TOC title in Arizona and she had 28 kills in a CIF Southern Section playoff match vs. Redondo.
MOVING ON! Devon Newberry/Lindsey Sparks ?? beat Spain's Alvarez/Moreno ??, 21-19, 17-21, 15-9 to advance to the semis at the @youtholympics. They will play Claudia Scampoli/Nicol Bertozzi of Italy ?? on Tuesday. #BuenosAires2018 pic.twitter.com/R8lxTvBacH

— USA Volleyball (@usavolleyball) October 15, 2018
Rylee Rader
Assumption | Louisville, Ky. | MB | 6-1 | Junior | Ohio State
The top player on the No. 1 team in the country, Rader was another national player of the year candidate. She had a team-high 415 kills and hit at a more than .500 percent clip. Rader was at her best with 59 kills in seven matches at the Durango Fall Classic in leading the Rockets to the tourney title.
Savannah Vach
Oviedo | Oviedo, Fla. | S/OH | 5-10 | Senior | Miami (Fla.)
Already named Miss Volleyball by the Florida Dairy Farmers, Vach led her team to the Class 9A state title and to the highest national ranking for any team in the state. She finished with 417 kills and also was effective whether digging, blocking, setting and hitting serves.
---
Second Team
Caitie Baird
Meridian | Indianapolis, Ind. | OH | 6-4 | Senior | Stanford
She's been averaging more than four kills per match since her freshman season and this season she had nearly 400 with almost 300 digs as well. Baird also already has been named as an Under Armour All-American and will be on the next US Junior National Team.
Kaylee Cox
Flower Mound | Flower Mound, Texas | OH | 6-1 | Soph. | TBA
After being named MVP of the Class 6A state playoffs and leading the Lady Jags to the state title, Cox was selected as the Dallas Morning-News Player of the Year. For the season, she had 524 kills, 51 blocks and 599 digs.
Anna DeBeer
Assumption | Louisville, Ky. | OH | 5-10 | Junior | Louisville
She was generally considered the No. 2 attacker for the nation's No. 1 team behind junior teammate Rylee Rader, but is still clearly one of the best juniors in the nation. DeBeer averaged 3.1 kills per set and also had 217 digs and 24 blocks. With those two back next year, it doesn't take a rocket scientist to assume that Assumption will be No. 1 in the nation for the preseason.
Paige Flickinger
Byron Nelson | Trophy Club, Texas | OH | 5-9 | Junior | LSU
She was the leader of team at Byron Nelson that was No. 1 ranked in Texas and near the top of the nation until losing to eventual champion Flower Mound in the Class 6A state playoffs. Paige, who also plays beach and plans to do both in college, has had more than 500 kills in the last two seasons. She added 574 digs with 32 aces. As a sophomore, Flickinger had more than 600 digs and 44 aces.
Kamaile Hiapo
Skyline | Mesa, Ariz. | OH | 5-8 | Senior | Arizona
A great all-around player who can soar above the net or go low for digs, Hiapo earned raves in the Grand Canyon State. She led the state with 847 kills and had a monster total of 511 digs.
Congratulations to @SkylineCoyote Kamaile Hiapo, who made the @AVCAVolleyball Under Armour First-Team All-America. In December, she trains with the top 24 players in the U.S. & competes in front of 150+ @NCAA coaches. Kamaile will attend @UofA this fall. https://t.co/c1KAhB2O0U pic.twitter.com/hzK0rhwgiq

— Mesa Public Schools (@mpsaz) November 1, 2018
Nalani Iosia
Redondo Union | Redondo Beach, Calif. | L | 5-7 | Junior | Texas
First team All-State player in California was major force for team that was in the top five of the national rankings for much of the season. Iosia's is so impressive that Redondo head coach Tommy Chaffins said when she committed to Texas: "I think she had the best college serve in high school."
Leandra Mangual
Hagerty | Oviedo, Fla. | OH | 6-0 | Senior | Missouri
Nearby Oviedo High had the player of the year in Florida (Savanna Vach), but Hagerty's Mangual wasn't far behind. The all-state first team member and 2017 national junior of the year finalist leaped up for 274 kills during the 2018 season. She also had 299 digs, 21 blocks and 36 aces.
Anna MacDonald
Blessed Trinity | Roswell, Ga. | L | 5-8 | Senior | Wisconsin
It's wasn't completely all about Walton in Georgia girls volleyball. Blessed Trinity won two state titles in its division in MacDonald's four years and she set a state record for career digs with 3,297 and 366 service aces. Her older sister, Amber, is a former player at Wisconsin and was the team's manager this season.
Kami Miner
Redondo Union | Redondo Beach, Calif. | S | 5-10 | Sophomore | TBA
One of the top sophomores in the nation, Miner was one of 12 who played for a U.S. youth national team from Aug. 24 to Sept. 2 at the NORCECA U18 Continental Championships in Honduras. The daughter of former NBA slam dunk champ Harold Miner already has been selected all-state first team and all-CIF Southern Section. Harold Miner went to college at USC.
Audrey Nalls
Waxahachie | Waxahachie, Texas | OH/S | 6-1 | Senior | TCU
Three-time all-state selection was nails at the net and had a mind-numbing 739 kills this season. That broke her own state record of 683 that she set as a sophomore two years ago. Nalls also was MVP of three different tournaments and had more than 2,000 kills during her prep career.
Temitaayo Thomas-Ailara
Marian Catholic | Chicago Heights, Ill. | OH | 6-2 | Senior | Northwestern
The first team all-state and Under Armour All-American had an outstanding career for the Spartans. For this season, Thomas-Ailara registered 384 kills and 62 aces.
Mia Tuaniga
Mater Dei | Santa Ana, Calif. | S | 5-10 | Junior | Long Beach St
Younger sister of Long Beach State All-American Josh Tuaniga dished out 660 assists for the CIF Open Division state champ Monarchs. She also was unique in that she also could get clutch kills and play more of an all-around game in some matches. Mia was one of Mater Dei's kill leaders with 269.
Riley Zuhn
Fossil Ridge | Colorado Springs, Colo. | OH | 6-5 | Senior | Nebraska
A player who's been one of the best in the nation since her sophomore season when she led Fossil Ridge to Class 5A state title. The team success hasn't been quite the same, but she didn't slack off. Zuhn averaged 3.7 kills per set this season and has played on the U.S. Youth National Team.
---
National Coach of the Year
Maria Nolan (Immaculate Heart, Washington Township, N.J.)
Calling a coach legendary can seem too easily passed around at times, but in New Jersey there's definitely one in that category for girls volleyball.
In the same season in which Nolan became New Jersey's first-ever coach to reach 1,000 career wins, her team at Immaculate Heart won its 12th Tournament of Champions state title with a 2-0 sweep of North Hunterdon. The Blue Eagles (39-1) lost their only match of the season at a tournament in Florida.
Girls Volleyball: Win No. 1,000 offers a time of reflection for Maria Nolan https://t.co/MaYeQwN631 pic.twitter.com/bYrp3MPwYM

— Brian Bobal (@BrianBobalHS) October 29, 2018
There aren't many coaches in national high school sports history in any sports with 1,000 career wins, but Nolan notched her 1,000th when Immaculate Heart won the Bergen County tournament title in October.
Nolan was the head coach for 27 years at Secaucus High where her teams collected 520 wins and 16 state titles from 1975 to 2001.
In 2004, when Maria's daughter, Andrea, was starting out as a freshman at Immaculate Heart, she was lured back into coaching when the head coach at the time was determined to be pregnant with twins.
For the first seven years of Nolan's career at Immaculate Heart, she was aided by co-head coach Mike DeCastro. In those cases, since Nolan was the coach of record, the coaching win went to her. It is not possible to have two coaching wins for co-coaches nor is it possible to have half wins.
Andrea Nolan-Boyd played four years for her mother and has gone on to become a volleyball coach herself. She's currently the head coach at Fairleigh Dickinson University.
---
Our 2018 rankings, All-America selections, player of the year nod and coach of the year selection were provided special to FloVolleyball by Mark Tennis.