The fourth leg, also known as the group stage, of the CEV Championship stretches from mid-November 2018 to the end of February 2019. So far, the 20 teams still remaining in the hunt for the title of best team in Europe have played just one match.
Keep reading to recap the top storylines of the first leg and see when you can watch the this week's upcoming second-leg matches, all of which will be streamed live on FloVolleyball.
Mariusz Wlazly Celebrates 15 Years With PGE Skra Belchatow
Polish opposite Mariusz Wlazly played his first match for PGE Skra Belchatow on Nov. 29, 2003. He was 20 years old. Exactly 15 years later, Wlazly celebrated his 15-year career with the club prior to the team's FIVB Men's Club World Championships match versus Zenit Kazan.
During his time with Belchatow, Wlazly has played a key role in the team's nine Polish championships and five appearances in the Club World Championships. Just prior to announcing his retirement from the national team, Wlazly earned MVP honors at the 2014 World Championships, where he led Poland to the gold medal.
The 35-year-old still plays a starring role for Belchatow, and in the Champions League first-leg match versus Trefl Gdansk he led the team with 20 points.
Former Anteater Leads Berlin Recycling Volleys To First-Leg Victory
UC Irvine grad Kyle Russell led the Berlin Recycling Volleys with 14 points in its first-leg match versus Greenyard Maaseik of Belgium, which concluded in a 3-1 decision in favor of the German squad. Russell's performance is even more impressive considering he did not start the match, instead subbing in for fellow American Ben Patch partway through the second set.
If you missed this match, it's well worth a rewatch, not only to see Russell perform so well, but also to check out the fantastic mustaches the entire Berlin squad was sporting in honor of Movember.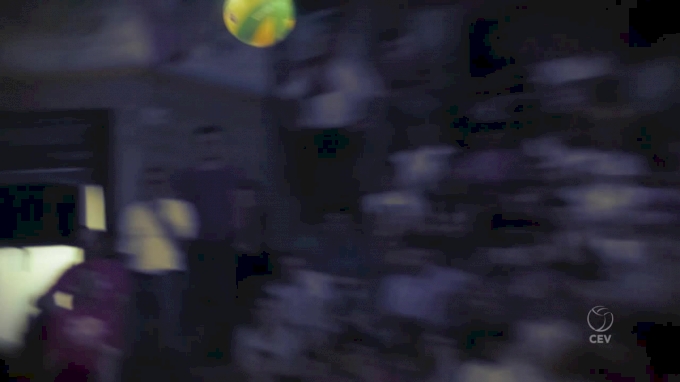 Unlock this video, live events, and more with a subscription

! Get Started

Already a subscriber? Log In
Averill & Saeta Help Push Zenit Saint Petersburg To Five Sets
Chaumont VB's American duo of middle Taylor Averill and setter Michael Saeta played key roles in the French club's first-leg match versus Zenit Saint Petersburg. Although Chaumont lost, it pushed the Russian squad to five sets, thus gaining a valuable point that could help in the standings down the road.
Former University of Hawaii star Averill finished the match as the team's second-highest scorer, tallying six kills with only one error to hit .556, in addition to leading the match in aces (4) and blocks (6). Saeta took over setting duties in the third and fourth sets, quarterbacking the team to a .333 hitting percentage.
Saeta and Averill, former college rivals, seem to have developed a great connection in their first few months as teammates. For example, check this smooth trick play in the video below.
Crafty play by @mpsaeta and Taylor Averill in the @cevolleyballcl for @CVB52HM #clvolleym pic.twitter.com/hPOcxidyEn

— Ryan Heinz (@VmVolley) November 21, 2018
Rivalry Brews Between Modena & Lube
Cucine Lube Civitanova and Azminut Leo Shoes Modena's Champions League first-leg match marked the third time this pair of Italian SuperLega teams have met this season.
In the first meeting, Modena (which includes USA setter Micah Christenson and middle Max Holt) defeated Lube to win the Italian Super Cup, but then Lube won a five-set decision in the two teams' SuperLega matchup. Only three days later, they met again in Champions League play, and Lube earned the sweep, despite 16 kills from Modena's Ivan Zaytsev.
February will feature two more head-to-head matches for these Italian rivals: a Champions League fifth-leg meeting on Feb. 13 and a SuperLega match on Feb. 17.
CEV Champions League Second Leg Schedule
All matches LIVE on FloVolleyball
Dec. 18
Arkas Izmir @ Dinamo Moscow, 10 a.m. CT (Pool E)
Zenit Saint Petersburg @ ACH Volley Ljubljana, 11 a.m. CT (Pool C)
Halkbank Ankara @ United Volleys Frankfurt, 12 p.m. CT (Pool A)
Friedrichshafen @ Chaumont, 1:30 p.m. CT (Pool C)
PGE Skra Belchatow @ Greenyard Maaseik, 1:30 p.m. CT (Pool D)
Dec. 19
Berlin Recycling Volleys @ Trefl Gdansk, 11 a.m. CT (Pool D)
Cucine Lube @ CEZ Karlovarsko, 11 a.m. CT (Pool B)
Sir Colussi Sicoma Perugia @ Tours VB, 1 p.m. CT (Pool E)
Zaksa Kedzierzyn @ Azimut Leo Shoes Modena, 1:30 p.m. CT (Pool B)
Dec. 20
Zenit Kazan @ Knack Roeselare, 1:30 p.m. CT (Pool A)