Either Stanford or Nebraska has won the NCAA Division I national championship for the past three years. Tomorrow, the two teams will play each other for the 2018 title, so no matter which team wins, they'll make it four. And if the performance of the 2018 AVCA Under Armour All-America Match MVPs is any indication, Stanford and Nebraska will be competing for titles for years to come.
Stanford commit Kendall Kipp led Team West to a 25-17, 26-24, 25-17 sweep of Team East, hitting .394 with 14 kills and earning the team MVP honor for her efforts. On the opposite side of the net, Nebraska signee Madi Kubik was named Team East MVP, for her impressive performance, which included a team-best seven kills at a .222 clip.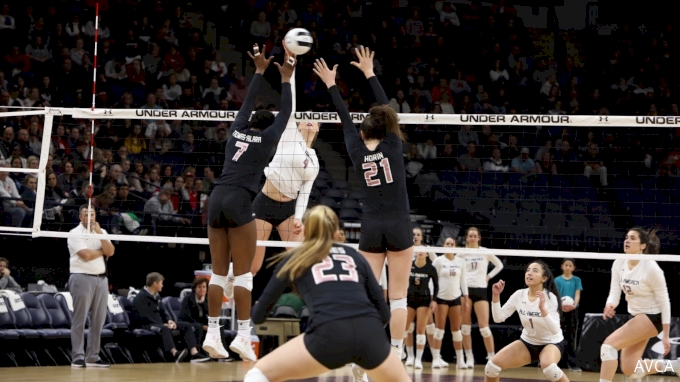 "Our team just instantly clicked, we were so close, having fun on and off the court," Kipp said. "I've never gotten so close with a group of girls so fast."
The annual Under Armour All-America match brings the 24 high school seniors named to the First Team All-America list to the site of the NCAA national championship and gives them a chance to showcase their skills on the championship arena.
In sets one and two, Team East kept things close, even boasting a lead late in the second, but Team West's late-set surges led to a dominant three-set victory. Kipp was unstoppable no matter where setters Izzy Ashburn, Emily Fitzner and Madison Whitmire put the ball. She also collected a match-high 14 digs and added three blocks, second only to teammates Riley Zuhn, who had five, and Kara McGhee, who tallied four.
"They kept us out of system a little bit more than we kept them out of system and that's where we struggled," Kubik said. "And I just thought maybe we could have serve received a little better and that would help us to be a little bit more terminal."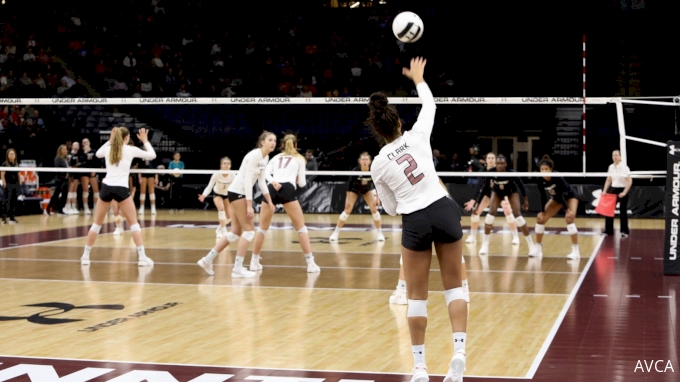 Team East middle blocker Madison Horin starred from the service line, finishing with a match-high three aces. Also impressive were liberos Anna MacDonald and Kenzie Knuckles for Team East and Georgia Murphy and Kamaile Hiapo of Team West, all of whom helped provided stability on serve receive and thrilled the crowd with athletic defensive plays.
High-flying Northwestern signee Temitayo Thomas-Ailara led Team East with 9.5 total points on seven kills, two solo blocks and a block assist.
Team West's victory extends its lead in the series (since 2011, when the AVCA began splitting the teams according to geography) to 6-2.
"The whole week has been so much fun," Kipp said of the Under Armour All-America activities, which began for the 24 athletes on Wednesday. "Just the experience to get to watch the NCAA tournament has been amazing, and Under Armour has done such a great job getting us to do all these fun activities, getting us some cool gear, so the whole experience has just been so amazing and I'm so grateful."