2018 Under Armour High School All-America Match
Under Armour All-America Match Preview
Under Armour All-America Match Preview
East and West Coast rivalries are the thing of legends. Think Biggie versus Tupac, the Celtics and the Lakers, In & Out Burger or ... Wahlburgers?
Dec 13, 2018
by Megan Kaplon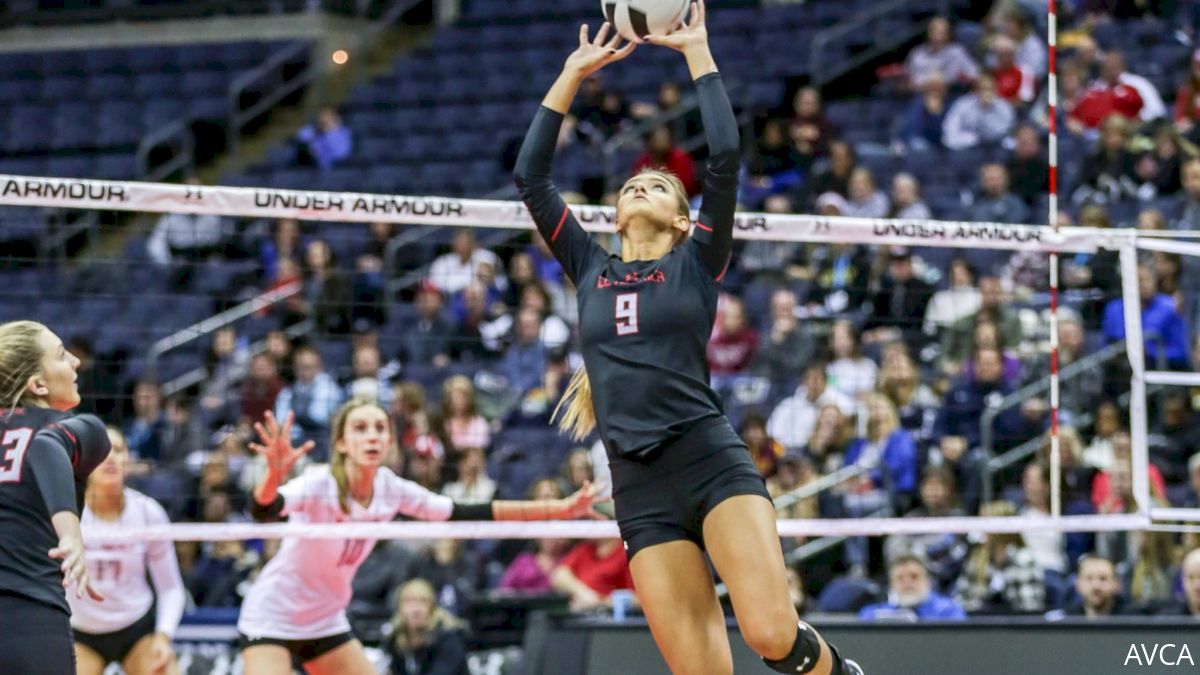 East and West Coast rivalries are the thing of legends. Think Biggie versus Tupac, the Celtics and the Lakers, In & Out Burger or ... Wahlburgers?
On Friday at 8 p.m. CT, another East Coast/West Coast rivalry will be reignited as Team East and Team West take the floor of the Target Center in Minneapolis for the 11th-annual AVCA Under Armour High School All-America Match.
Watch the 2018 AVCA Under Armour All-America Match LIVE on FloVolleyball
The All-America Match takes places every year on the Friday night between the NCAA women's volleyball semifinals on Thursday and the final on Saturday. The 24 high school seniors named to the First Team All-America list by the American Volleyball Coaches Association gather in the NCAA championship host arena for a (mostly) friendly match to showcase their skills.
Since the AVCA first started dividing the teams based on geography in 2011, Team West leads the series 5-2, but Team East has seen increased success in recent years, winning two of the last three matches. Last year, current Florida freshman Thayer Hall led Team East to a thrilling five-set victory over Team West in the first year the event was played in a three-out-of-five format.
Team East looks strong once again, this year boasting three members of the 2018 U.S. Junior National Team in outside hitters Madi Kubik (Wes Des Moines, Iowa), a Nebraska signee, and Catie Baird (Indianapolis, Indiana), who's headed for Stanford, and middle blocker Madison Horin (Munster, Indiana), a USC recruit.
Team West, however, will benefit from having the tallest player on the court in 6-6 middle and Nebraska commit Riley Zuhn (Fort Collins, Colorado), not to mention Oregon-bound Georgia Murphy (The Woodlands, Texas), who is the top libero in the Class of 2019, and 2016 & 2017 Youth National Teamer Kendall Kipp (Newport Beach, California), an outside hitter who has signed with Stanford.
Stanford, Nebraska and Wisconsin each landed three recruits on the First Team All-America list. Team East's Riley James and Team West's Madi Whitmire are the only two first teamers committed to non-Power Five schools, as they're headed to Bryant and UConn.
Zoe Bell a 38-year volleyball coaching veteran from Charlotte, North Carolina, will guide Team East. Bell earned the nomination after leading the Ardrey Kell High School team to a 21-6 record this fall and an appearance in the NCHSSA Regional Semifinals.
Coaching Team West will be Heath Kufahl from Del City, Oklahoma, where he just completed his 12th season as the head coach at Christian Heritage Academy. This season, Christian Heritage advanced all the way to the OSSAA Class 4A State Championship match, finishing the year with a 33-5 record.
In receiving First Team All-America honors, these 24 athletes join the ranks of former First Team Under Armour All-Americans that includes many athletes competing in the 2018 NCAA Final Four. On the Nebraska, there's setter Nicklin Hames, opposite Jazz Sweet, outside hitter Mikaela Foecke. Stanford boasts five former high school First Team All-Americans: freshman middle Holly Campbell, setter Jenna Gray, opposite Audriana Fitzmorris, libero Morgan Hentz, and outside hitter Kathryn Plummer.
Illinois' Jordyn Poulter and Ali Bastianelli competed against each other in the 2014 All-America match. BYU's star middle Heather Gneiting, who was just named the 2018 National Freshman of the year, earned MVP honors for Team West just a year ago. Her teammate Taylen Ballard made the first team in 2016.
Madison Horin, the USC-bound middle blocker on Team East, expressed what it means for her to be playing in this storied match.
"Since freshman year, it has been my goal to play in the Under Armour All-American Match," she said. "I grew up idolizing past participating players in the hopes of one day playing in their shoes. Playing in this match not only marks a personal achievement, but is also the movement of practicing a leadership role. I hope to inspire others in similar ways to which I was."
For Team East libero Anna MacDonald, the honor carries extra significance as it was only four years ago she watched her older sister Amber compete in the All-America match.
"It is an honor to be recognized and included in this great group of players," MacDonald said. "It's very special to me because my sister was also a First-Team Under Armour All American, so I've always wanted to be one."
Not only did Anna MacDonald earn First Team All-America honors just like Amber, but she'll also follow her older sister to Wisconsin.
Team East outside hitter Emma Ellis said ever since she learned what an All-American was, she wanted to be one, but now that she's achieved her goal, she's not done satisfied.
"Being an All-American not only gives me confidence in my game, but also allows me to set my expectations higher, which is never a bad thing," Ellis, a Purdue signee, said. "Playing in the match will allow me to show my hometown and my travel club that if you put in the work, many blessings and great opportunities will come your way."
One of the coolest things about the All-America match is getting to see the top high school seniors in the country in action, right before they take the next steps in their career. Just like with Plummer, Poulter, and Gneiting, a few years from now, we'll be watching these athletes win NCAA national championships, claim Player of the Year honors, and set new personal, program and national records.
Don't miss your chance to watch this epic match LIVE right here on FloVolleyball, Friday, Dec. 14 at 8 p.m. CT.