2018 Under Armour High School All-America Match
Get To Know The 2018 UA All-American Outside Hitters (Part 1)
Get To Know The 2018 UA All-American Outside Hitters (Part 1)
The AVCA named 10 outsides hitters to this year's Under Armour High School First Team All-America list. Here's a crash course on each of them.
Nov 27, 2018
by Megan Kaplon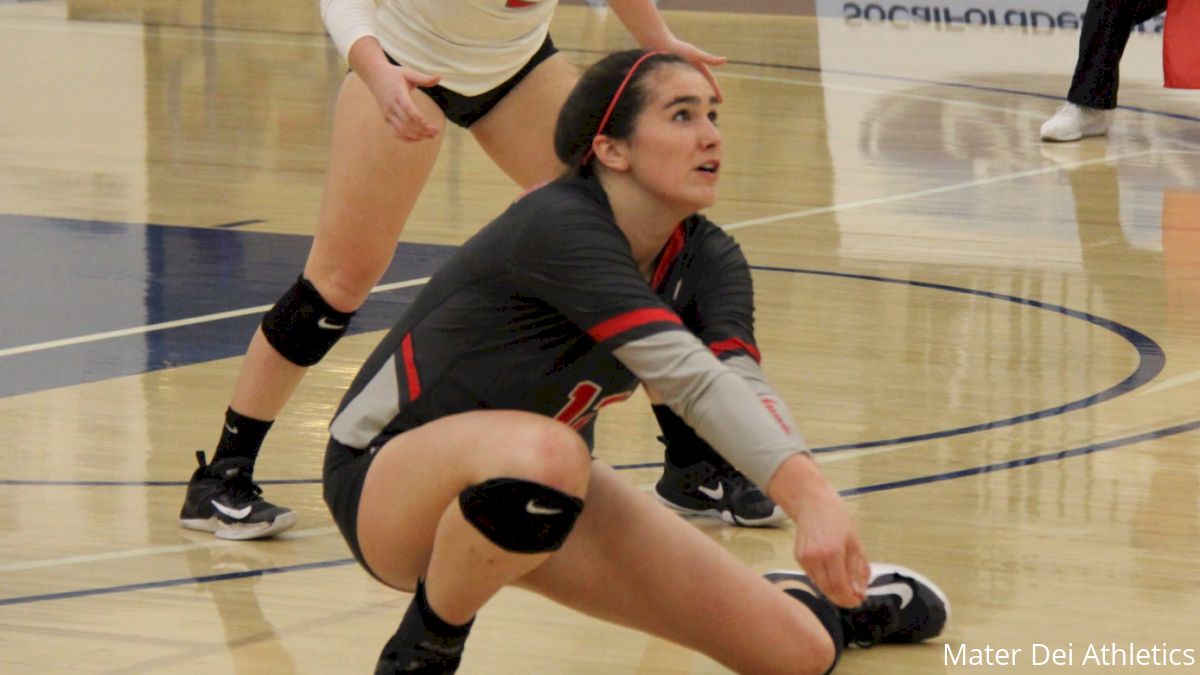 Outside hitters play an essential role on the volleyball court. They're expected to receive serve, play defense, block, and, of course, hit, so left-side players need speed, endurance, skill, and the ability to score even on out-of-system plays.
The American Volleyball Coaches Associated named 10 outsides hitters to this year's Under Armour High School First Team All-America list, and you'll want to keep reading to learn more about these elite athletes who will keep headlines for years to come.
Caitie Baird
6-4 | Indianapolis, Indiana | Perry Meridian | Stanford
Caitie Baird led her Perry Meridian High School team in kills (389, hitting .383), aces (34), and digs (295) as she catapulted the team all the way to a runner-up finish in the 4A state championship, earning her third first team all-state honor in the process.
Over the summer, Baird helped the U.S. Junior National Team win gold at the 2018 NORCECA U20 Continental Championship, and she cites the experience as the highlight of her volleyball career so far.
The three-sport athlete also excels in track and basketball but will focus on volleyball for the next four years as a member of the decorated Stanford women's volleyball team.
Natalie Berty
6-3 | Santa Ana, California | Mater Dei | Stanford
With Natalie Berty leading the way, Mater Dei lost just two matches during the 2018 season and won the CIF Open Division State Championship, sweeping Central in the championship match.
"We have confidence, but we really have to get back in the gym and work"

Natalie Berty loves the @CIFSS title, but knows there's still work to do as @materdeigvb heads into states! pic.twitter.com/7TZqosGwRx

— FOX Sports West (@FoxSportsWest) November 4, 2018
Even with a talent-stacked roster, Berty dominated the Monarch's offense. Her 532 kills were close to double the next-highest contributor, and she maintained a .301 clip despite taking more than 1,000 swings over the course of the season.
Standing 6-3, Berty touches 10 feet and has played a key role for Mater Dei for the past three seasons, leading the team in kills as a junior and a senior and ranking second as a sophomore.
Lauren Clark
6-0 | Champlin Park, Minnesota | Champlin Park | Penn State
An incredibly physical outside hitter, Lauren Clark joined the Champlin Park High School team this fall after spending three seasons at Armstrong High School. Her impact was immediately felt, and the Champlin Park squad won the 2018 state title, losing just two matches the entire season.
In the state championship match, Clark contributed 16 kills, stepping up big in the fifth set and helping Champlin Park take down Eagan, which had made the final six years in a row, and win its first state crown.
Emma Ellis
6-2 | Charlotte, North Carolina | Charlotte Catholic | Purdue
Ranked as one of the top 50 juniors in the country last year by PrepVolleyball, Emma Ellis didn't slow down a bit in her senior season. The versatile 6-2 hitter collected 406 kills, 38 aces, 58 blocks, and 256 digs as she led Charlotte Catholic to a 20-9 record and an appearance in the third round of the North Carolina 3A state tournament.
Congrats to our girl Emma Ellis on officially signing to Purdue University!! So proud of you! #BoilerUp @purduevb ❤️?? pic.twitter.com/keyhfWMaCu

— CCHS Volleyball (@Charcathvoll) November 14, 2018
Charlotte Catholic head coach Landschoot asked a lot of Ellis, positioning her in the middle for every possible serve receive rotation and taking swings out of every position in the front row.
"Emma is one of the best athletes I have ever recruited to Purdue," Purdue head coach Dave Shondell said in a press release on signing day. "She is a terrific jumper, very physical and hits the ball hard. She is going to be a terrific impact player for our program."
Gabby Gonzales
6-3 | Marietta, Georgia | Walton | Ohio State
Four-time state champion. State Gatorade Player of the Year. Three-time All-Area and All-Georgia. MaxPreps and PrepVolleyball Junior Player of the Year. When you add First Team Under Armour All-America, Georgia native Gabby Gonzales might just possess the heftiest resume of any player in her graduating class.
"Gabby is an elite attacker and an incredible passer, one of the best in the country," Ohio State head coach Geoff Carlston said. "Her calm demeanor and competitive persona will allow her to come in and make waves as a freshman. I think Gabby is going to make our program better right away."
Check back later this week to learn about the other five outside hitters on the 2018 AVCA Under Armour All-America first team.