2018 FIVB Volleyball Nations League
USA Women Punch Ticket To Semis With Sweep Of Serbia
USA Women Punch Ticket To Semis With Sweep Of Serbia
The U.S. Women's National Team advanced to the VNL semifinals with a 3-0 victory over Serbia.
Jun 29, 2018
by Kolby Paxton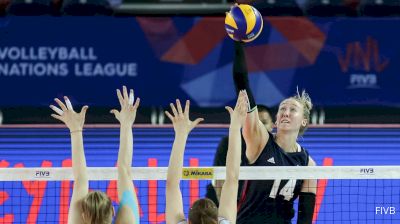 On back-to-back days, the U.S. Women's National Team erased its only blemishes from VNL preliminary pool play.
The Americans knocked off third-ranked Serbia in straight sets on Friday (29-27, 25-22, 25-19) to clinch a spot in the semifinals and improve to 15-2 in VNL play—with 12 of their 15 victories coming in straight sets.
"We love playing against the great teams in the world," said USA head coach Karch Kiraly. "Serbia is certainly one of those great teams that we have a great deal of respect for, for the players, their coaches and their program. Whether we win or lose, we learn a lot because the two teams push each other and make things difficult. This was a good learning moment, and we are very happy to advance to tomorrow's semifinals."
Michelle Bartsch-Hackley once again starred for the Americans, totaling 16 points on 14 kills and a pair of aces. Libero Kelsey Robinson led the way with a 63 positive reception percent on 19 chances. On 30 chances, Bartsch-Hackley received at 53 percent.
"Every team is good here, and I think we proved that yesterday being down 0-2 and coming back," Bartsch-Hackley said. "I think it is more fun for us to just keep going at them really hard when we are up. I think we play a lot more free when that happens."
Kelly Murphy added nine points on eight blocks and a kill, while captain Jordan Larson provided eight kills on 20 attacks. Foluke Akinradewo chipped in with five kills and led the team with four blocks.
Team USA will meet China—a team the Americans swept in Jiangmen back on July 6—in the VNL Semifinal on Saturday.