2018 FIVB Volleyball Nations League
Déjà Vu? Americans Rewrite Ending In Comeback Win Over Turkey
Déjà Vu? Americans Rewrite Ending In Comeback Win Over Turkey
The U.S. Women's National Team turned in a dramatic come-from-behind victory over Turkey in the opening match of the VNL Final Six.
Jun 27, 2018
by Kolby Paxton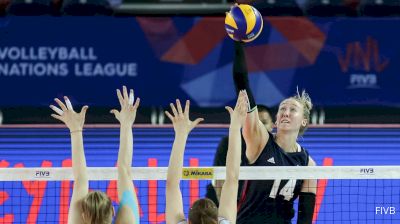 The U.S. Women's National Team turned in one of the most dramatic victories in team history on Wednesday in Nanjing, China, marching back from a 2-0 deficit to knock off Turkey (17-25, 21-25, 25-21, 25-15, 15-11) in the opening match of the VNL Final Six.
Things looked pretty bleak for the United States after the Turks outscored Karch Kiraly's squad 50-38 through the first two sets. But, for the second consecutive time, the teams went the distance, as Michelle Bartsch-Hackley led a furious USA rally off the bench.
This time, the decisive set went to the Americans.
Bartsch-Hackley started the final three sets after watching her teammates take back-to-back losses in the first two. Once on the court, she erupted, leading the team with 21 points thanks, in large part, to 19 kills on 41 swings.
Opposite Kelly Murphy was both efficient and lethal, tallying 15 kills on 28 attacks—plus one block and one ace—for 17 points.
#USAVwnt wins @FIVBVolleyball #VNL #Final6 thriller vs #Turkey 17-25, 21-25, 25-21, 25-15, 15-11. @bartschy comes off the bench to score 21 pts. @JordanLarson10 keys 5th set win with 2 aces. @teamusa to face #SRB to conclude Pool B on Friday at 3 a.m. ET. pic.twitter.com/jli1Cjo7nu

— USA Volleyball (@usavolleyball) June 27, 2018
Captain Jordan Larson registered 14 points with eight kills and five aces, but it was as much when she scored as how often she scored that proved to be the difference for the USA, as two of her five aces came during a 4-0 run in the tiebreaker set.
"It was a great comeback," Larson said. "Obviously Turkey is a very strong. I think we were waiting for things to happen instead of taking control of our side and really focusing on that. I think that is what you saw in sets three, four and five.
"Obviously there is a lot reflection of what we can do better. But I think it is great that we are able to grind it out in the first match and we can only get better from here."
The next stop on what has become the Americans' prelim revenge tour will be a rematch with Serbia—the only other team to defeat the U.S. thus far.
Serbia opens Final Six play against Turkey on Thursday at 2 AM CT before facing the USA on Friday at 2 AM CT. Both matches—along with the entirety of the VNL postseason—can be seen LIVE on FloVolleyball.