2018 FIVB Volleyball Nations League
Kelsey Robinson's Emergence At Libero Has Been Major Boon For Team USA
Kelsey Robinson's Emergence At Libero Has Been Major Boon For Team USA
In her career, U.S. Women's National Teamer Kelsey Robinson has played every position, except middle. Just don't ask her to set.
Jun 26, 2018
by Megan Kaplon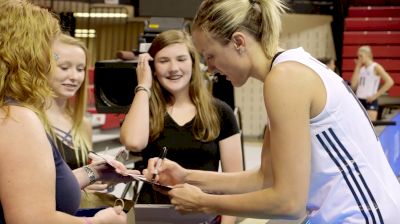 In her career, U.S. Women's National Teamer Kelsey Robinson has played every position, except middle. Just don't ask her to set.
"It's a running joke on the team that I have very small hands," Robinson said. "So it wasn't really meant to be for me to be a setter."
Despite collecting experience all over the volleyball court, Robinson established herself as an outside hitter, starring on the left pin at Tennessee, where she earned SEC Player of the Year and second team All-America honors, and at Nebraska, where she was named Big Ten Player of the Year and a first team All-American in 2013, before earning a spot as an outside on the national team roster.
"Outside has always been my favorite just because you get to do all parts of the game," Robinson said, "And you're very involved in every single play."
This spring, however, a phone call from national team head coach Karch Kiraly while Robinson was still competing for her pro team VakifBank Istanbul, indicated her role on the team might change.
Kiraly said he was considering using her as a libero.
"[Kiraly] gave me a heads up, and I said that whatever they need me to do I'm willing to do," Robinson said. "Obviously, I want to hit and I want to keep pursuing that, but if that's what's best for the team, I'll be ready."
#USAVwnt needed to stabilize its passing game, and @KRobin32 has done just that in leading @teamusa into the @FIVBVolleyball #VNL Final Six June 27 to July 1. Read about Kelsey's transition from outside to libero in Q&A at https://t.co/RauO3d2Bl9 pic.twitter.com/sAwK1AlBaR

— USA Volleyball (@usavolleyball) June 23, 2018
Despite Kiraly's warning of a position switch, Robinson appeared as an outside hitter on the roster for the first week of the 2017 Volleyball Nations League tournament, and she played that position in both of the team's first two matches.
But a disappointing serve-receive performance that led to a five-set loss to Turkey inspired Kiraly pull the trigger and have Robinson don the libero jersey for the next match.
"I think [Kiraly] just feels really comfortable with my ability to cover a lot of court in the passing lanes and also just bring a stable ball control player in the back court, so they made that switch," Robinson said.
Although Team USA has won all but one match since Robinson assumed the libero position, she admits she finds the new role much more mentally challenging, and it's obvious she's not ready to let go of the outside hitting position.
"[As an outside,] if I'm not having a good day hitting, I can pass really well. If I'm not having a good day blocking, I can play defense. You just have so many other elements to the game that you can do," Robinson said. "[As a libero,] it's very difficult when the game is on the line and all I want to do is score somehow."
Passing and defense have always been a big part of Robinson's game, and one of the reasons she's found so much success in her career.
"[The outside hitter position] is really competitive, and the one thing that I think can get you to the top is being able to do all the skills," she said. "The best outsides in the world can do everything at a really high level, so I think just being a well-rounded outside is what sets you apart from somebody who can just hit or just pass."
An unexpected setback early in her professional career forced Robinson to focus on these skills. Right after finishing up at Nebraska in 2014, Robinson signed her first contract in Puerto Rico, but she tore her labrum and had to return to the mainland.
What originally felt like a devastating blow to her young career proved to be a valuable opportunity. Robinson rehabbed at the Olympic Training Center in Anaheim, California, alongside national team veterans Foluke Akinradewo and Christa Dietzen, who were also recovering from injuries. When everyone was well enough, they ran drills together in the gym with Robinson restricted to passing and defense while her shoulder returned to 100 percent.
Join the #VNL #volleyball train! #BePartOfTheGame @Krobin32 @lonsloet #ZhuTing @MilenaRasic1 #TatianaKosheleva pic.twitter.com/VyaWYVku5a

— Volleyball World (@FIVBVolleyball) June 14, 2018
"Passing for me has always kind of been a comfort thing," Robinson said. "When I'm having a bad day or I'm stressed out about hitting or something is not working, I just can go in and take a bunch of reps with passing and kind of shut my mind off."
Being in Anaheim also put her in close contact with the national team coaching staff, and when she fully recovered, Robinson earned a spot on the roster for the 2014 Montreux Volley Masters, her first international appearance on the senior national team. Later that summer, she was on the team that won gold at World Championships. Two years later, she made the Olympic team.
Although the results have been mostly positive for Team USA since Robinson's position switch, one wonders what impact this shakeup has had on team dynamics. Robinson's move to libero bumped Amanda Benson from the travel roster and took away Justine Wong-Orantes' starting spot.
"What is really cool and special about the USA program is that everybody just wants to win gold," Robinson said. "Everybody wants what is best for the team. As hard as that is to hear and I know that it is challenging it's just kind of the mindset that you have to have to be a part of this program.
"I talked to [Wong-Orantes] after I found out and just kind of told her it's a long four years. We need you, and I also said, I need you. I don't know what I'm doing. She's been amazing. She's honestly been so selfless."
Robinson chose not to conjecture as to whether or not she would fulfill the libero role in the long term, but at least for the remainder of Nations League, she's committed to the position. She's even progressed from just trying not to mess up the rotation to appreciating the subtle glory in the libero role.
"When you watch the setter run a perfect set to like [Foluke Akinradewo] or Rachael [Adams] and they put the ball away, you're like, 'that was me.'"