2018 FIVB Volleyball Nations League
USA Head Coach Karch Kiraly Is Confident Ahead Of VNL Finals
USA Head Coach Karch Kiraly Is Confident Ahead Of VNL Finals
U.S. Women's National Team head coach Karch Kiraly is looking forward to his team's opportunity to avenge both of its VNL losses.
Jun 23, 2018
by Lincoln Shryack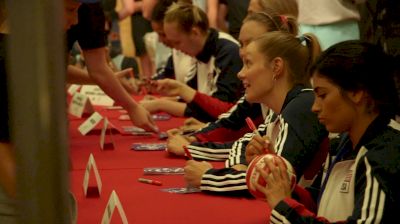 It's a cruel bit of irony that the American women, after dominating for a majority of the FIVB Volleyball Nations League preliminary round, will first match up in the finals with the only two teams to beat them so far: Turkey and Serbia.
Even so, U.S. head coach Karch Kiraly is confident in his team's preparedness to rebound against those two in the final round—June 27-July 1 in Nanjing, China—as he believes a key positional switch and a fully rested squad will help turn the tide against those two foes as the Americans look to capture gold in the inaugural event.
Team USA isn't likely to feature any different personnel in the final—they've kept the same 14-player roster virtually throughout—but unlike their loss on May 16 against Turkey, they'll have Kelsey Robinson at libero, who has made an immediate impact at the position.
And this time facing Serbia, the Americans won't be jet-lagged from a long flight as they were when they were easily handled on June 12. They're hoping changes to those factors are enough to put them over the top this time around.
"I don't know if either team was really feeling like itself," said Kiraly of Serbia. "Both teams had long travel to get there, and it was by far our poorest match of the 15. Lots of stuff didn't go so well. Our offense struggled in a number of areas where it was normally finding success in other matches."
Over the course of the 15-match preliminary round, Team USA lost just two other sets outside of the six they dropped to Turkey and Serbia, overwhelming their opponents with a combination of depth and discipline. With their 13-2 record, the Americans topped the standings while establishing themselves as the team to beat in the Nations League.
But as the U.S. Women's National Team heads to China on Friday for the final round of the tournament, their Pool B counterparts loom as a reminder that the Americans best be on their "A" game if they want to keep their top spot to the end.
"We're excited for another chance at those two teams," said Kiraly.
For Kiraly, part of that excitement stems from the knowledge that circumstances surrounding his team's preliminary losses to Turkey and Serbia will be different in the final round.
After dropping that tightly-contested five-set match against Turkey, a match in which the Americans had problems in serve receive while allowing eight aces, Kiraly decided to move Robinson from outside hitter to libero in the hopes of shoring up the receiving issues.
It's worked like a charm. Robinson—who had never before played the position for the national team—ranks fourth in the Nations League with 1.88 digs per set and third in receiving efficiency. Kiraly and his staff had discussed moving Robinson to libero in the build up to the 2018 season, knowing her strong ability at receiving and her familiarity with the team's top hitters, Jordan Larson, Kim Hill and Michelle Bartsch-Hackley, could prove valuable in the role.
She hasn't disappointed.
"She's been passing, receiving serves at a very nice, high level," Kiraly said. "She's played a lot over the last three or four years with Jordan (Larson), and Kim (Hill), and Michelle Bartsch. That time together breeds more familiarity and a little more trust, and that's something that comes with time. That's where she has an advantage in that department."
Seen through Robinson's excellent play at libero, the loss to Turkey, in retrospect, has been a blessing in disguise. The position switch early in the tournament has allowed Robinson to gain confidence in the role throughout the tournament, a luxury Team USA might not have had if the issues hadn't popped up in May.
"I think we're playing better volleyball than we did against Turkey the first time," said Kiraly. "We had lots of serve receive challenges. We struggled in that department and we've since stabilized a lot after that match."
With Robinson playing at such a high level defensively, the Turks aren't likely to exploit the Americans off the serve like they did in Lincoln. The tougher task for the U.S. may be downing a Serbian squad that thumped the Americans in Argentina despite playing without several of their top players.
Yes, Team USA's play was certainly negatively affected by traveling nearly 12,000 miles from Jiangmen, China, to Santa Fe, Argentina, to play Serbia, so the four-set loss two weeks ago is mostly a throwaway. However, the U.S. did not face Serbian star opposite Tijana Boskovic then, the 21-year-old dynamo who leads the Volleyball Nations League in hitting efficiency at 49 percent.
Adding Boskovic back into the fold gives Serbia an entirely new look from the team the Americans lost to on June 12, as she ranks as the third best scorer in the tournament despite missing three matches. The highly-anticipated match up between Boskovic and the Americans' defense will be a huge storyline to follow in China.
A much needed break in the tournament before the finals has allowed the U.S. to travel back to the States, where they spent nearly a full week sleeping in their own beds and correcting the offensive woes in training that plagued them the first time against the Serbs. According to Kiraly, the Americans have been focusing on their back row connection as well as issues in the middle, areas that fell flat against Serbia.
"Our offense was having quite a bit of success, but there were maybe certain combinations, middles running certain routes and certain combinations that might not have been quite as effective as we would like," Kiraly said. "So we're honing those combinations. We spent some extra time today working on those."
Still, concerns about any singular match in this tournament are easily put into perspective by Kiraly. The Nations League represents a chance for the Americans to learn more about themselves in the drive towards the World Championships in October, which, itself, is another building block to the ultimate goal: Tokyo 2020.
Winning Nations League gold on July 1 would be nice, but development seems to be the key focus for Kiraly coming out of this event.
"It's all with an eye toward future development," said Kiraly.
In that sense, the U.S. women's national team is hitting on all cylinders.