On The Road Again: USA Faces Difficult Test In Italy
On The Road Again: USA Faces Difficult Test In Italy
This week, another trio of tough challengers await in Modena, Italy, where the USA will face France, Russia and Italy.
Jun 21, 2018
by Megan Kaplon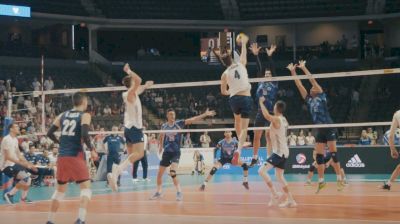 The U.S. Men's National Team had an absolutely fantastic showing last week in Hoffman Estates, Ill., sweeping Serbia, Poland and Iran to move up to No. 2 in the Volleyball Nations League standings, just a point behind leader France.
Dampening the celebration, however, was a knee injury suffered by outside hitter Thomas Jaeschke in the third set of the Serbia match.
Jaeschke and Ben Patch are now both injured, and it sounds like Jaeschke will be out for awhile. Less is known about Patch's status.
This week, another trio of tough challengers await in Modena, Italy, where the USA will face France, Russia and Italy. France currently sits No. 1 in the standings, with Russia checking in at No. 3, and Italy at No. 7.
In the world rankings, Italy and Russia are tied for fourth and France is ranked ninth.
Many of the U.S. men will feel right at home in Italy. Of the 21 players on the Nations League roster, 10 played the most recent pro season for Italian clubs, and Max Holt has actually spent the last two seasons in Modena, playing for Modena Volley Punto Zero.
Here's what to expect from this week's matches in Modena.
Team USA
As of this writing, USA Volleyball has not released the 14-man roster for this week, so we can only conjecture on the exact makeup of the team this week.
With Jaeschke injured, head coach John Speraw will need to bring another outside hitter to Modena. Aaron Russell and T.J. DeFalco will likely be the starting outsides, and with Taylor Sander still awaiting the birth of his first child, Jake Langlois and Brenden Sander could be the two other outsides on this week's roster.
No doubt Speraw is hoping that Taylor Sander's son arrives in time for the Olympian to rejoin the team for the Final Round.
If Ben Patch returns to the roster this week, however, Matt Anderson can move to the left, creating a powerful trio of pin hitters with Patch, Anderson,= and Russell in the starting lineup.
Luckily, the key role players, including setter Micah Christenson, Erik Shoji, and a quintet of equally capable middles in Taylor Averill, Max Holt, Jeff Jendryk, David Smith and Dan Mcdonnell, have stayed healthy and consistent throughout the tournament.
The Competition
France | Friday, June 22, 10:30 AM CT
Like Team USA, France has only lost two VNL matches. Poland got the best of the Frenchmen in straight sets and China upset France in five.
As host of the VNL Final Round, France is guaranteed to advance out of the preliminary round, but with 22-year-old Stephen Boyer leading the way with 132 total points, it might just earn the top seed.
Over the past few years, France has established itself as one of the top men's teams in the world. In 2015, the team won its first World League title. Two years later, it repeated, stunning host Brazil in five sets in the gold medal match.
The French roster features a variety of offensive weapons. Boyer, a 6-5 opposite, joined the senior national team last year as a member of the World League roster. He collected 74 total points in the World League Final Round to finish as the second-best scorer, trailing only his teammate Earvin Ngapeth.
Another young player, 21-year-old outside Jean Patry, ranks second on the team with 95 total points so far in VNL. Former UC Irvine star Kevin Tillie, a third-generation French national teamer whose father Laurent serves as France's head coach, has 89.
Reigning World League MVP Ngapeth didn't travel with the team in Week 2 of VNL is fifth on the team with 82 points. He also leads the team with 12 aces.
Russia | Saturday, June 23, 10:30 AM CT
Russia has won the World Championship six times, the World Cup six times, and the European Championship 14 times and took home Olympic gold in 2012. Despite losses to Poland, Serbia, and Brazil, Russia remains a threat in the race for the inaugural VNL title.
Seven-foot-two middle blocker Dmitriy Muserskiy is Russia's most dominant player, tallying 173 points so far in the tournament, with 136 kills, 25 blocks, and 12 aces. He trails only China's Chuan Jiang and Brazil's Wallace De Souza in list of top scorers in the tournament. In fact, so much of Russia's offense runs through Muserskiy, he even managed to collect 17 kills in Russia's straight set loss to Poland in the first week of preliminary play.
Egor Kliuka serves as setter Igor Kobzar's go-to hitter on the pin, with 155 total points.
Italy | Sunday, June 24, 1:30 PM CT
Reigning Olympic silver medalist Italy needs some inspired performances from its players this week as it faces the top three teams in the tournament standings. With a 7-5 record, Italy needs wins desperately if it has hopes of making the Final Round.
Italy's star player Ivan Zaytsev didn't travel with the team to Japan for Week 3 or 4. In his absence, Italy lost a pair of five-set matches to Poland and Japan and then crumbled against Australia, losing in four sets.
Zaytsev remains the top scorer on the team, despite playing in only half of the 12 matches. Known as one of the best servers in the world, the 29-year-old set a new serve-speed world record earlier in the tournament, with one of his serves versus Serbia clocking in at 83.3 miles per hour. And yes, it was an ace.
Having Zaytsev back on the floor will be huge for Italy, but its offensive options will be limited, as Osmany Juantorena remains absent from the roster after missing Week 3 and 4 as well.
A trio of hitters have stepped up in the absence of Italy's superstars. Gabriele Maruotti, a 30-year-old outside hitter, led the team in points in each of last week's matches. Against Poland and Japan in Week 3, Gabriele Nelli had an impressive 27 and 21 points, respectively. Filippo Lanza established himself as a major threat versus Bulgaria, tallying 20 points.
Non-USA Matches in Modena
Italy vs. Russa | Friday, June 22, 1:30 PM CT
Italy vs. France | Saturday, June 23, 1:30 PM CT