2017 Nike Tournament of Champions
Even Injury-Ravaged, Mater Dei Ranks Among The Country's Best
Even Injury-Ravaged, Mater Dei Ranks Among The Country's Best
Mater Dei is one of the top teams in California and the country. After a third-place finish at the prestigious Durango Fall Classic, the team and coach Dan O'Dell are looking ahead to the Nike Tournament of Champions.
Sep 20, 2017
by Megan Kaplon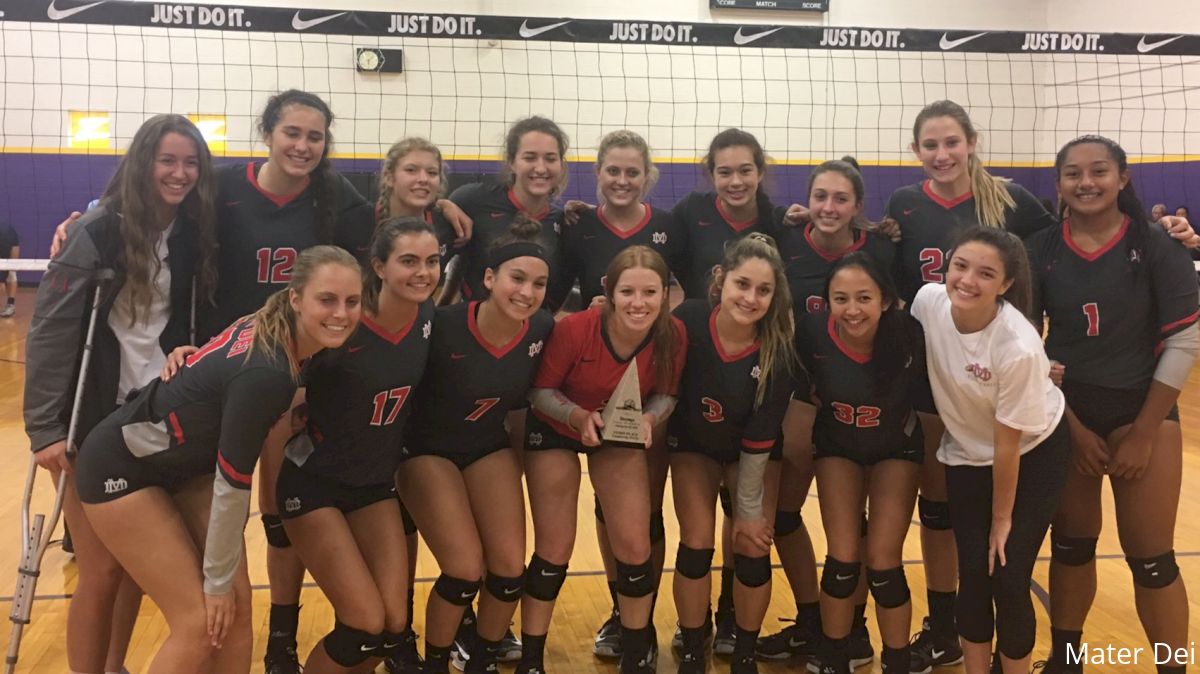 The nationally
No.5-ranked Mater Dei
girls' volleyball team didn't win the Durango Fall Classic, but the Monarchs were one of only two teams that managed to take a set from the champion Rockets of Louisville's Assumption High School, and that alone says a lot about the 2017 Monarchs.
Mater Dei and Assumption faced off in the semifinals of the prestigious high school volleyball tournament hosted in Las Vegas, with Assumption moving on to the championship match with a 26-24, 23-25, 25-19 victory.
"It was a very close match that could have gone either way," Mater Dei head coach Dan O'Dell said. "But it was kind of fun just seeing a team like that. Assumption would be one of the best teams in California if they were in California, and they just happen to be in Kentucky. Getting that exposure to play a team like that is only going to be beneficial to our girls down the road."
[instagram url="https://www.instagram.com/p/BZMCiYwgJEK/?taken-by=materdeigvb" hide_caption="0"]
Perhaps that exposure is already paying off. Just three days after returning home from Vegas, O'Dell and his team faced Redondo Union, which was fresh off of a runner-up finish at Durango. Even missing one of its starting setters Brielle Mullally, who suffered an ankle injury in Vegas, and six-rotation outside hitter Siena Secrist, a USC commit who was out with strep throat, Mater Dei eked out a five-set victory over Redondo, which entered the match ranked No. 3 in CIF Southern Section Division I.
The depth of the Mater Dei squad was on full display versus Redondo Union, with Erika Calvagna filling in for Mullally and sophomore Reagan Merk subbing in for the ill Secrist. The team also features sophomore setter and hitter Mia Tuaniga, who O'Dell says "does absolutely everything," junior outside hitter and kills leader Natalie Berty, UCLA-bound libero Kelsey Campeau, and sophomore middle Meg Brown, an Alabama commit who O'Dell says has made a faster improvement between her freshman and sophomore seasons than any other player he's coached.
"We're deep, we're really well-rounded and balanced when we're all healthy and good to go," O'Dell said. "It's just that right now we're not healthy."
The Monarchs improved to 16-3 with the win. Losses to Oak Ridge of Texas and Iolani of Hawaii at the Ann Kang Invitational in Honolulu were the only blemishes on Mater Dei's record prior to meeting Assumption in the Durango semifinals.
O'Dell described his team's play at the season-opening Ann Kang tournament as sloppy, but admitted that the tournament was a good experience overall, helping to build good chemistry.
[tweet url="https://twitter.com/MaterDeiVB/status/903790046678884352" hide_media="0" hide_thread="1"]
Against Oak Ridge, it was the War Eagles' setter Carly Graham who caused the Monarchs the most trouble.
"I don't think [Graham's] projected to be one of the best setters in college, but as a high school setter I don't know if there's a setter who can take over and dominate a game from that position the way the Oak Ridge setter does. She finds openings in the court, she'll set it over on two to corners and short, and she'll fake set and fire quick to the middle. She's such a smart setter that she just kind of picked our team apart, and it was something that our girls have never seen a kid do that before."
Iolani, on the other hand, relied on their duo of elite outside hitters -- reigning Hawaii Gatorade Player of the Year Elena Oglivie and Missouri-bound senior Saige Ka'aha'aina-Torres -- to exploit Mater Dei's biggest weakness: its right side block.
Later this week, Mater Dei kicks off league play with a match versus
Flo50 No. 12 Santa Margarita
and Mira Costa, a team on the national rankings bubble. Then it's back into tournament mode for the Nike Tournament of Champions in Phoenix, September 29-30.

O'Dell's main goal before Phoenix is to get healthy. Having Secrist back on the court will be paramount to the Monarch's long-term success.
"Siena Secrist is one of our glue kids on the outside," O'Dell said. "She's a six-rotation outside who is a very good passer. She can score in system, she's really smart out of system, she's low error. She's good defensively, she's a good blocker. She's just a kid who does everything."
Perhaps most important are Secrist's contributions on serve receive. O'Dell -- who played at Penn State and professionally before gaining coaching experience at the club, college, and high school level -- highlighted passing as the most important skill at any level of volleyball.
[instagram url="https://www.instagram.com/p/BZNEjxxARl6/?taken-by=materdeigvb" hide_caption="0"]
"Every time we play a team, no matter how big they are, how little they are, whatever, all I say to my assistant coaches before the match is, 'I hope they're not good at passing.' Because if the team is not good at passing, we're going to win the game," O'Dell said. "If a team is good at passing, whether they have big guns or not, it's going to be an interesting game, no matter what, just because the ball is going to be alive way more."
Passing isn't the sexiest skill, but it's the one that has allowed Mater Dei to find success so far this season. Libero Campeau, outsides Berty and Secrist, and defensive specialist Mandalay Rennon, who O'Dell says is one of the best junior liberos in the California and the country, team up to pass dimes to Tuaniga, Mullally, and Calvagna, who in turn dish the rock to Berty, Brown, Secrist, and Tuaniga (like O'Dell said, she does everything).
All together it's a pretty fearsome combination, and one which could lead Mater Dei to a title at the Nike TOC and down the road in the California state championship.