USC Junior Victoria Garrick's TED Talk Tackled Mental Illness In Athletes
USC Junior Victoria Garrick's TED Talk Tackled Mental Illness In Athletes
USC junior libero Victoria Garrick's TED Talk highlighted the unique struggles of college student-athletes when it come to mental illness.
Aug 3, 2017
by Ebony Nwanebu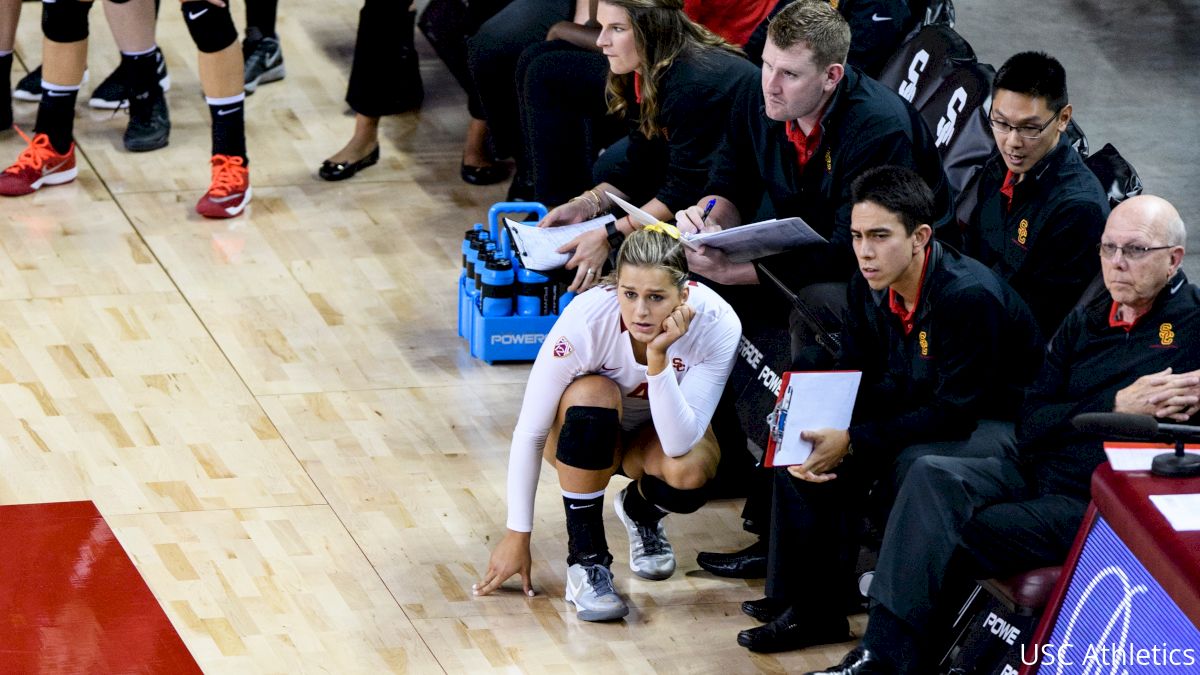 There's a growing epidemic within college athletics. Student-athletes confront unique stressors that the average college students don't face. The pressure to play at a high level, achieve top grades, maintain a certain body type, handle interpersonal relationships, and balance the everyday stress of being in college is taking its toll on the mental health of student-athletes across the country.
A mental illness is an unseen injury that affects one in four people. That means that out of my team of 17 on the University of Texas volleyball roster, chances are at least four of us have an eating disorder, anxiety, depression, or another mental injury that affects the way we think, interact, and perform.
Last year, I wrote a
blog post titled "Brain Glitches"
about my performance anxiety, and how I got so anxious throughout the day that I would forget to do something as simple as breathe. I didn't want to eat and I couldn't sleep, and in return I experienced depression. I didn't know why it was happening or what I was afraid of, but that's what a mental illness can do. It can completely transform who a person is, make them feel alone and think that there is no hope. That's what a lot of people don't understand.
The volleyball community is starting to open up on the topic of mental health. Recent and current college players like Lanesha Reagan of Oregon State,
Hayley Hodson of Stanford
, and most recently USC defensive specialist Victoria Garrick -- who talked about her experiences with mental illness in a TED Talk "Athletes and Mental Health: The Hidden Opponent" -- are taking the lead in asking others to battle the stigma that we've attached to mental illness.
During her TED Talk, Garrick asked a room full of people to raise their hands if they'd ever had a physical injury, like a sprained ankle or torn ligament. Not shockingly, a large number of people in the audience raised their hands. Then, Garrick asked the members of the audience to raise their hands if they had ever struggled with anxiety or depression. Very few people raised their hands.
In the athletic community, mental health has been viewed as a weakness, and that all we as student-athletes need to do is "shake it off," "get over it," or "stop being over dramatic." But the harsh reality is that it's impossible. There is no switch to flip or button to push to make the pain stop. We're forced to wear a mask -- a disguise made of smiles and false enthusiasm -- and try to fake it for as long as we can. There is no visible limp, no blood, no bruise, so we keep going, pushing, and striving to be the best, while our minds keep taking blows.
2015 National Freshman of the Year Hodson, who recently medically retired from the sport of volleyball after suffering multiple concussions and struggling with anxiety and depression, wrote a
blog post
announcing her decision: "I realized that if I tried to keep pushing through all this pain -- juggling school and practice and travel and games and college life -- I wasn't going to make it to the end of the season."
Garrick conducted her own survey of 100 student athletes and found that 69.70 percent of her subjects said that they have experienced a mental illness. That's almost three out of four athletes -- compare that to the one in four statistic referenced earlier in this article.
90 percent of the athlete's Garrick surveyed said that they think they spend too much time on their sport. Perhaps most shocking of all, more than half of the student-athletes Garrick surveyed said they have depression, anxiety, or an eating disorder but are too scared to tell anyone or see a doctor. All those athletes are out there right now -- silent and struggling.
It's important for the community to really understand what a mental illness is. Believe it or not, your child, friend, or family member is going to experience a mental illness at some point. They may be facing it right now. It can happen to anyone at any time, and the more we learn to support those with mental illness and know how to handle our own mental health, the easier it will be to open up a dialogue and get the conversation flowing.
Oregon State senior outside hitter Lanesha Reagan published a post titled
"Being a Student-Athlete and Living with Mental Illness"
on her blog in January. ESPNW later wrote a feature about the native of Snohomish, Washington, and her mission to shed more light on mental illness in the athlete community.
"Mental illness is not something you should be ashamed of, but breaking down that stigma starts with us, the student-athletes," Reagan wrote on her blog. "We can change the culture and make it easier for our friends and teammates to get the help that they need."




Don't Miss a Beat
It's time to step up your game. Fill in the information below to get the best of FloVolleyball delivered directly to your inbox.
MUST SEE FloFilms
Lauren Carlini: Setting the Standard
Watch full episode here.


The Program: Penn State
Watch Episode One here.

All In: USA Women's National Volleyball Team
Watch Episode One here.