'I'm Attacking My Illness Like a Full-Time Job,' By Tri Bourne
'I'm Attacking My Illness Like a Full-Time Job,' By Tri Bourne
Tri Bourne began suffering from a mysterious illness at the end of the 2016 beach volleyball season, but finally, he has a diagnosis and a plan to move forward.
May 11, 2017
by FloVolleyball Staff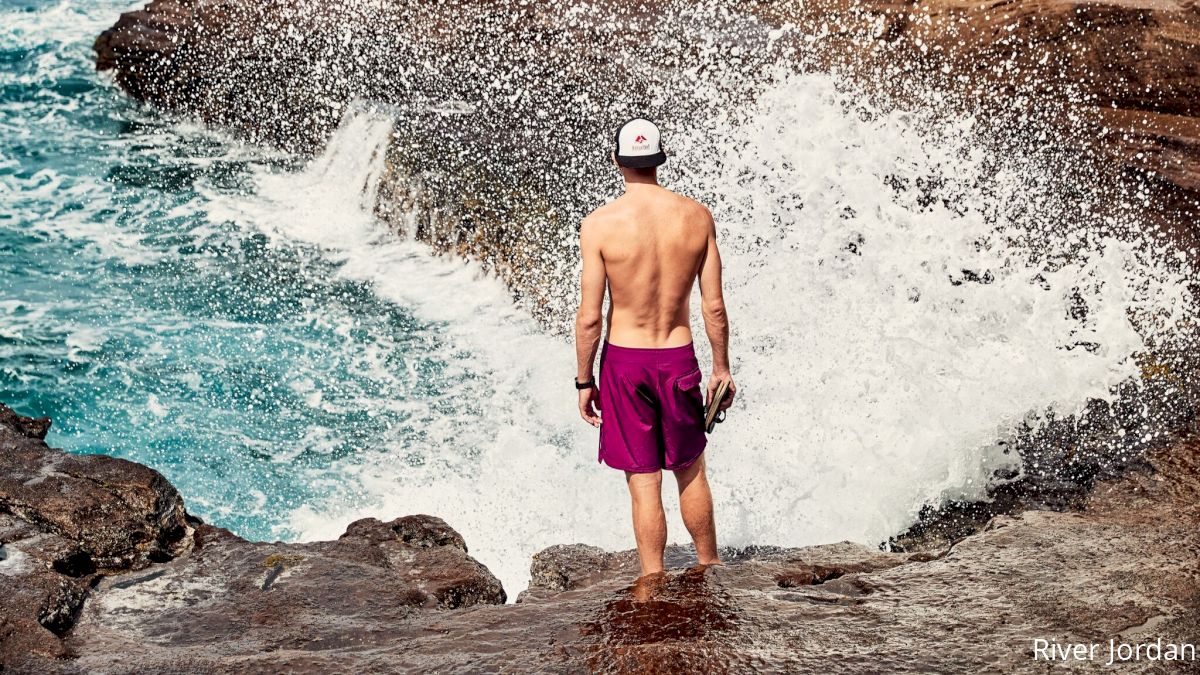 After enjoying a stellar career at the University of Southern California, where he set a school record for most 20-plus-dig matches in a season, Tri Bourne turned his attention to beach volleyball and has been a fixture on the podium of pro events ever since. In 2013, the Oahu, Hawaii, native was named the AVP Newcomer of the Year as well as the Most Improved Player. The following year, he teamed up with John Hyden and was named AVP Offensive Player of the Year and the FIVB Top Rookie. Last year, Bourne and Hyden won bronze twice and silver once on the World Tour, including a third-place finish at the World Tour Finals. The duo also (sort of but not really) qualified for the Rio Olympics, getting denied a spot because of the "country quota" rule. Before the start of this season, the 27-year-old Bourne seemed poised to start dominating the AVP and FIVB tours, but a freak illness has (momentarily) derailed his plans.

I'd never had a major injury in my career before my ankle started bothering me a couple years ago. It wasn't even that bad. I got a cortisone shot before the start of last season, and that got me through the season.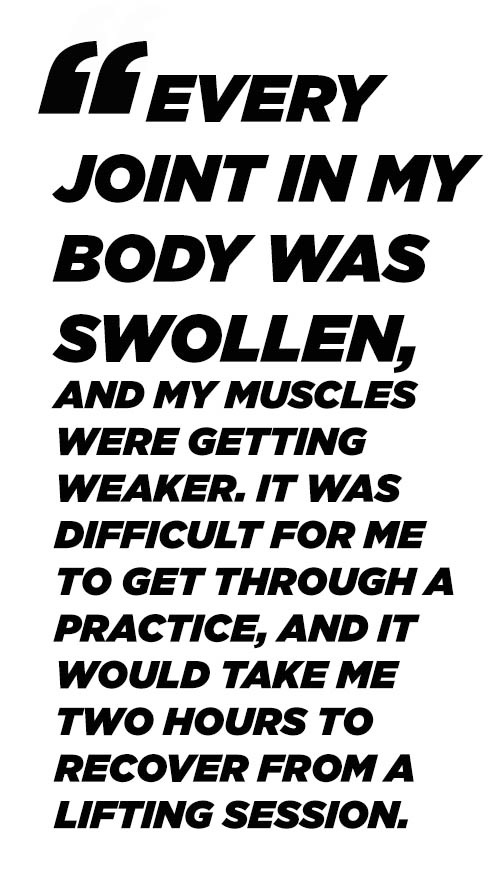 After John Hyden and I got the bronze at the FIVB World Tour Finals last September, I decided to have minor surgery to remove a cyst that was pinching a nerve in my ankle. The timing seemed right. The season had just ended, and it was early in the quad, giving me plenty of time to recover.
About five or six weeks after the surgery, I started to get what felt like carpal tunnel syndrome in my hands. I just thought it was an aftereffect from being on crutches, but in November and December the swelling and joint stiffness started moving to other parts of my body and getting progressively worse.
At the beginning of January, I started training for the first event of the 2017 FIVB World Tour, the Fort Lauderdale Major, but leading up to the event it got harder and harder for me to train. Every joint in my body was swollen, and my muscles were getting weaker. It was difficult for me just to get through a practice, and it would take me two hours to recover from a lifting session. I was so exhausted I'd want to take a nap during timeouts or breaks from lifting. I was really struggling. Obviously, something was wrong with me.
Finally, A Diagnosis
A blood test revealed that my liver enzymes were close to 10 times higher than they should be. The doctor told me I had to stop exercising because if I continued I could cause long-term damage to my muscles. I had to pull out of the Fort Lauderdale event two days before it started, which sucked because I'd trained so hard for it.
It also left John without a partner. He eventually decided to team up with Ryan Doherty for that event as well as the rest of the season. I supported his decision because he has a family to support. At that point I still didn't know what was causing my health problems and had no measurable timeline for my return.
In the weeks that followed, I visited a series of doctors in San Diego. First, I saw a rheumatologist who ruled out my having rheumatoid arthritis. Next I went to an internal organ specialist who didn't find anything wrong with me. Then I saw an infectious disease specialist because I played 19 events in 12 countries last year and could have picked up something overseas, but that doctor couldn't find anything either.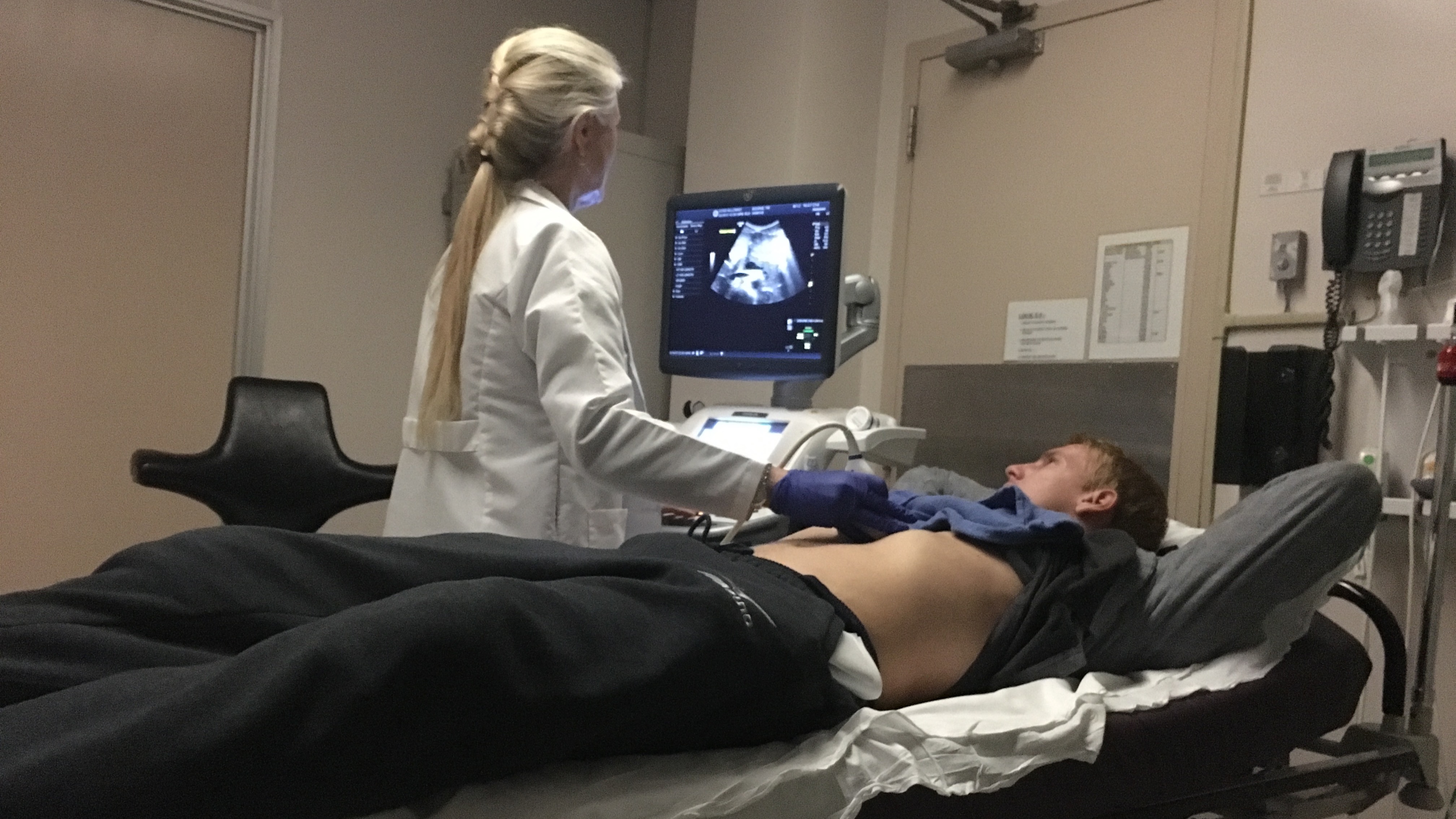 When the doctors in San Diego weren't able to pinpoint the cause of my symptoms, the USOC intervened, sending me to its doctors at the University of Utah, who have a reputation for being the best of the best. The doctors took a muscle biopsy from my quad that revealed that I have a chronic inflammatory muscle disease called dermatomyositis.
The disease was so hard to diagnose because I don't have its exact symptoms. I have muscle inflammation, but I don't have the skin rashes that usually come with it. The working theory that explains how I got it is that the surgery I had on my ankle after the 2016 season somehow threw my body out of whack. The doctors opening up my body and taking out the cyst confused my immune system, and it started to attack my muscles.
Starting From Scratch
I'm now working with a rheumatologist who put me on a steroid in an effort to remove all the inflammation from my body. This is the No. 1 priority. I had so much inflammation in me that I lost about 12 pounds after being on steroids for five days, but I'm feeling a lot better now than I was before. I'm going to stay on the steroids until I get most of the swelling out of my body, then I'm going to switch to a drug that's a little less harsh.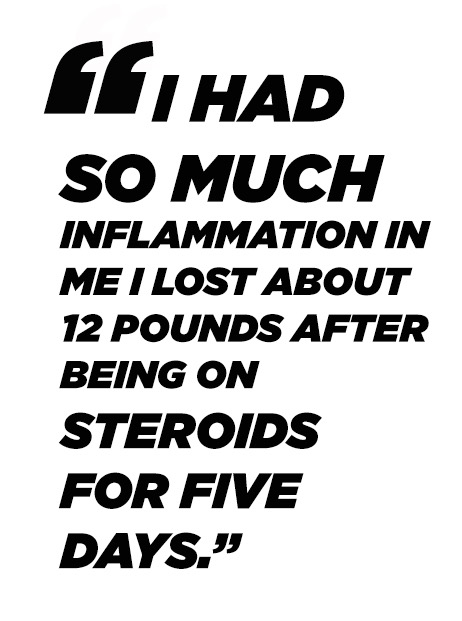 I want to get off these drugs as soon as possible, but the timing really depends on how my body reacts. This illness could be something I have to deal with for a long time, or it might not. Several doctors have told me that the bodies of elite athletes often respond differently than normal bodies do. They said they wouldn't be surprised if I came back from this even stronger than I was before. But they also said they wouldn't be surprised if it continued to affect me long term because that's what happens to a lot of patients.
My main goal right now is to get my muscle enzymes back to a normal level. Once they do, the doctors are going to clear me to start training again. When I got tested the other day, my enzyme levels were half of what they were a month ago, so that's encouraging.
In addition to what the doctors are telling me to do, I'm taking supplements and following a custom diet. The naturopathic approach to medicine has always been more appealing to me, so I'm also working with a naturopathic doctor to counter all the prescription drugs I'm on.
Now that the swelling is going down and I can actually move my joints, I've started to do some very light stretching and range-of-motion work. I don't want to push myself any harder than that because this is a really delicate stage for my body. I've lost muscle mass, flexibility, strength, cardio -- basically everything. I'm starting from scratch, so it's important that I don't try to push myself too hard too early. I don't want to come back too soon and reinjure myself.
When Will I Be Back On The Court?
I was originally planning on coming back for the first AVP event in May, but I'm no longer holding myself to an exact time frame. This process is going to take longer than most people would expect. Once my muscle enzymes return to normal and the doctors clear me -- realistically, that's not going to be for another month or so -- I'll still need at least a month to do the proper rehab and get all my flexibility and strength back.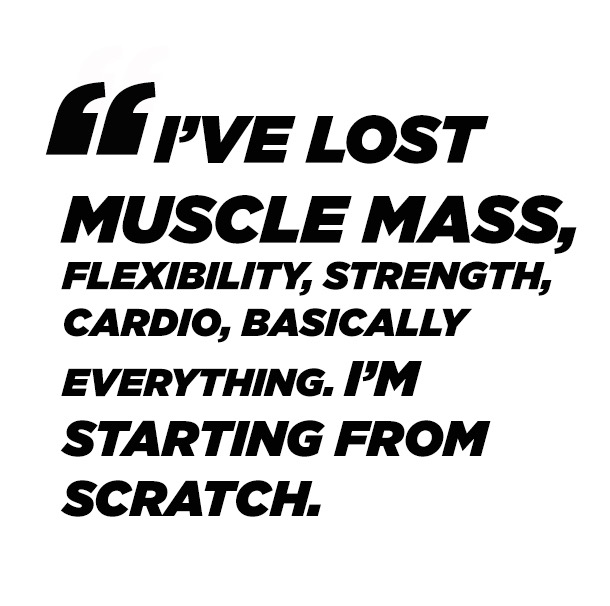 I'm going to take as much time as my body needs because the next time I step on the court for a competition I want to be 100 percent heathy and better than ever. Right now, I'm just focused on getting healthy and working hard to get my body to the exact place I want it to be. I'm attacking this like it's my full-time job.
The cool part is that I'm working with a clean slate. We do so many things in volleyball that overbuild our bodies in some way, and I now have the opportunity to build my body exactly the way I want it to be so it can handle the sort of heavy workload I expect from it.
Everyone who knows me would tell you that I'm one of the most active people you'll ever meet. I never sit around the house all day and do nothing. I'm either training, working out, or body surfing in the ocean. I like to play basketball and golf whenever I can. So as you can imagine, this illness came as quite a shock to my system.
As much as it sucks, I think it will be a good thing in the long run. It's been nice to step away from volleyball for a little while to appreciate what I have and to be able to clearly assess what I might do in the future. I think not being so dependent on being physically active is going to pay dividends down the road because it's helped me to settle down my mind and allowed me to grow as a person.
All in all, I feel like I've been handling the situation pretty well. I'm staying positive and making the most of it.
A Fresh Start
During my time away from the game, I'm trying to learn more about volleyball -- watching, strategizing, and studying it at a deeper level -- so when I do come back I'll be even better than I was before. John and I are on good terms, but we're probably not going to get back together unless it makes sense points-wise. If it was toward the end of the season and he and Ryan weren't playing together for some reason, John and I might do a short-term or one-off thing, but I understand that during the last year or two of his career, he'd prefer to have a steady partner.
As for me, I see this as a fresh start. I have a chance to sit back and figure out exactly how I want to approach this quad and who I want to partner with. When I do start looking for a new partner, I want it to be someone who shares my vision heading toward the 2020 Olympics. That remains the ultimate goal. A lot of people don't know that John and I qualified for the Rio Olympics under the FIVB point system. We were the third U.S. team to qualify, but each country can only send two teams, so we were eliminated. That was a little tough to swallow. I'm going to have that fire burning in me for the next three years.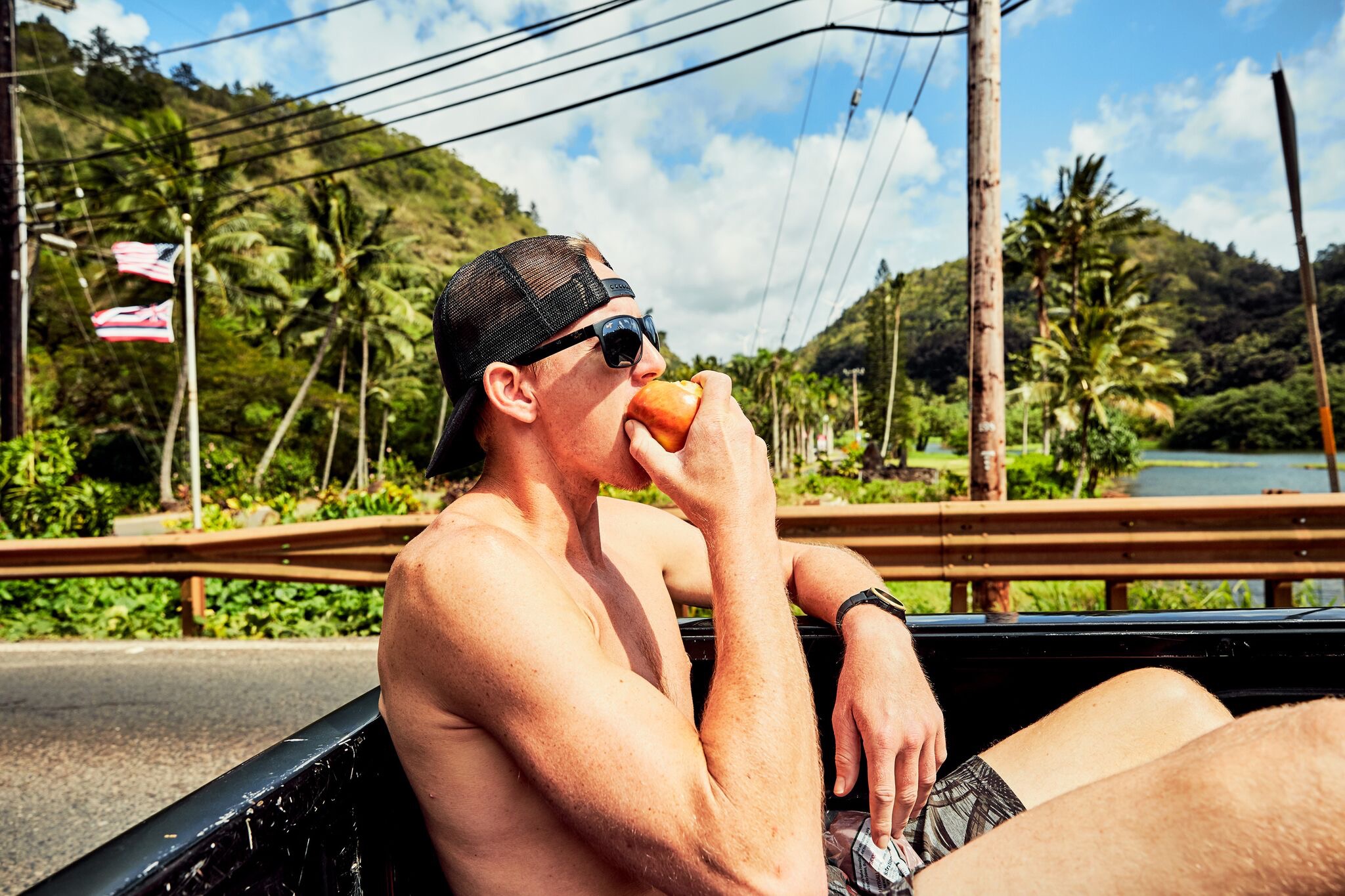 Photo by River Jordan

Another goal I have is to get to the point where I'm able to string together victories. That's the next step as an athlete, not just winning here and but also being able to win consistently. I'd also like to achieve the No. 1 ranking in the world. That's something I think I'm going to check off my list at some point because I have the experience and I know I can do it.
It's a different animal you're trying to attack when you're talking about not just competing at the highest level but also dominating at the highest level. There's a lot that goes into that, especially for me starting from scratch without a partner and with my body basically at zero, but now that I have the time to plan it all out I think the sky's the limit.
I'm not coming back just to come back. I want to dominate the tour and push my limits as a professional athlete.
Don't Miss a Beat
It's time to step up your game. Fill in the information below to get the best of FloVolleyball delivered directly to your inbox.