Former Division I Volleyball Player Wins Women's Gold at Wrestlemania
Former Division I Volleyball Player Wins Women's Gold at Wrestlemania
Ashley Fliehr, former division I volleyball player won the WWE women's championship as Charlotte.
Apr 1, 2016
by Katie Kabbes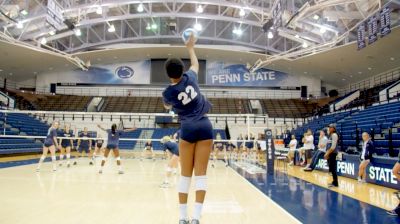 By Marc Raimondi

Before she was Charlotte, the WWE women's champion was a standout indoor volleyball player.

Ashley Fliehr, whose pro-wrestling character's name is Charlotte, won the WWE women's title Sunday night at Wrestlemania 32 at Cowboys Stadium in Arlington, Texas. Earlier in the night, the WWE Divas title was retired to make room for the most appropriately named women's title. Fliehr was the Divas champ and took home the women's belt in a triple threat match against Sasha Banks and Becky Lynch.

[instagram url="https://www.instagram.com/p/BDygYf3L6P0/?taken-by=charlottewwe" hide_caption="0"]

Fliehr, 29, is known for her incredible athleticism in the ring, so it should come as no surprise that she was a Division I volleyball athlete at Appalachian State about a decade ago. Appalachian State signed the Charlotte native (hence the nickname) after Fliehr has an outstanding career at Providence HS, helping the squad win two 4A state titles.

In high school, Fliehr, a 5-foot-10 outside hitter, won 4A all-conference honors three times, won the 2003 4A conference tournament MVP award and was the Southwestern Conference 4A Player of the Year that same season.

[instagram url="https://www.instagram.com/p/dRrNbPr6Do/" hide_caption="0"]

Fliehr ended up transferring from Appalachian State and getting her degree at North Carolina State, where she didn't play volleyball. Fliehr was bound to pursue another form of athletics anyway -- pro wrestling. Her father is Ric Flair, the legendary former multiple-time WWE, WCW and NWA champion. Flair is considered one of the greatest wrestlers and entertainers in the history of the business. And all of his children ended up following in his footsteps to some degree.

It was his daughter, though, that has done the most in sports entertainment. She won the WWE Divas title in September and not lost the crown yet.

Fliehr is considered one of the best female wrestlers in the world right now and her career is only about three years old. It might be in the ring and not the court, but Fliehr is on her way to becoming a legend in women's athletics. The endings in pro wrestling might be pre-determined, but that takes little away from Fliehr's substantial abilities and athleticism.