2023 MPSF Men's Volleyball Championship
Stanford, UCLA Volleyball Power Through To MPSF Championship Game
Stanford, UCLA Volleyball Power Through To MPSF Championship Game
Semifinal wins send No. 1 UCLA and No. 3 Stanford to the title round of the 2023 MPSF Men's Volleyball Championship.
Apr 21, 2023
by Kyle Kensing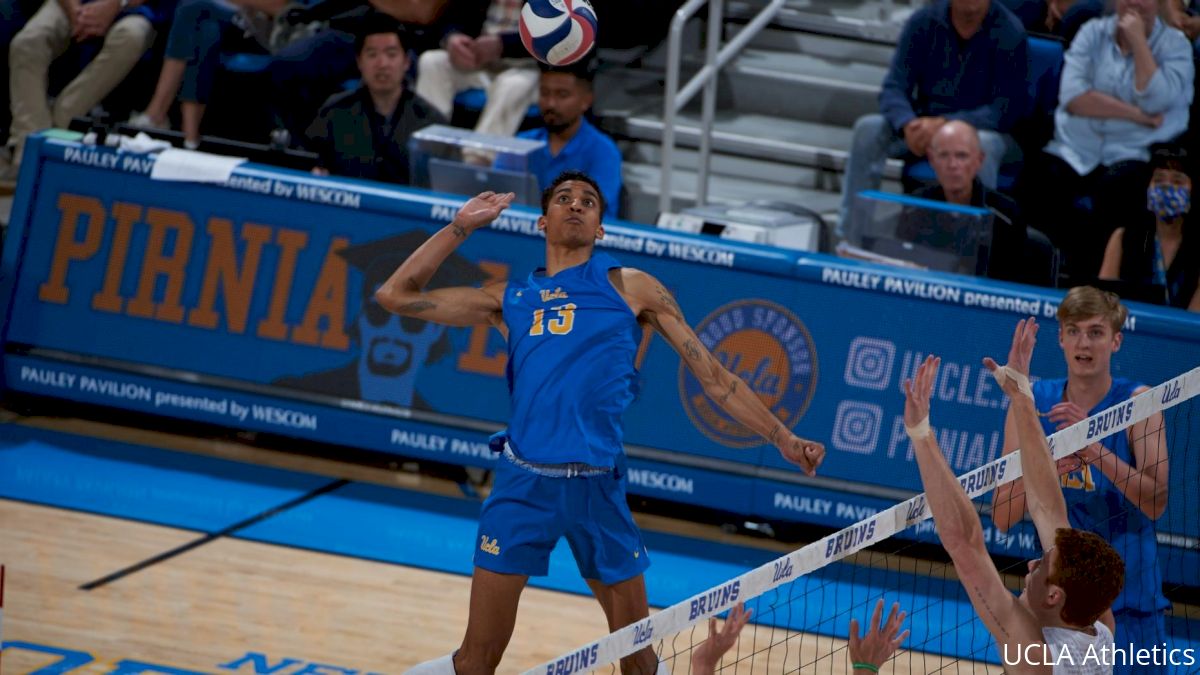 It's NorCal vs. SoCal in the 2023 MPSF Men's Volleyball Championship, as top-seeded UCLA and host Stanford scored semifinal wins on Thursday to set the scene for Saturday's title match.
No. 1 UCLA's defeat of Grand Canyon appropriately reflected the Bruins' 2023 season to date: They were dominant throughout, besting a good Grand Canyon team in three straight sets, 25-23; 25-19; 25-20.
Ido David produced a match-best 15 kills for UCLA, while Merrick McHenry was nearly perfect on his attacking attempts with 10 kills on 11 attempts. McHenry also delivered one of UCLA's five service aces, while Andrew Rowan and Alex Knight each had two.
Knight and McHenry also blocked shots to bolster the defense in the Bruins' ninth straight win.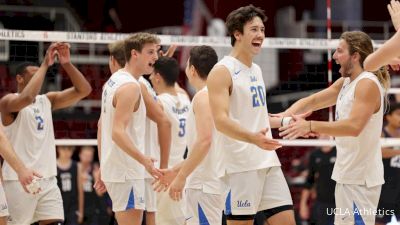 Unlock this video, live events, and more with a subscription!
Get Started
Already a subscriber? Log In
Thursday's dominant showing marked a meaningful milestone for UCLA, which bowed out of the MPSF Championship in the semifinals as the top seed a year ago.
That early exit in 2022 came against an upstart Stanford team, looking to play its way into the NCAA Tournament with an MPSF Championship run. Circumstances are similar for a 2023 rematch, with the Cardinal riding wins over USC and BYU to another title-round appearance.
Stanford secured its championship-game spot Thursday beating one of the two hottest teams in the conference, BYU, exacting a measure of revenge for a regular-season loss less than a week prior.
The Cardinal dropped 3-1 and 3-0 decisions on April 14 and 15 in Provo, where BYU finished the season undefeated. A change of venue did Stanford well, as the Cardinal rose to the occasion in a fiercely contended semifinal.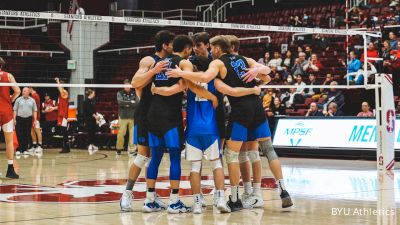 Unlock this video, live events, and more with a subscription!
Get Started
Already a subscriber? Log In
Will Rottman came through for and served up three aces, a monster performance for the veteran outside hitter. Nathaniel Gates also had a pivotal role in Stanford's win with 10 kills and two blocks.
Gates made the final two kills in the decisive fifth set, which Stanford won, 15-12. The Cardinal raced out to a 5-0 lead in the frame and never trailed, though BYU cut the deficit to two on two occasions down the stretch.
But Stanford was able to keep the Cougars at arm's length thanks in no small part to freshman Theoren Brouillette.
Brouillette came up clutch, stepping into the setter role and distributing 30 assists. He made a kill and doled out assists on three of Stanford's final four points.
Saturday's championship matchup could potentially hinge on the play of first-year setters, with UCLA's Rowan fulfilling the same role for the Bruins.
And, for Stanford, it will need another reversal of regular-season fortunes to win the title. UCLA won both matches in March, and did so in straight sets.
David produced 12 kills and three aces in the March 17 match, which was a lopsided run of 25-12 sets for the Bruins. The March 18 match was significantly more competitive, thanks in part to Theo Snoey recording 11 kills, but David again set the pace for UCLA with 10 kills in sets of 25-18, 25-21 and 25-20.