2023 MPSF Men's Volleyball Championship
2023 All-MPSF Men's Volleyball Teams Announced
2023 All-MPSF Men's Volleyball Teams Announced
MPSF announced the men's volleyball player of the year, freshman of the year and all conference teams.
Apr 20, 2023
by FloVolleyball Staff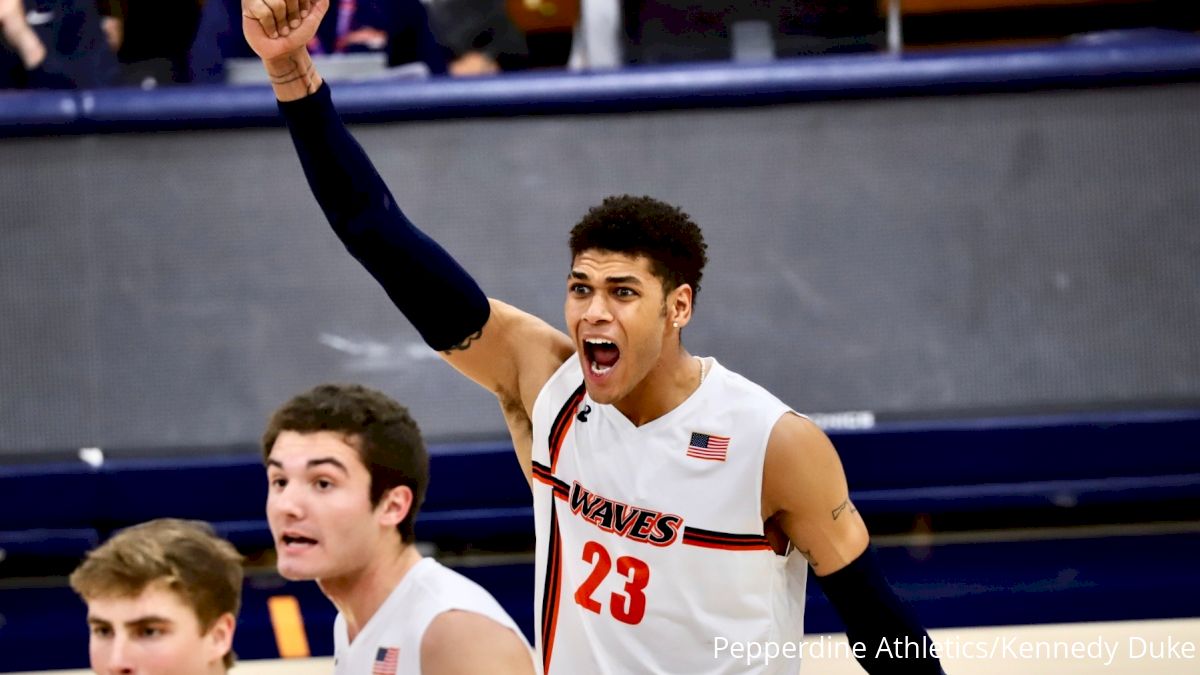 2023 MPSF Men's Volleyball Player Of The Year
Jaylen Jasper
Pepperdine graduate student opposite Jaylen Jasper (Annapolis, MD/Stanford) is the MPSF kill leader by a wide margin of 5.02 kills per set (the next highest is 3.99), which also ranks No. 2 in the nation. He tops the conference in points per set. also No. 2 in the NCAA (5.51). He won an MPSF-high four weekly awards this year, the last of which was backed by a 53-kill series on a .536 hitting percentage against No. 5 Grand Canyon.
On March 24, Jasper tied the Pepperdine rally-era record with 37 kills, also the most by any MPSF player since 2014. On Feb. 17, he hit an MPSF season-best .783 with 20 kills in a win at No. 9 Stanford. He was in doubledigit kills in 27 of his 28 regular season matches, including 12 matches of 20+ kills, with an overall .371 hitting clip (best in the MPSF amongst non-middles). This is the first time in the 31-year history of MPSF Men's Volleyball in which a team finishing lower than third in the final standings produced the player of the year. Jasper represents the all-time record ninth MPSF Men's Volleyball Player of the Year award for Pepperdine (David Wieczorek, 2018-19; Paul Carroll, 2009; Jonathan Winder, 2007; Sean Rooney, 2005; Brad Keenan, 2002; George Roumain, 1998-1999).
2023 MPSF Men's Volleyball Freshman Of The Year
Andrew Rowan
UCLA freshman setter Andrew Rowan (Trabuco Canyon, CA/J Serra HS) was the only freshman to earn a first team All-MPSF honor this year. He was a huge component in the Bruins' unbeaten MPSF season for the first time since 1995, and their first time reaching 27 wins since 2000. Rowan set UCLA to the NCAA's top offense in the regular season with a .379 team hitting percentage, as the team hit over .300 in 23 of 29 regular season matches, as well as a .412 clip through the 12-0 conference season. Rowan leads the MPSF with 44 service aces on the year, including an MPSF season-high of six in just his second collegiate match.
He earned his first career conference award when he was named MPSF Defensive Player of the Week on February 13, after he accumulated five block solos (seven total) in a pair of wins over No. 2 Long Beach State. He also set the team to an incredible .551 hitting clip in the first match of that series, and doing so against one of the top defensive teams in the nation. Rowan is UCLA's fourth MPSF Freshman of the Year recipient, including a repeat from last year (Guy Genis, 2022; JT Hatch, 2015; Brandon Taliaferro, 1997).
ALL-MPSF FIRST-TEAM
Student-Athlete
No. Year Position School Hometown/Last School
$ Jaylen Jasper
23 Graduate Opposite Pepperdine Annapolis, MD/Stanford
# Merrick McHenry
13 R-Junior Middle Blocker UCLA Bedford, TX/L.D. Bell HS
Andrew Rowan
7 Freshman Setter UCLA Trabuco Canyon, CA/J Serra HS
Alex Knight
12 Senior Outside Hitter UCLA Culver City, CA/Pacifica Christian HS
^ Ethan Champlin
20 Junior Outside Hitter UCLA Oceanside, CA/Classical Academy HS
Miks Ramanis
23 Sophomore Outside Hitter BYU Walnut Creek, CA/Northgate HS
^ Ido David
16 Sophomore Opposite UCLA Kiryat Ata, Israel/Hod Hasharon
ALL-MPSF SECOND-TEAM
% Christian Janke
11 R-Senior Outside Hitter Grand Canyon Carlsbad, CA/Sage Creek HS
Dillon Klein
1 Freshman Outside Hitter USC Pacific Palisades, CA/Loyola HS
# Bryce Dvorak
6 Junior Setter Pepperdine Newport Beach, CA/Corona Del Mar HS
Kevin Lamp
10 Senior Outside Hitter Stanford Lake Bluff, IL/Lake Forest HS
^ Justin Lui
2 R-Senior Libero Stanford Pickering, Ontario, Canada/Pickering HS
Rico Wardlow
23 Junior Middle Blocker Grand Canyon Bolingbrook, IL/Purdue Fort Wayne
Uriel Batista
35 Senior Opposite Concordia Colon, Panama/Long Beach CC
ALL-MPSF HONORABLE MENTION
Akin Akinwumi
25 Senior Middle Blocker Pepperdine Rancho Palos Verdes, CA/Peninsula HS
Nic Slight
7 R-Sophomore Setter Grand Canyon Storm Lake, IA/Torrey Pines HS
Gavin Julien
10 Junior Middle Blocker BYU Whitefish Bay, WI/Whitefish Bay HS
^ Guy Genis
9 R-Sophomore Middle Blocker UCLA Tel Aviv, Israel/Alliance HS
Nathaniel Gates
16 Senior Middle Blocker Stanford La Jolla, CA/La Jolla HS
# Will Rottman
15 Senior Outside Hitter Stanford Santa Barbara, CA/Santa Barbara HS
Jackson Hickman
16 R-Junior Outside Hitter Grand Canyon Phoenix, AZ/Lewis
MPSF ALL-FRESHMAN TEAM
Andrew Rowan
7 Freshman Setter UCLA Trabuco Canyon, CA/J Serra HS
Dillon Klein
1 Freshman Outside Hitter USC Pacific Palisades, CA/Loyola HS
Theo Snoey
7 Freshman Outside Hitter Stanford Berkeley, CA/Head-Royce School
Zach Rama
21 Freshman Outside Hitter UCLA Phoenix, AZ/Sandra Day O'Connor HS
Cameron Thorne
8 Freshman Middle Blocker Grand Canyon Hollywood, FL/South Broward HS
Trent Moser
9 Freshman Outside Hitter BYU Gilbert, AZ/Gilbert HS
Jacob Reilly
6 Freshman Libero Concordia Cypress, TX/Cy Fair HS
$ Five-Time All-MPSF Selection
% Four-Time All-MPSF Selection
# Three-Time All-MPSF Selection
^ Two-Time All-MPSF Selection